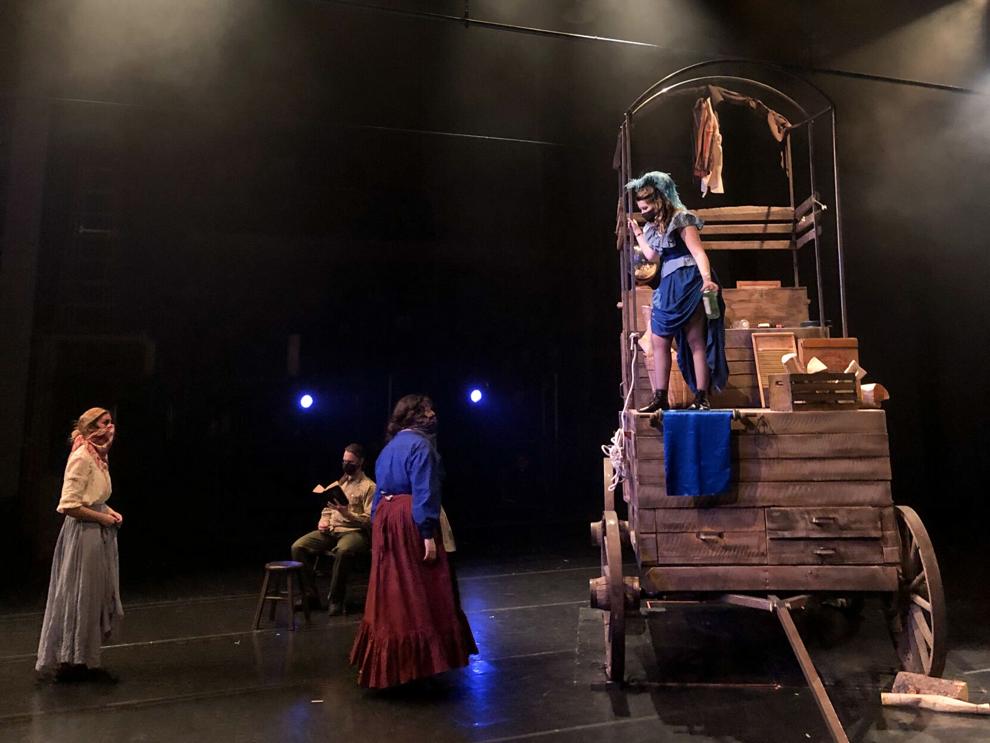 This time last year, UM theater got the devastating news: its "Spring Awakening" show was canceled due to the pandemic. This year, not only does the show go on, but the spring production of "Mother Courage and Her Children" embodies the enduring qualities of human nature and persistence that lives on 80 years after its initial release.
The play, written by Bertolt Brecht during World War II, offers a Marxist view of a society reaping the brutal consequences of capitalism gone wild, told through a story set during the "Thirty Years'" religious war of the 17th century. 
The director of the performance, Shane Lutz, said this play is more timely than ever. After school went online and "Spring Awakening" was canceled, he made it his mission to do everything he could to make this year's show a reality. 
"It was devastating, and I refused to let that happen again. I said, 'How can we make a piece of art in this very strange brand new time?' The 'Brave New World' of today?'" Lutz said. 
Lutz said the parallels between the inevitability of the pandemic and the human lust for war is what drew him to choosing Brecht's play.  
"War is just business as usual for this world. We can't look at war and say 'isn't this a terrible, evil, horrifying thing,' because it makes a lot of sense in a society where it's cognizant of someone else's failure. It makes absolute sense that the people who can, profit off of war," Lutz said. 
Richard Drake, a history professor at UM, agreed. Drake said this play is a potent critique of the corruption and economic exploitation in a capitalist society.
"I think that the play is very timely because it raises questions about what are the connections between our economic institutions and war; that's the question [Brecht] always asks, and those same questions can be asked in 2021," Drake said. 
Drake said he hopes people go and watch this play because the particular value of "Mother Courage" lies in its anti-war theme, and the associations people will make with it, despite being more than 80 years old. 
"It's a critique of modern warfare; it's an anti-war play. All of his work has a Marxist ideological background, which you need to be aware of in order to really appreciate what he's really getting at," Drake said. "I think it's a very timely, current play that people should see."  
Kendall Seibel, who plays Mother Courage, a woman determined to benefit from the war while also scrutinizing it, said she and the rest of the cast found mirrors of themselves within the characters of the play and related to the story more than they expected. 
"I think that this play is timeless, and it's applicable to any situation, and super relevant to today. 
"We were able to talk about how we have been oppressed and how we see ourselves portrayed in the play has been very interesting," Seibel said.
She said she has never done anything like "Mother Courage" before. 
"Being able to be on a show like this was so fun — even on just an educational level — it was a teaching moment for all of us," Seibel said. "There is so much emphasis on capitalism and living under an oppressive government and how far people have to go just to make money; and how easily people will betray each other just to get by."
Something Seibel thinks people will relate to most is that, though Mother Courage is the protagonist, she is not a good person. In her story, she is the source of her own problems throughout. 
"Knowing that most of the problems that go wrong for this character are because of herself is really interesting for me to play. Because she's not a villain; she is human," Seibel said. 
Seibel said she hopes people find the same connection to the play that she has, and are able to find a form of comfort from its chaotic nature.