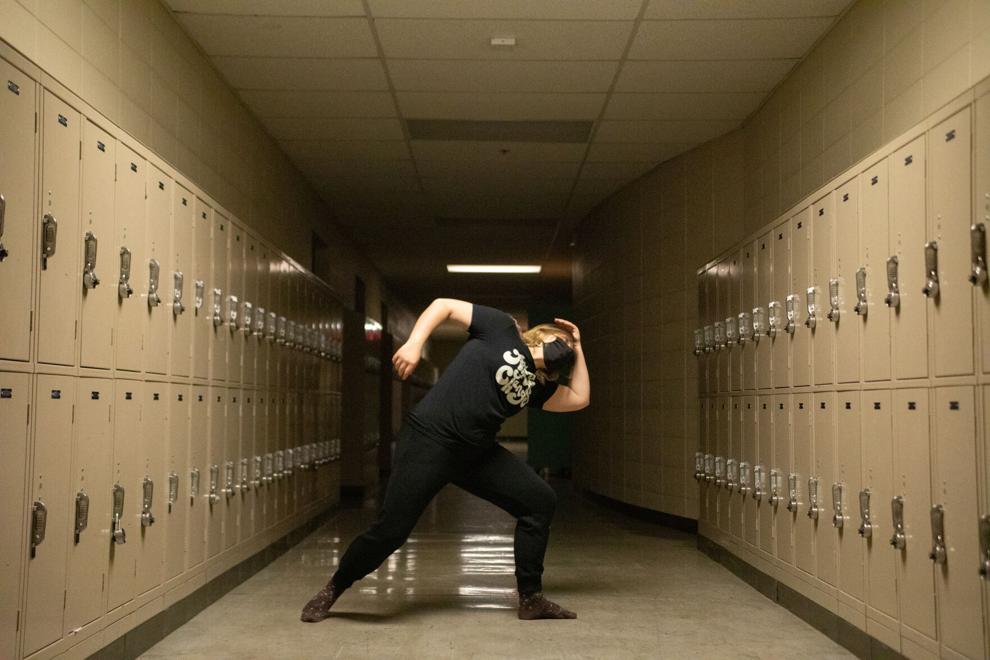 University of Montana dance students Chloe Burnstein and Jake Cowden stand in a half-lit stairwell, separated by a full story as they touch the ceiling, roll across the floor and peer at each other over a stair handrail — making a point to use their environment to their advantage. 
Cowden and Burnstein's choreographed dance, "Balanced," was one in a series of productions that featured UM's annual American College Dance Association benefit concert on March 24. Unlike previous years, this concert was placed in hallways, lofts and stairwells — not stages. 
"Choreographers on stage have an idea of where the audience's eyes lie," said Heidi Eggert, the producer of the series. "But when a dance is made for the camera, because of the framing and the editing, the choreographer has more control over how the audience perceives the dance." 
With many stage performances getting the boot due to COVID-19, change was inevitable in how shows were approached. But that hasn't stopped artists from finding innovative ways to adjust from dancing in front of crowds to cameras. 
Eggert said she assigned dance projects with an improv-flavored "yes-and" attitude, encouraging students to think out of the box. This included assigning duos and trios of dancers to perform in unconventional spaces.  
Hannah Dusek, a sophomore and choreographer at UM, said that the production of her performance "Institutionalized" was an adjustment, especially since she didn't have the adrenaline rush of dancing in front of a live audience. Dusek and two other performers — Maeve Fahey and Kasper the Saint — had to play a lot with depth during the performance because the performance was filmed in a narrow hallway
"We definitely all miss the applause of the crowd," Dusek said. "But I think it's cool the way we're able to produce it out into the world like a show." 
While the shows are streamed, several of the performances will be judged by nationally and internationally renowned dance artists and critics. Eggert said the show may even reach a wider audience because the concert will be online. 
"In some ways, we have the potential to reach a broader audience because anyone in the country and anyone in the world can see the show," Eggert said. 
The flow of money also changed this year. In past years, the funds raised by the ACDA benefit concert were allocated toward a dance club trip. This year, Eggert said the group is donating those funds to ACDA virtual workshops, two screen dances, the Young Women's Christian Association and the Montana BIPOC Equity Project. 
"The dance club has made it a mission to acknowledge what our community needs," Eggert said. 
Eggert said this includes what UM dancers need. It's no secret that the pandemic has taken a mental toll on college students. Eggert said she thinks this concert can bridge that gap back to some degree of normalcy and creativity. 
Ruby Roberts, a senior choreographer at UM, said that her senior thesis "Thorazine," which streamed in the concert, was exciting, despite her inexperience with filming dance. Roberts' performance was an "ambiguous expression" of her emotions, with underlying themes of mental illness, generational trauma, civic duty and familial nourishment. 
The dance was centered in her hometown of Pablo, Montana. Roberts said she enjoyed the experience of connecting with her roots, and was glad that she was able to perform despite the pandemic. 
"The times that we're living in just feels really heavy, and there's maybe a lack of inspiration," Roberts said. "But afterwards, when it's all done, it's a good feeling. And I think it's more important now than ever to keep working and keep collaborating and making art."