Displaying her cumin and coriander, two of several ingredients, Chef Farida Khinjani kicked off teaching Missoula community members how to make Afghanistan's national dish, Kabuli Palaw, in an effort to share her country's culture.
Khinjani hosted an online Zoom gathering to teach her family's cooking secrets to close the nationally celebrated Welcoming Week, which consisted of a series of events geared toward welcoming immigrants and refugees to the community. Kabuli Palaw, is well known and loved, according to Khinjani. The dish is usually made for large gatherings, which Khinjani said happens often in her culture.
Originally from Afghanistan, Khinjani moved to the United States five years ago. Through the organization Soft Landing, she found a community in which she could share her cooking skills. She said she uses her cooking as a vehicle to share her culture.
Having gatherings is a central aspect to Afghani culture, and Khinjani said that food acts as a gateway to other experiences and conversations.
"People would come to my house and would be served food so that they can discuss several aspects of different things that happened in Afghanistan," Khinjani said through her translator.
When she was not concentrating on cooking and instructing, there was a constant smile on her face that the viewers could see through her clear mask. She placed a chicken breast onto a hot pan, one of the several simple ingredients used to make the recipe. She began the task of searing the meat, which she later added cumin and coriander to. These spices were two of three used, along with salt, but were what gave the dish its unique flavor.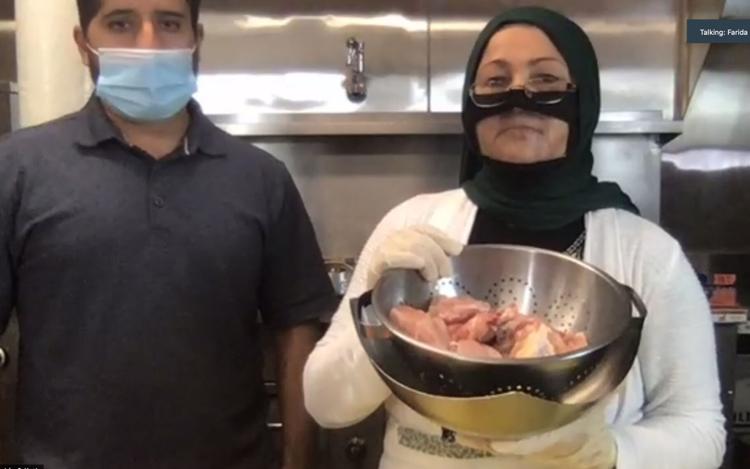 "Now she is putting the lemon juice in with the chicken...everyone in Zoomland doing okay?" asked Katie Kirwan, the Kitchen manager for Soft Landing's partnering business United We Eat.
Adding lemon juice and water to the chicken and onion mix was the end of the first "phase" of the recipe. The next phase: rice. After the rice was done, Khinjani showed the class how to roast almonds, pistachios and raisins at a high temperature in vegetable oil.
Once these components of the meal were prepared, she added all of the various foods in a big pot, put it in the oven for 20 minutes then produced the finished, a ready-to-eat mountain of Kabuli Palaw.
The oohs and awws of the class represented how the dish tasted.
At the end of the cooking session, Khinjani thanked the participants for coming. Again, the smile on Khinjani's face was evident.
"Whenever I have classes or invite someone over and cook meals for the community, that is the best part of my life and makes me happy all the time," Khinjani said.