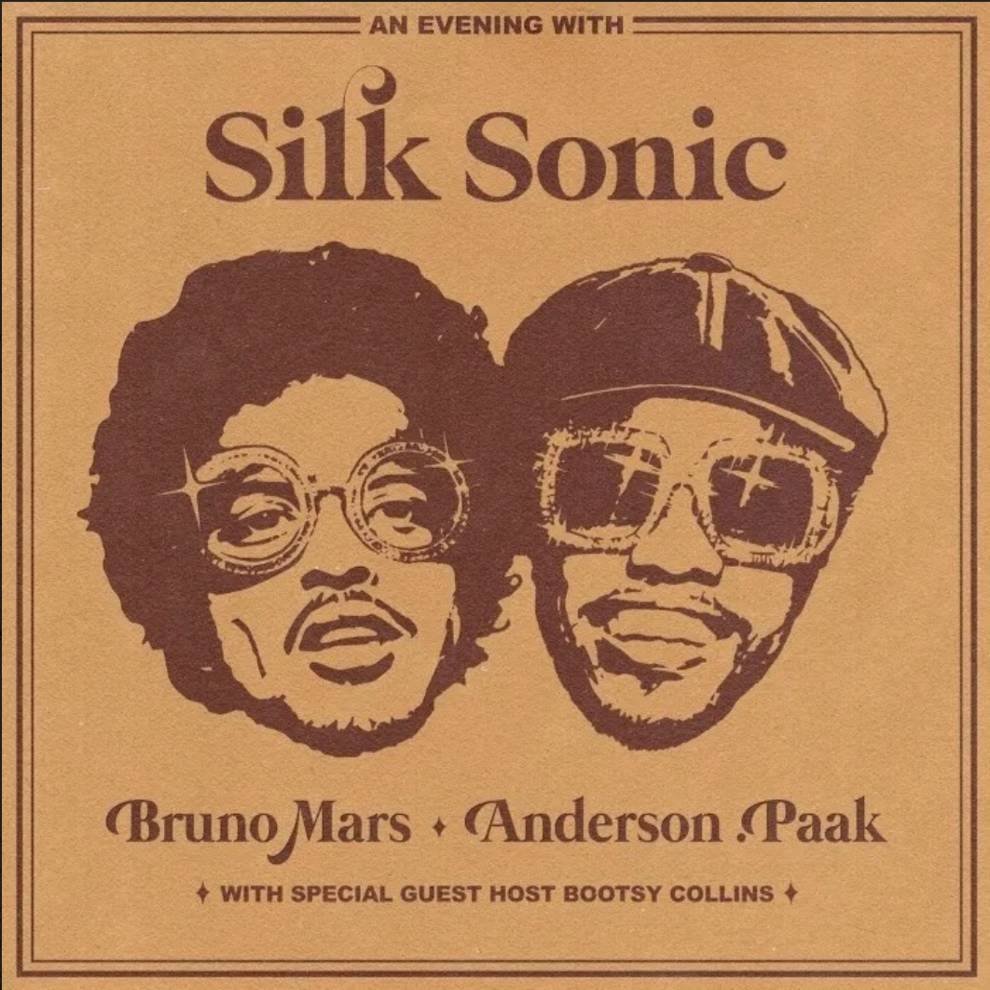 It seems any album that serves as an homage to a bygone era of artistry will struggle to assert its own merit from its nostalgia. But "An Evening with Silk Sonic" by R&B gods among men Bruno Mars and Anderson Paak is a rare exception.
Complete with slow-burn sex jams, phattttt bass-driven funk anthems and, most importantly, P funk legend and Blaster of the Universe Bootsy Collins' bass and vocal stylings, Mars and Paak's Silk Sonic project represents the very best possible result of two musicians collaborating on a project fueled entirely by passion and unbridled respect for their creative elders.
The intro track and their first single "Leave the Door Open" make it clear Paak and Mars are well aware of the key songwriting elements that elevated '60s funk and '70s R&B to greatness, despite both artists being born in the mid-'80s. They introduce the expansive brass band and understated guitar and piano that set the tone for the rest of the album early, and both artists' vocals mold with their goal timbre perfectly.
Paak flaunts his rapping prowess in the wa-wa pedaled guitar and syncopated bass heavy funk track "Fly as Me" to usher in a welcome moment of shining even above Mars (because let's face it, everyone is outshined by Bruno Mars) and transports us back to a Sly Stone-esque groove that is often lost to the slower R&B ballads on the album.
"After Last Night" features Thundercat on bass and vocals in the most silky and romantic track on the LP, as well as a hilariously eccentric Bootsy Collins monologue to highlight the tongue-in-cheek nature of Mars and Paak's writing. This album had to tread lightly in avoiding becoming a gimmick due to the concept, and Bootsy's presence adds authenticity and humor to the LP.
The boys get emo for a stint of the album in their purest R&B track "Smoking Out the Window" with venomous vocal performances by both Mars and Paak expressing their woes over feeling used in hilariously contentious lyrics.
Bootsy introduces the most morose track of the LP, "Put on a Smile," by saying "tell her how you really feel," and Bruno Mars does that and more. In the elegantly orchestrated ballad with clear Prince influence, Mars delivers painfully emotional vocals with his same crisp clarity and impressive range supplemented by overambitious drum and piano swells. Fuck it, I'm saying it, this is the best performance of Bruno Mars' career. Don't @ me.
The LP winds down with conceptually driven funk tracks "777" and "Skate," and concludes with the anti-climatic slow burn R&B tune "Blast Off" recounting a psychedelic trip in an understated, but competently executed song that encapsulates the retro R&B sound Paak and Mars wanted to capture throughout the album.
We all needed a good cry to the ten-minute version of "All Too Well," but please don't let the Swifties bury this no-skip funkalicious gem despite sharing a release date with the Red re-record. With fewer and fewer artists from the retro funk and R&B periods that opened the floodgates for popular experimentation in avant-garde songwriting still around, Mars and Paak's project can reintroduce the raw talent and creativity that fueled this era to the younger generations to revel in. If this album inspires young musicians' compositions with its sound, modern pop could be elevated to a whole new level of depth and groove.
With a clear concept and masterfully executed nostalgia trip harkening back to a golden era for innovative musicianship, this album could only be improved by lengthening its short runtime after leaving its fans asking for more. Listeners are legally required to only enjoy this record in a satin robe with champagne, and any track from it will be a welcome edition to any sex playlist.