A sunlit side yard and hand-built plywood-on-pallets stage became a dance hall and big-band concert venue on Saturday night for The Fertile Crescent's first show of fall semester. 
The band, comprised of eight University of Montana students, worked their soul-rock sound as the crowd grew and the sun set through the leaves of the backyard pines. Neighbors from two blocks down couldn't hear the music, but they could hear the crowd. Bikes began to pile up in the grass along the fence line. 
Side yard turned dance hall
Kyle Curtis — vocalist, guitarist, and founder of the group — started the evening off with a mellow solo set before leading his group through the kick-up-the-dust-dancing eight-song set.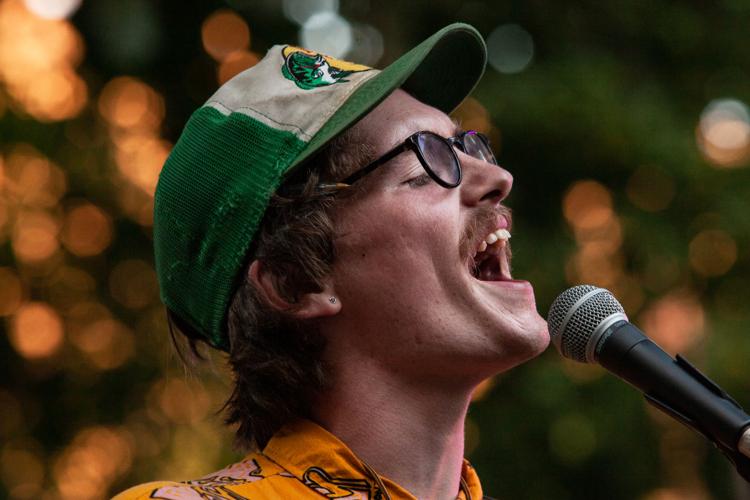 Since the group's January performance at the ZACC, the Fertile Crescent has reduced its numbers from 12 to eight and, with a renewed focus and intent, Curtis feels the group is finally hitting its stride. 
"After our show in January was when I had this revelation that if we hunker down a little bit, we could do some serious stuff in this town," said Curtis.
This means weekly rehearsals (previously an impossible scheduling headache) with the goal to headline shows around town at places like the Top Hat. 
"That's kinda like the highest a small band can get around here, but a dream of mine has always been to be in a band that goes on tour," said Curtis. "If it was going to happen with anyone, it would be this band."
Made up of six music majors, a marching band member, and Curtis himself, the band highlights the skills of students at the University of Montana School of Music. 
The faces of the Fertile Crescent
"Music students are pouring their heart and soul into being musical and artistic multiple hours a day," said Curtis, adding that he has been to too many recitals in the music school at which no one shows up. "And every time, I think, 'Dang, if only we got these people out at house shows, people could see what kind of musicians we have in this town.'" 
As part of that effort, students in the School of Music were invited to play a solo with the band during the set. Roughly six students took the opportunity, stepping up to the mic with their brass instruments. The crowd went wild.  
A few soloists told Curtis it was the most fun they'd had playing in a long time.
The best thing Missoula can do to support these local musicians is to show up, said Curtis. Student recitals are free. "That's when you get a really focused look into one or two people and really see what they're capable of."