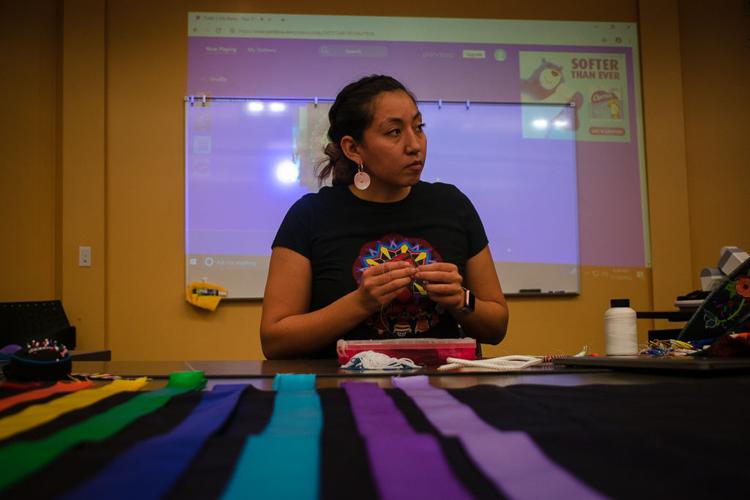 Color and crafts splashed Room 105 of the Payne Family Native American Center this week. Brilliant silks were delicately stitched onto dresses, vibrant beads painstakingly threaded into necklaces and patterned fabrics pressed onto cradleboards, all in celebration of National Native American Heritage Month.
The University of Montana Office of American Indian Student Services hosted the workshops over two evenings—Wednesday, Nov. 28 and Thursday, Nov. 29. They focused on traditional Native American crafts, such as dress making, beading, and cradleboard creation in celebration of November, Native American heritage month. 
The first night focused on ribbon dressmaking, a traditional Native art in which streams of silk ribbon are stitched onto dresses. Students Shalbilyn Tall Whiteman and Marita Growing Thunder as well as AISS Director Michelle Guzman began the workshop by choosing strands of silk from a table. Sophomore Growing Thunder chose some of her silk based on color.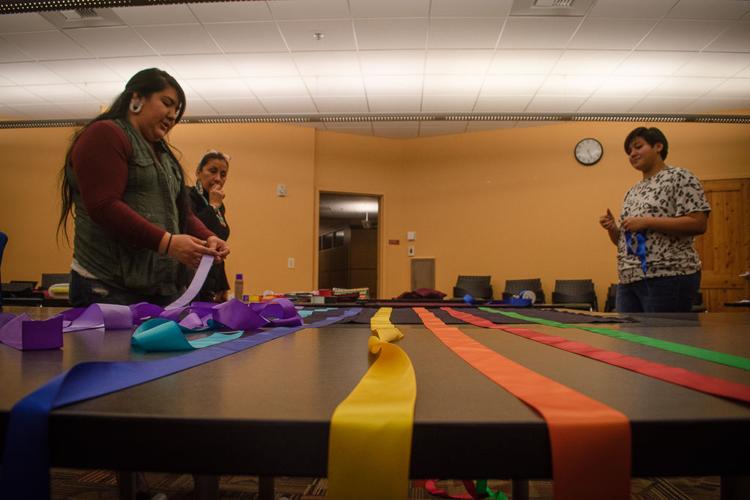 "Red is representative of resiliency. It is a sign for a lot of people," Growing Thunder said, "In the Southern Plains we use a lot of fire colors."
At a sewing machine, Growing Thunder meticulously sewed the silky ribbon onto her dress. She explained she began the craft as a teenager.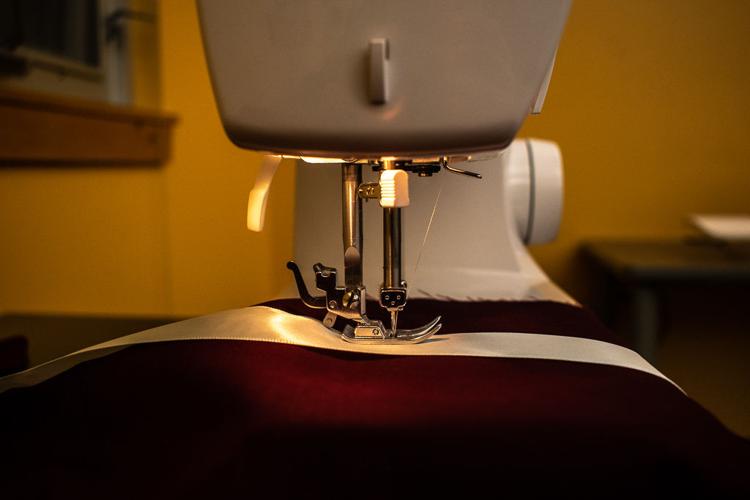 "I was 13, I had to teach myself. There is no right or wrong way, it gets easier as you do it. Trust what you put down, and accept the outcome."
Senior Willow Kipp took a slightly different approach to the workshop-  designing traditional Native necklaces. Kipp carefully threaded vivid beads together to make  intricately patterned necklaces.
"It's something easy I can do. For the design, I go off how I'm feeling." Willow said.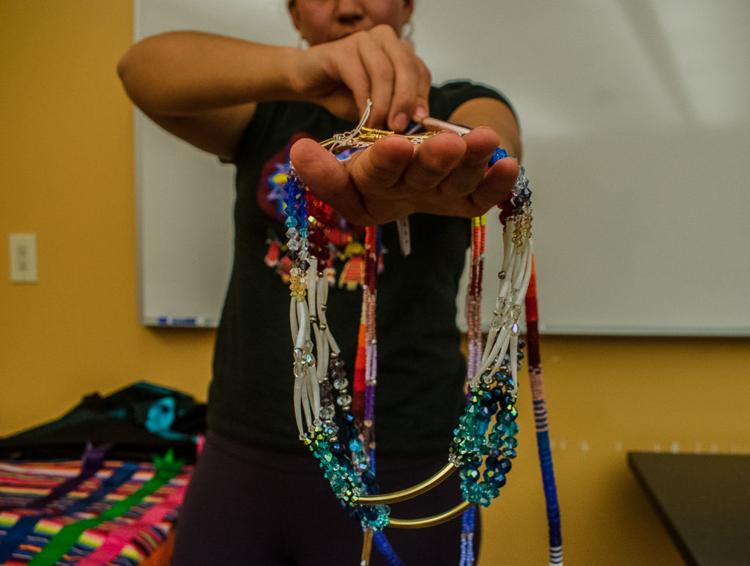 Native ribbon dresses were completed within 2-3 hours, and colorful necklaces laid on a table.
The second workshop, held on Thursday evening, was traditional construction of cradleboards, a portable cradle for infants.
High school and university students participated in the workshop- beginning by smoothing the cradleboard's wooden shape with sandpaper. When the base was flat, attendees wrapped the wooden edges with tape to minimize the risk of splinters.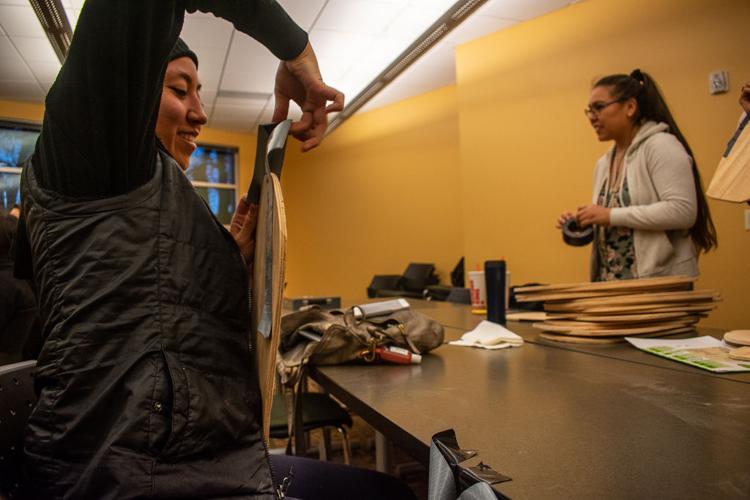 Next, workshop attendees covered the planks in fabric. Hellgate High School student Essence Magpie, 15, perfected the step by placing her wooden cradleboard base in a blanket of fabric, covering the wood in the fabric, then tracing her covered cradleboard as she cut it out from the blanket of cloth.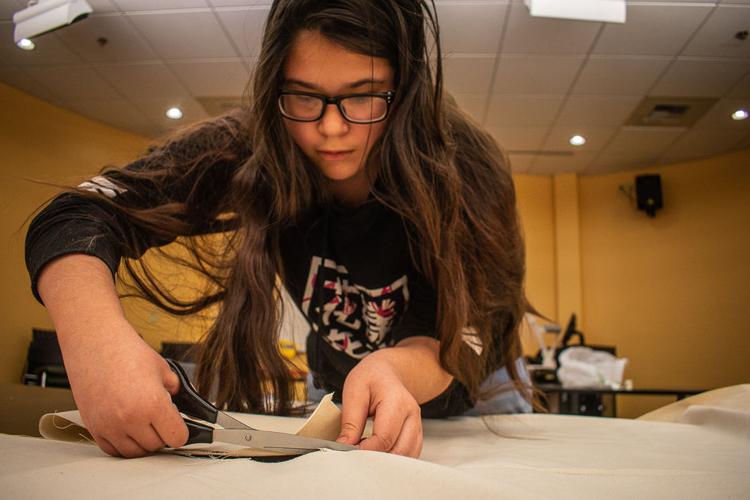 Craft-goers then folded and stitched the cradleboard's fabric to create a pocket for an infant. Finally, a variety of patterned fabrics were added for decoration- from dark-orange autumn leaves, to neon colored polka dots.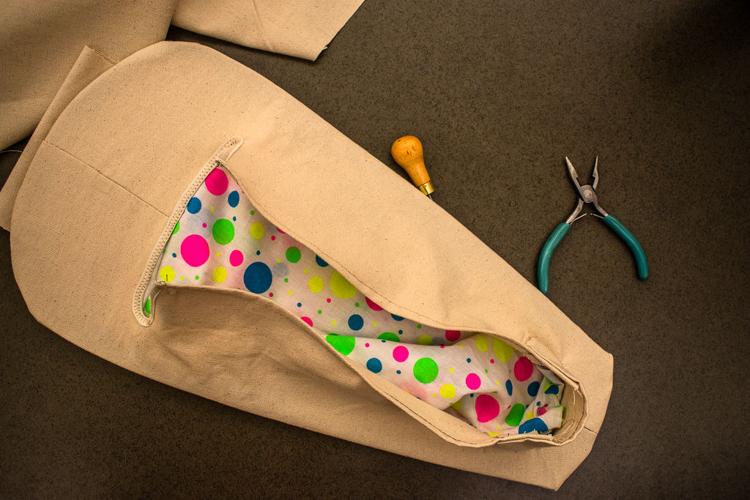 In total, 22 cradleboards were available for design.
Kipp said including the workshops Native American Heritage Month was of great importance
"The point is to support Native American style," she said.