With finals week creeping unwelcomingly closer, many people look to find relaxation in things: TikTok, drugs, alcohol, YouTube, alcohol, Netflix, music, alcohol, etc. But if you're looking for a way to relax that does not involve a headache in the morning or hours of screen time at night, perhaps "Calm N' Crafty" is for you.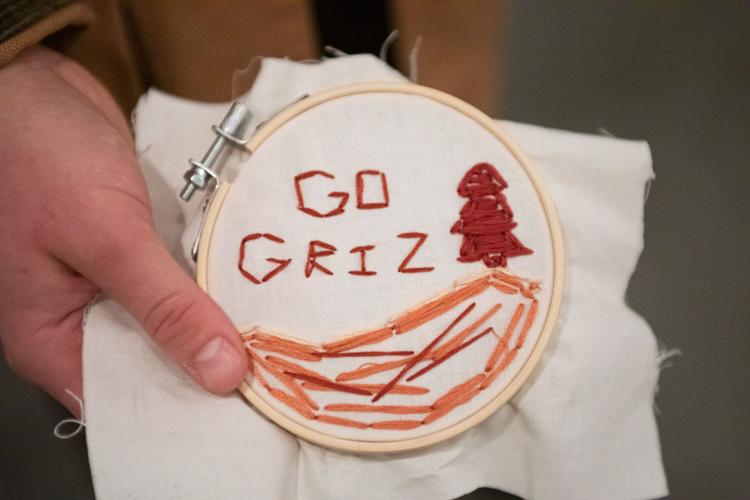 The University of Montana's Student Involvement Network hosted its first of three "Calm N' Crafty" Zoom events last Thursday evening. The network started the crafting series to give people a healthy outlet to relieve stress during the end of the semester. The three-week series features sunset embroidery, Macramé key chains, and fringe wall hangings.
Before hopping onto a Calm N' Crafty Zoom meeting, the participants must stop by the Associated Students of the University of Montana headquarters in the University Center to pick up the goods in their individual brown paper bags. This week, upon opening the brown paper bag, there were three sets of earthy-like colored string, a needle, cloth for embroidering, and a wooden-circle hoop. The hoop itself was about the size of a pickle jar lid (ASUM really spent the big bucks out here) big enough to display on a shelf, but probably not welcomed on a blank wall.
The Zoom call consisted of 10 women. It felt like a ladies' night out. The host of this event was Sabine Englert, a sophomore at UM. The craft of the night: sunset embroidery. Though, to be honest, it was whatever you damn well pleased to make, Englert said.
Englert did her best verbally and visually to teach the basics to the group. Sadly, most computer cameras suck at doing their job, so a lot of guessing had to be done. Nonetheless, the group prevailed with only minor hiccups and all was swell.
During the session, everyone collectively reminisced about the times when gatherings like this were not through a screen. The mood of the Zoom call was comforting and forgiving. Many—if not all—of the participants had never held a needle in their life, but all smiled and laughed off any mistakes that were made.
During the individual crafting, Englert muted herself and encouraged the group to play whatever music or podcast comforted them the most.
By 8 p.m., everyone in the group had made an outline at least. The beauty of embroidery is you can spend as little or as much time as you like, Englert said. The call ended with friendly waves, and hopes to come for the following week's craft.
The "Calm N' Crafty" series will continue through the fall semester. The next craft will be key chains at 7 p.m. Thursday, followed by fringe wall hangings on Nov. 19. Head to ASUM for your free crafts and plop on Zoom if you are stressed and want to spend your time with good people and good vibes.
More about art at UM during COVID: