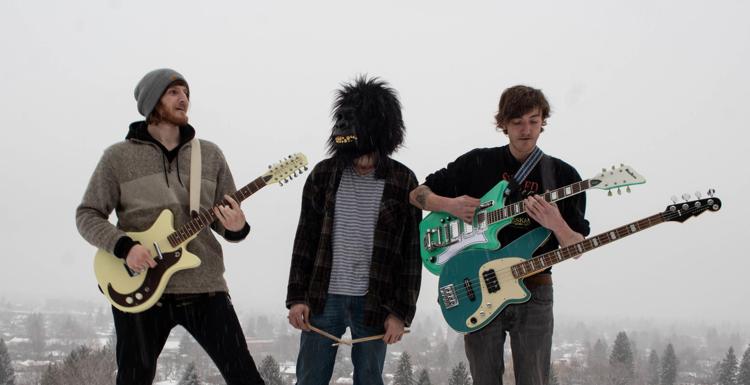 Copper plumbing pipes snake down the walls of the cramped basement rehearsal space. Rows of amps, guitar pedals and mic stands hug the walls. All is quiet except for the gentle hiss of warmed up amplifiers. 
The drums take up the back right corner of the room. Extra drum sticks lie on the bass drum, heavily nicked from love. One, two, three, four. Suddenly, the room explodes with the sound of Crypticollider. 
They are loud. Really fucking loud. The beads of the snare drum shake violently from the guitar and bass vibration. The exposed ventilation ducts hold on for dear life. Earplugs are a must in a cramped space. 
The Missoula-based three-piece consists of brothers Shane and Dylan Findlay and their childhood friend Troy-Michael Adams.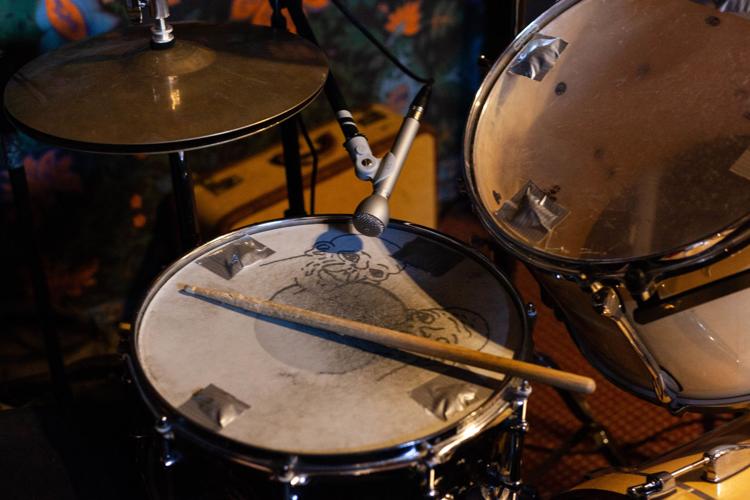 Crypticollider's sound possesses a primal, otherworldly quality. Many of their songs are cosmic instrumentals. Shane and Adams use a musical chair approach, switching between bass and guitar, and sometimes playing guitar at the same time. Though they are often labeled as psych-rock, the band describes themselves as surrealist rock. 
Their songs have a frantic, breakneck pace, featuring numerous changes in time signatures and tempo. While Shane and Adams gallop up and down the necks of their instruments, Dylan's arms move like an octopus behind the kit, flinging sweat and rhythm. 
"I love being in the music scene," Dylan said. "But fuck, it's tiring." 
Dylan, the eldest Findlay and drummer for the band, first met Adams in fourth grade. 
"That's when he stole our 'Ocarina of Time,'" Shane said with a laugh. "He went to Hawaii never to return." 
Eventually, Adams came back, but the game cartridge was never to be found again. 
Dylan and Adams began jamming together their sophomore year at Sentinel High School. The two would sneak off to play on lunch breaks and would spend hours after school working on songs. By 2017, Shane joined the duo and Dylan officially took over drum duties.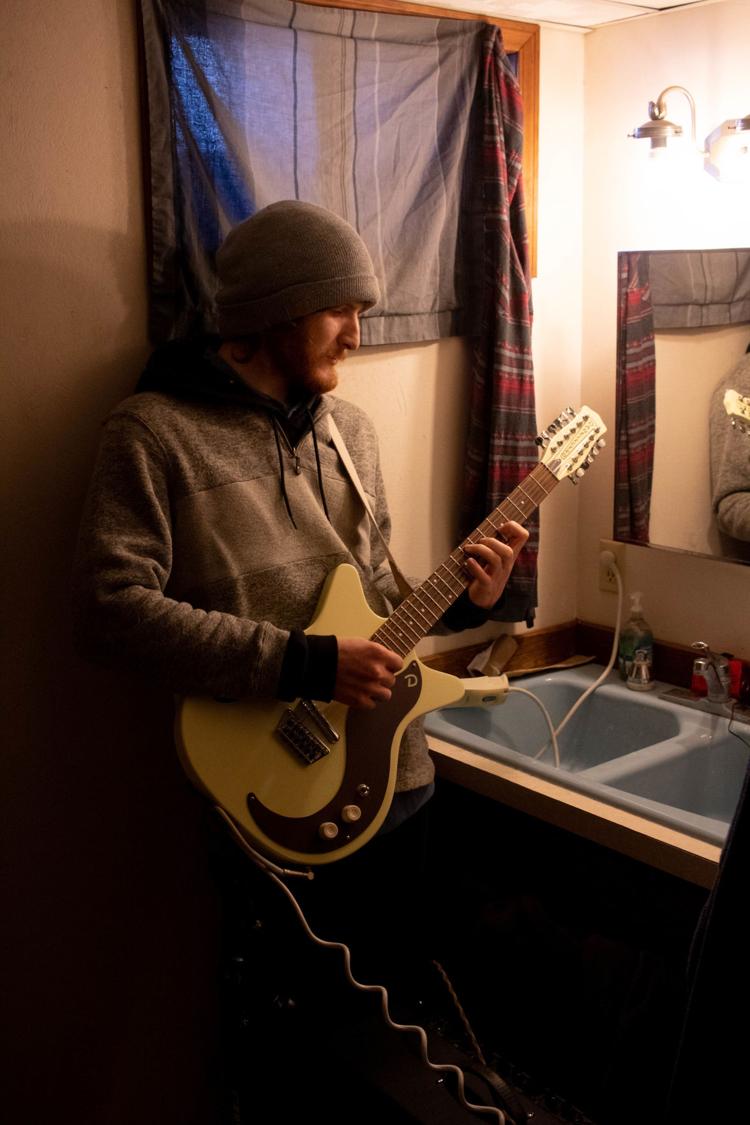 "I already played guitar," Shane said to Dylan while remembering the formation of the band. "And you wanted to play and I said 'No.'"
The Findlay brothers have always wanted to be professional musicians. Adams, however, wanted to focus on 3D design to create video games. He loved making art in photoshop, incorporating elements of graphic design.
"I always thought I had wanted to do that," Adams said. "But then I took a class in high school and absolutely hated it." 
The band underwent some growing pains in the early days. Shortly after officially forming the trio was booked for their first show at the VFW. The only problem? They didn't have enough material prepared for the half-hour set. They had one month to get ready. 
The period was intense. Dylan was still new to the drums and was frustrated by his ability. Some jam sessions became heated, and Adams would have to step between the brothers. 
"We had all that time where it was just up in the air as to what we were going to sound like, what sort of songs we were going to make," Dylan said. 
The band's sound is certainly informed by their wide range of influences. Pink Floyd, Tame Impala, old school blues and rock titans of '60s and '70s can all be heard in their sound. "Sapphire Blues" is one of many songs born from the rush to get stage-ready. It's like an ode to vintage Neil Young with its simple opening riff that expands into an effects-laden jam, much like Young's "Cowgirl in the Sand."
The band had managed to write enough material for what would become their debut album "21st Century Homosapien." 
Josh Bacha, founder of Ghost Carrot Records, saw Crypticollider at one of their earliest shows at the old ZACC and was thrilled. After the show, he spoke to the band and they hit it off. From there he added them to the Ghost Carrot roster, finding shows for them and getting their name out. 
"I was just really happy that people in Missoula are making music that inspired me," Bacha said. "I just want their music to get out in the world."
The band began playing a string of house shows throughout Missoula. Eventually, they got slots at bars like Monks and the Badlander. By Fall 2018, roughly a year after forming, the band headlined the Top Hat. They have played there four more times since then. 
Now, Crypticollider is working on a follow-up album. At a practice at Dylan and Adam's house, the band tore into "Turin Shroud," a reference to the burial shroud that is believed to bear the likeness of Jesus Christ. The song is a sprawling prog epic, with Adams playing lead guitar on his flat white 12-string.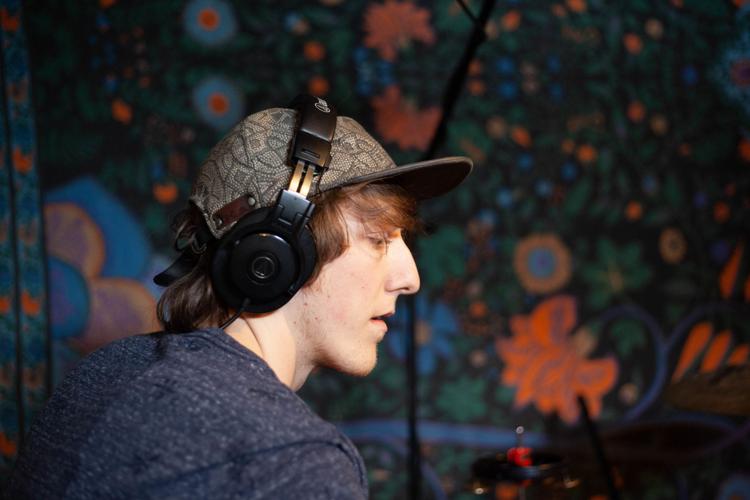 Riley Roberts, formerly of Tiny Plastic Stars, met the band shortly after Bacha's first encounter. When Roberts first saw the trio, he recognized that even though they were young, they all naturally had something that takes a musician a long time to find. Roberts points to their chemistry and their ability to write songs that are able to grow and expand on stage as prime examples.  Roberts is now helping the band record their follow-up to "21st Century Homosapien."
"I thought that whatever I would be able to do to help push their band forward, I would," Roberts said. 
The band today is different. There's a brotherhood that seeps into their playing. They can communicate with a look or a gesture; they all have an unspoken connection. When the song is right, the three are all smiles. 
"Me and Dylan are kinda like mind-melded," Shane said.  
The trio hopes to make a new record that is more representative of their sound. The band feels like they are on a creative highpoint, firing on all cylinders in the production of this new album, which will be almost completely performed live in the same room. As for now, the working title is just "Crypticollider." They plan to launch a summer tour to coincide with the album's tentative release.   
Crypticollider will be playing Thursday, March 5 at the Badlander alongside Atari Ferrari and Sasha Bell.