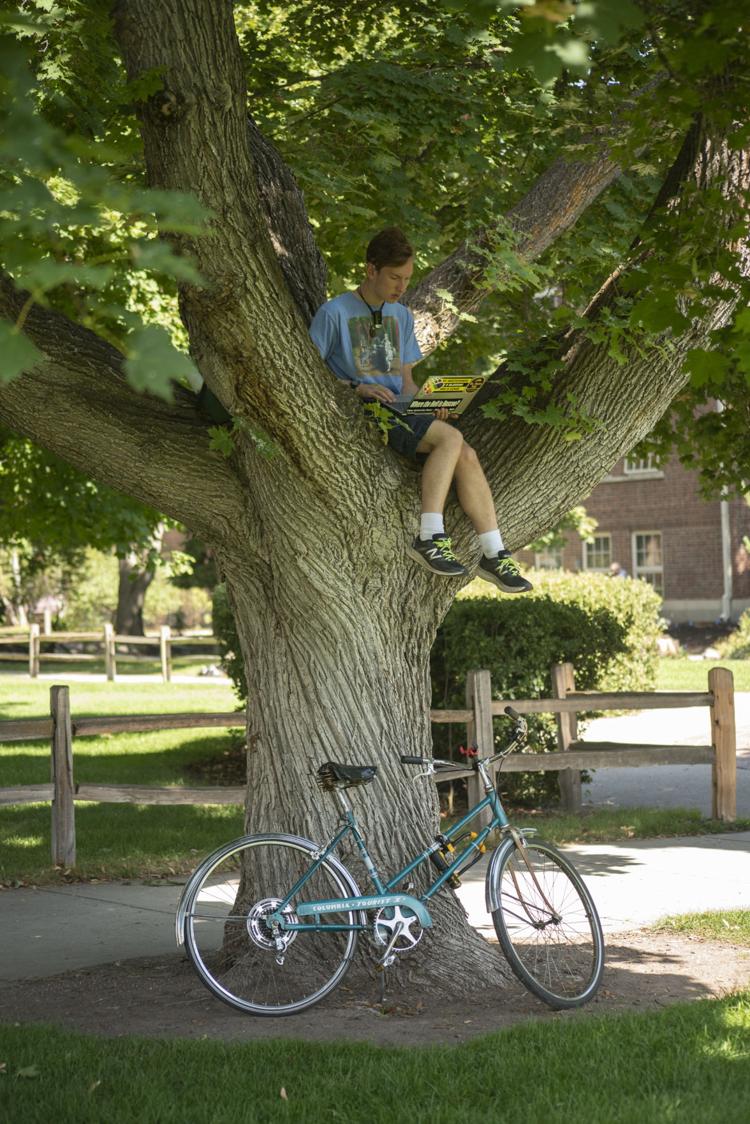 At the first Prose and Poems reading of fall 2019, 18-year-old UM freshman Ben Borhegyi declared, "I'm defeating my enemies, one day at a time."
Borhegyi was one of many student poets at the event. He read from his phone, openly addressing his enemies — disability, depression and loneliness, to a room of 30 friends and peers. There was a loud round of applause when he finished reading his two poems, including "One Day at a Time."
"One of the things that inspired this poem was when I got to university, I kind of made college resolutions, like New Year's resolutions," said Borhegyi. "One of them was to be more authentic. So I wanted to do that in this poem."
Before coming to UM, Borhegyi had high hopes for conquering that loneliness. Now, he has to search for a table big enough to fit all his friends.
"I got to meet a lot of awesome people when I toured the school," he said. "I definitely felt like I could find my people here, and I certainly have."
"It was the most successful [Prose and Poems] event we've had so far," said Hailey Michelson, Branch Center and Student Involvement Network adviser. "And the largest turnout."
After Prose and Poems, Borhegyi smiled, and posed for a photo alongside a group of eight of his supportive freshmen friends on a Branch Center couch.
"Ben works incredibly hard and it shows in his writing." said Bekah Redinger, a fellow poet and friend of Borhegyi, who also read at Prose and Poems.
A Boston native, Borhegyi came to UM for the outdoors. He's majoring in biology and minoring in climate change studies and Spanish. He identifies in many ways: queer, deaf, ethnically Jewish and vegetarian. He prefers tea over coffee and he likes climbing trees. But when asked what the most important aspect of his identity is, Borhegyi wasn't as concerned with labels.
"Being a good person," he said.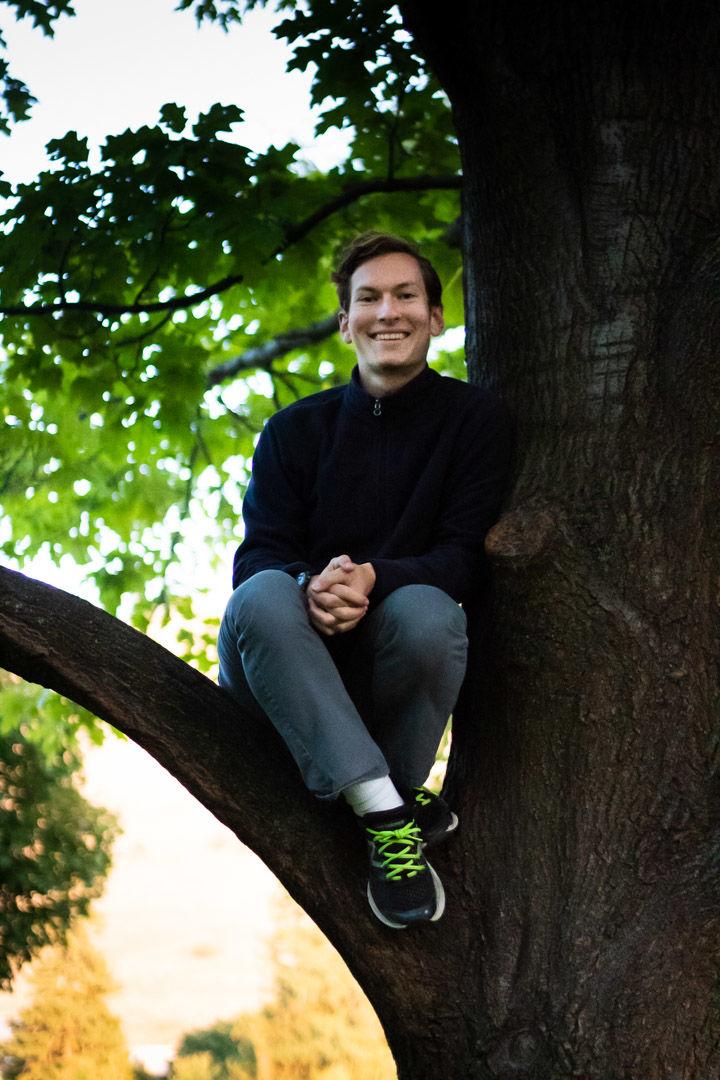 For Borhegyi, this means advocating for others. He's passionate about social justice issues and highlighting UM student clubs. Spanish Club, Global Leadership Initiative, the Pacific Islanders Club, Ceramics and Crafters Club are a few that he's involved with.
In high school, Borhegyi competed on the state level with the Envirothon team, was co-captain of the hiking club and joined his school's gender and sexuality alliance (GSA).
"If I'm not busy, I feel like I'm not really contributing," Borhegyi said.
At UM, he's carried the same energy into starting a poetry group with friends.
"There's that kind of community, I feel at home with other queer people," he said. "We try to be open to everything, everyone."
Although he's only been in Missoula for a few months, he's been busy exploring and appreciating the diverse cultural perspectives at UM. Being a member of Pacific Islanders Club and reading the Grizread, "There There," by Tommy Orange, Borhegyi has learned a great deal about Native American and Hawaiian culture.
"Right now, I'm certainly an advocate for the school," he said.
Borhegyi's passion results from his background. He said it's important to him to advocate for climate change and to uplift voices that aren't normally heard. "As someone who is white, male, comes from a wealthy family, I have to work to use my privilege to talk about those issues.
"Poetry is a great way of expressing that everything is connected to nature."
He writes poetry lines in his phone notes and enjoys revising the structure and form to convey different emotions.
Up in the tree, the cochlear implants behind his ears weren't visible. He had surgery when he was 1 and again at 5 to receive computer chip-like implants under the skin behind his ears, which process sound and send it to Borhegyi through a connector piece that sits on the outside of each ear. "I see them as a part of me," he said.
The batteries for his cochlear implants charge at night. "So I'm completely deaf at night," he said. "It's actually kind of nice." He joked that it's helpful for getting some shut-eye in the freshmen dorm.
Borhegyi takes pride in being bilingual, despite doctors believing he may never speak.
"I refute some of the ideas that people have about what it means to be deaf," he said. "A lot of people think you can't speak a language. I speak two of them." He speaks Spanish and English.
"When the doctors told my parents that I was deaf, the first thing that came to [their] mind was, 'Is he healthy?' Thankfully, I was."
Borhegyi credits his parents for helping him through the challenges of having a disability. "They raised me with the expectation that I'm going to do as well as a hearing kid."
The external portion of his implant picks up sound through a microphone, and processes and transmits the sound through Borhegyi's auditory nerves and to his brain. "In elementary school, I was a really badly behaved kid, so I'd throw them on the ground when I got mad," he said about the connector models that resemble wireless earbuds.
When Borhegyi was young, the implant models were bulky and had to be worn with a belt. Now, they're as discreet as AirPods. In fact, he has a Bluetooth music listening device that connects to his implants, so hard rap could be blasting in his ears at any moment.
"It's kind of an honor code thing, I don't listen to music in class. But you know, maybe there will be that one class I can't stand and I'll break my honor code," he joked.
If there's one thing that Borhegyi doesn't identify as, it's an "inspiration."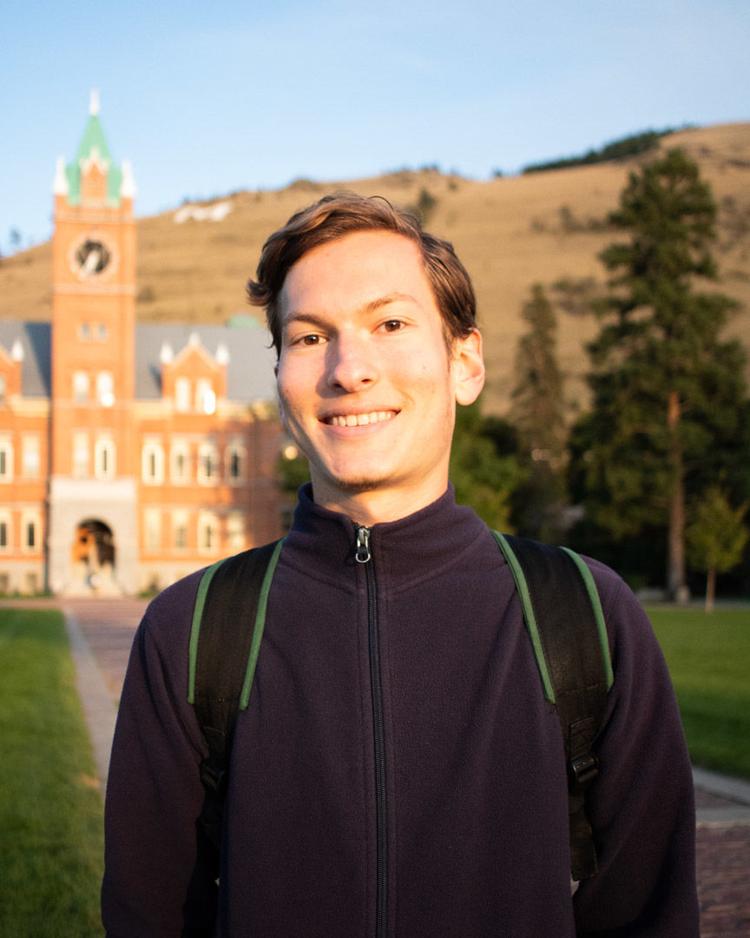 "We are not here to inspire anyone," he said. "If we are reduced to an inspiration, that kind of takes away from who the actual person is and boils them down to a disability. We're just here to live our lives like everyone else."
When he's not fighting against climate change, Borhegyi continues to climb trees and write poetry on a journey to self-acceptance. The last lines of his poem "One Day at a Time" read, "Though I have dashed several of my enemies, left them behind in a dusty grime, I'm still defeating them, one day at a time."
Prose and Poems is a partnership between the University Center and The Oval, UM's undergraduate literary magazine.