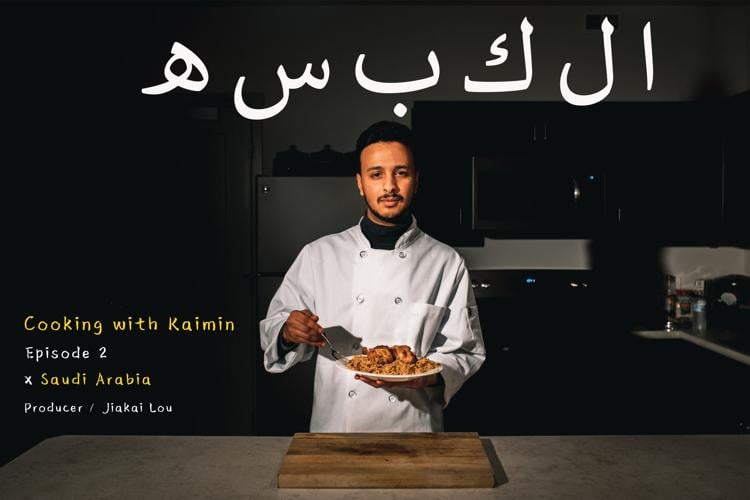 Abdullah Alhamas is a UM senior studying human biology. He's also from Saudi Arabia. In Alhamas' spare time, he cooks up a storm for his friends in Missoula. Here with the Kaimin, Alhamas is sharing Kabsa, a traditional Saudi dish. 
Kabsa is made of chicken that is slowly simmered in a spicy broth of tomatoes, onions and spices. The chicken is then removed and either fried or grilled while the broth is used to cook the rice. The rice absorbs the juices from the chicken and vegetables, making it moist. The result is a lemony and spicy mouth-watering dish. Kabsa is popular not just in Saudi Arabia, but across the Arabic world.
INGREDIENTS 
4 chicken legs (or other parts of chicken)  
3 cups of rice
1 onion finely chopped
1 tomato finely chopped
1 chunk of butter 
3 cardamon pods 
2 cinnamon sticks
4 dried lemons
1 chunk of mega
1 tsp turmeric 
1 tsp chili powder
1 tsp garlic powder 
1 tsp biryani mild
1 tsp paprika 
1/4 tsp black pepper powder
1/2 tsp of red chili powder
1 tsp salt 
1 cup of oil
4 cups of water (+additional)
4 green peppers (optional)
INSTRUCTIONS
Heat the oil in a large, heavy bottomed pan or pot over medium-high heat. Add chopped onions and tomatoes. Fry for a few minutes or until the onions turn golden brown. 
Add the bay leaves, cloves, cardamom pods and cinnamon sticks. Fry for another minute. 
Add the turmeric, Kabsa, chili powder, garlic powder, biryari mild, parika and salt. 
Add the chicken legs and pour the water over it until the chicken is covered.
Add the dried lime, green peppers and mage. 
Lock the pressure cooker (or lid the pot) and bring to boil. Simmer briskly for 15 minutes.
Move the chicken to the oven and broil it until the chicken skin becomes crispy. (About 10 minutes) 
Wash and soap the rice in the broth while the chicken is being broiled.
Measure the broth. For every cup of rice you are using, you will need 1 1/2 cups of water. If the broth is not enough, add water to make it equal to what you need.
Start the heat again. Stir the rice in the broth, taste the broth and adjust the salt.
Lock the pressure cooker again (or lid the pot). Cook on medium high for 15 to 25 minutes until the water totally disappears.
Plate the rice and move the chicken from the oven to the top of the plate.