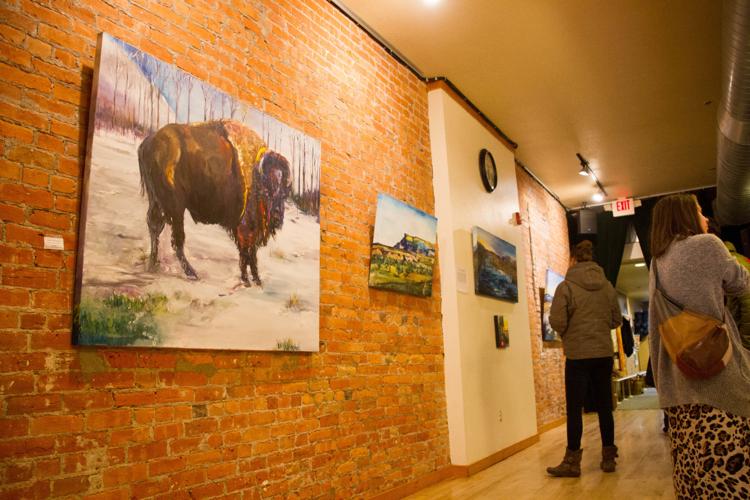 Warm light illuminated canvas paintings that hung along the brick wall. Rednosed gallery visitors still bundled in parkas paused to admire the art, from depictions of a wild buffalo to a river scene.
Michelle DeCelles Schenk painted the face of her great-grandmother Jenni Moran so she blends into the Missouri River and its banks, as if she is a part of the water and the grass of the plains. Schenk painted the scene after returning home from the Standing Rock protests in 2016, her own family's history and the story of the river weighing on her mind.
Schenk's painting, along with several of her other acrylic creations, hung along the walls of the Downtown Dance Collective, displayed as part of the first-ever Indigenous Art Market hosted by the Missoula Indian Urban Health Center on Nov. 1. Snow boots thumped on the hardwood floor usually reserved for dancing as visitors circled the room, admiring the paintings, beadwork and shellwork displayed throughout the room. It is the first art show in Missoula that solely features, and is entirely run by, indigenous people.
Schenk's paintings are filled with her family history, from photographs of Moran and Schenk's grandmother, transferred onto wood with gel medium with pigments in wax for coloring, to the depiction of Snake Butte, where she says her ancestors went on spirit quests.
Schenk is a member of the Gros Ventre tribe and has been painting for three years. Usually, she paints whatever her friends request. But this is the first time she's truly tried to sell her own art.
"These are really personal," Schenk said. "When it comes from my heart, it's more challenging."
Much of the art that was displayed in the room carries historical significance. Melissa Hammett is a member of the Blackfeet Nation and has been crafting jewelry for about a year and a half. She said she crafts her pieces with dentalium shells that were harvested from deep in the ocean. The shells are so rare that they were formerly used as currency between tribes. The process of polishing the tiny shells, arranging them according to size and stringing them for necklaces and earrings is time-consuming, if it is done right. Hammett has to wear a mask while filing the dentalium so she doesn't breathe in the fine dust particles.
Lauren Small Rodriguez also works with shells. She uses buffalo bone hair pipes, only found in trading posts on reservations, and dentalium shells to create one-of-a-kind necklaces and earrings.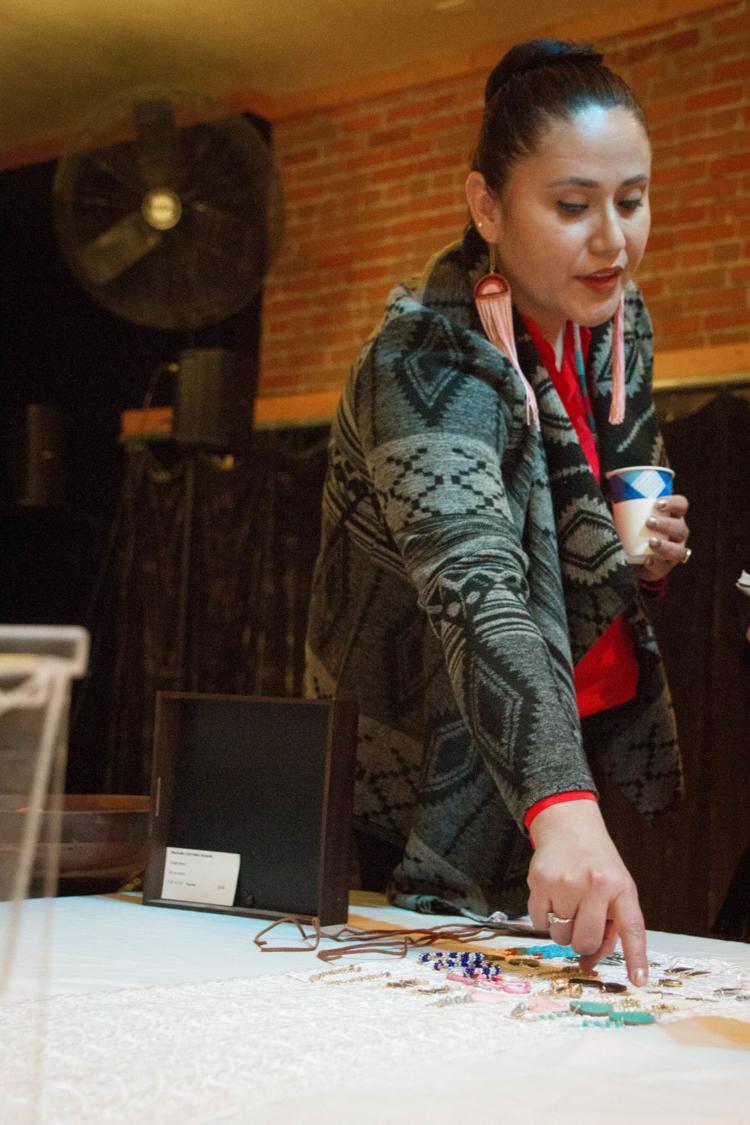 Rodriguez is the community organizer for the Missoula Indian Urban Health Center and an enrolled member of the Northern Cheyenne tribe. Although she organized the event, she also enjoyed contributing her own art to the market. She's been attending powwows and craft fairs with a group of friends she calls her sisterhood, sharing her inventory of creations. But she's excited at the opportunity to display her work at an event entirely run by and created for indigenous artists.
"I feel really happy that this is coming to light and our stories are being showcased in this appropriate way, the way we want our stories to be told," Rodriguez said. "We finally have that chance. We have that opportunity. It feels good. All of us feel very proud."
Danielle Vazquez is from Rocky Boy's Reservation and was excited to attend the first indigenous market she's heard of. She believes Native Americans have a particularly difficult challenge during holidays like Halloween when people make costumes out of headdresses. But she felt like the Indigenous Art Market focused on the beauty and diversity of Native American people.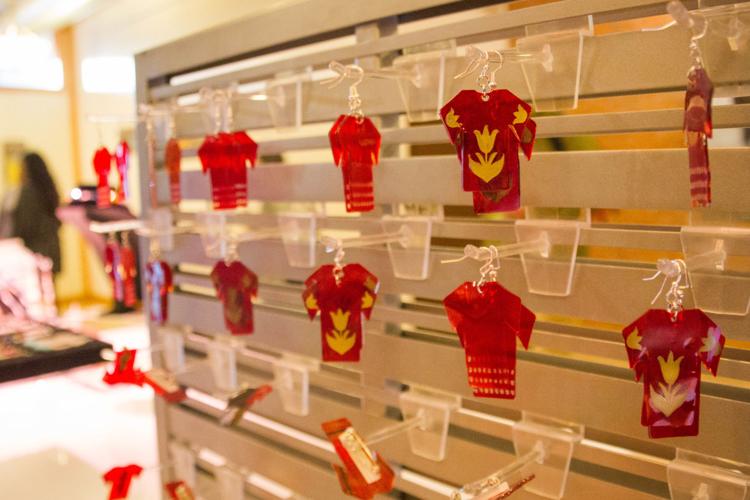 "This is our art and it's how we self-represent ourselves, our communities, our tribes," Vazquez said. "It's a positive thing in a time where a lot of bad things are going on."
The market has been in planning for more than two years. It's intended to be an educational event for the Missoula community as a whole. Rodriguez says art is unique to each Native American tribe, from how it is taught, to how it is made, to the kinds of patterns used and why. She hopes it will teach people about the respect the art shows for nature and the generations that created it before them.
The event also doubled as a fundraiser. Rodriguez and other staff members at the Missoula Indian Urban Health Center made dress pins from red acrylic, which refer to the Missing and Murdered Indigenous Women movement (MMIW). The proceeds from the dresses go to the MMIW movement and other organizations.
The Indigenous Art Market will be in the Downtown Dance Collective on the first Friday of every month through January, when it will move to the Zootown Arts Community Center.