EVELYN WALL WALKS OVER TO A TABLE at Butterfly Herbs, sits, removes her Patagonia bag and orders a drip coffee. This is only after being greeted by each barista, with whom she's on a first-name basis. She started frequenting the coffee shop, which she says is the closest thing Missoula has to a gay bar, soon after coming out as transgender. It was the only place in town where they never misgendered her, and always called her the right name.
Over a year has passed since then, and Wall is a regular. During her time there on that Sunday morning, she sees at least five people she knows, all of whom she greets, checks in on and compliments their outfits.
Today, she came to the coffee shop to mingle and talk about Out There, a student club she started last May. The club has grown to more than 250 members, an estimated 50 who regularly participate in activities and all are LGBTQ+ students.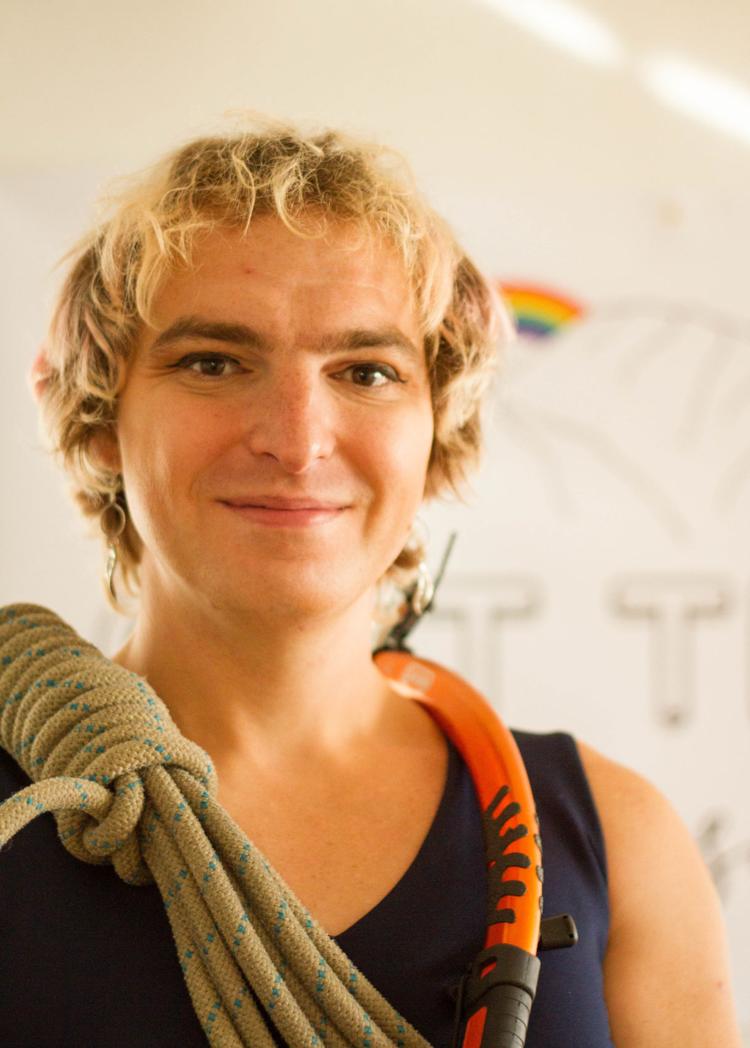 Out There is an outdoor mentorship program, which Wall established utilizing more than a decade of outdoor guiding experience.
"The big ticket for me is that I'm tired of seeing my queer siblings disenfranchised and disempowered," Wall said. "I want to do whatever I can, that's effective, to give them a better fighting chance."
Though she doesn't stand out in places like Butterfly Herbs, Wall knows she turns heads in Missoula among outdoor recreationists. She is one of about 2.9% of adults in Montana that identify as LGBTQ+, according to the Movement Advancement Project, and one of 0.6% percent of United States adults who are transgender, according to a 2016 study from the Williams Institute at UCLA.
"Sometimes, I get self-conscious about that fact, that I am one trans person in this town," Wall said.
"I do a lot of stuff and I'm very extroverted, so I get noticed for being trans. But, there are lots of other amazing trans people in this town doing amazing things, I am only just one of them."
Over the last 10 years of being a certified outdoor guide, Wall rapelled into ice caves in Alaska, helped rescue a man with a broken leg stuck on a cliff face and led trips to teach people who've never climbed to do what she does, even before starting Out There.
She built a place for herself in the outdoor recreation world while being in the closet, while never feeling truly comfortable being herself. Photos of Wall from fewer than five years ago show a tall, masculine person with a big beard and buzzed hair. As that person, she could successfully charge $150 a day to go out with her into the wilderness.
"If you're a straight, cis, white dude, it's pretty fucking easy," she said. "You just walk into a climbing gym, you talk the bro talk and they get you up there."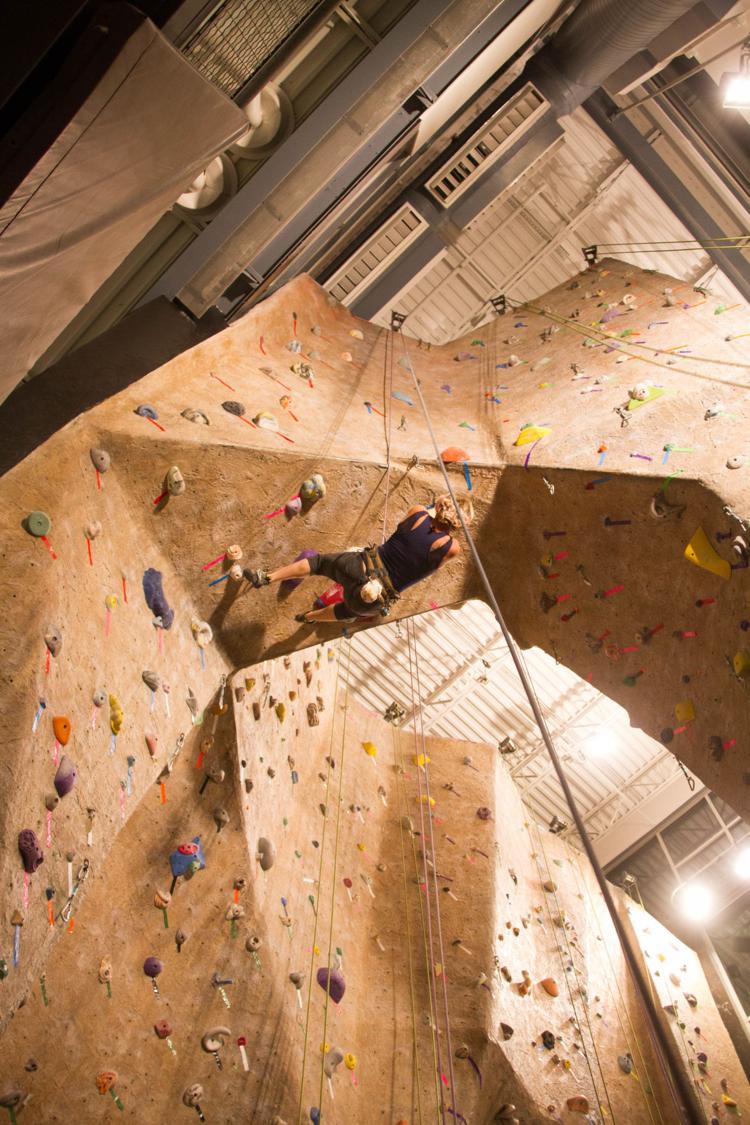 She knew a man at one point who was in the closet, along with her, the whole time they knew each other. They climbed through the backcountry alone together for years and neither one of them felt comfortable enough to tell the other the truth.
"We were both putting out this pretty toxic and masculine persona to try and fit the mold of the people that were out there," she said. "We were out there in the middle of wilderness, where no one else was ever going to see us, and we still couldn't escape that because we didn't see that in our community."
According to one of Wall's friends, fellow Out There coordinator Shane Randle, it's clear to see l how important the club is to Wall and why it matters. Randle said she and Wall have had their hardships in the past as queer women, but the moment she met Wall, she was the one who stepped up and reminded her that they could do a lot of good together, and that their voices could be heard in the outdoor leadership community.
"One of the things she said to me, which has helped me in my process, is, 'Hey, you're a badass queer woman,'" Randle said. "'No matter what anyone says, I want to show that you can be a badass queer woman, and still do all the things you've done and still be in that leadership position.'"
Randle said that because of her personal experience as a cisgender, white, straight-presenting woman in the outdoors, she knows she has experienced a lot of privilege.
Especially in Montana.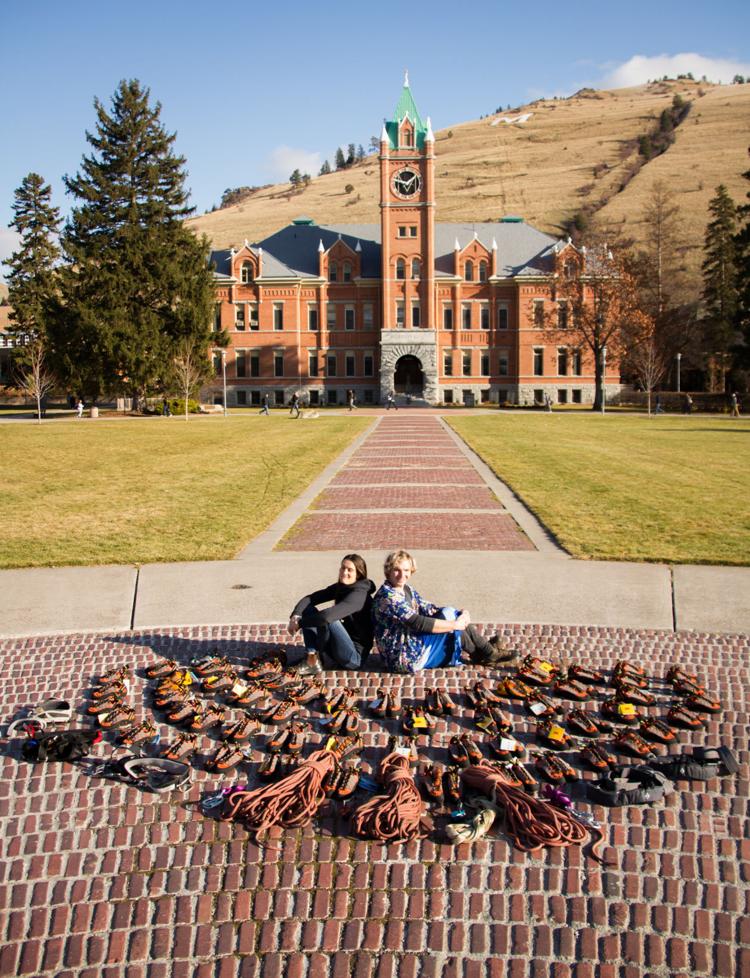 "The outdoors community should be a representation of the community as a whole, and it isn't," Randle said. "Other people who don't have that privilege can gain just as much meaning from it, so I want to help them get out there."
Randle knows from experience. She comes from a background of having only held jobs in the outdoor rec community. One job, as a raft guide one summer near Yellowstone, was especially telling.
"The raft guide manager was one of the most misogynistic men I've ever met," she said. "The jokes that would come out of his mouth ..."
Randle said the male raft guides, two thirds of the employees where she worked, made jokes comparing women to animals. They called each other sexist names, and still there were women who worked there for several seasons.
"They just made me feel so shitty," Randle said. "Then they would say 'Oh, we love our female raft guides.' The company was even owned by a woman, but she wasn't there all the time. She didn't necessarily see that."
Randle also felt like she couldn't say anything about the culture. She left after one season.
As a kid growing up in Billings, Wall was tempted to come out. She almost did in high school, growing her hair out and telling a couple of people that she wanted to be a lady. However, the fear of losing her friends and family stopped her from coming out 10 years earlier than she did.
Her life was complicated. In her senior year of high school, Wall discovered her father's body after he killed himself. She became an emancipated minor soon after and was completely independent by the time she came to Missoula to start her undergrad in genetics and evolution.
Wall said the core missions of Out There partially stem from her experience of a privileged upbringing, then the stark contrast of a life without that. Soon after her father's death and her move to Missoula, she experienced the exact opposite of that privilege.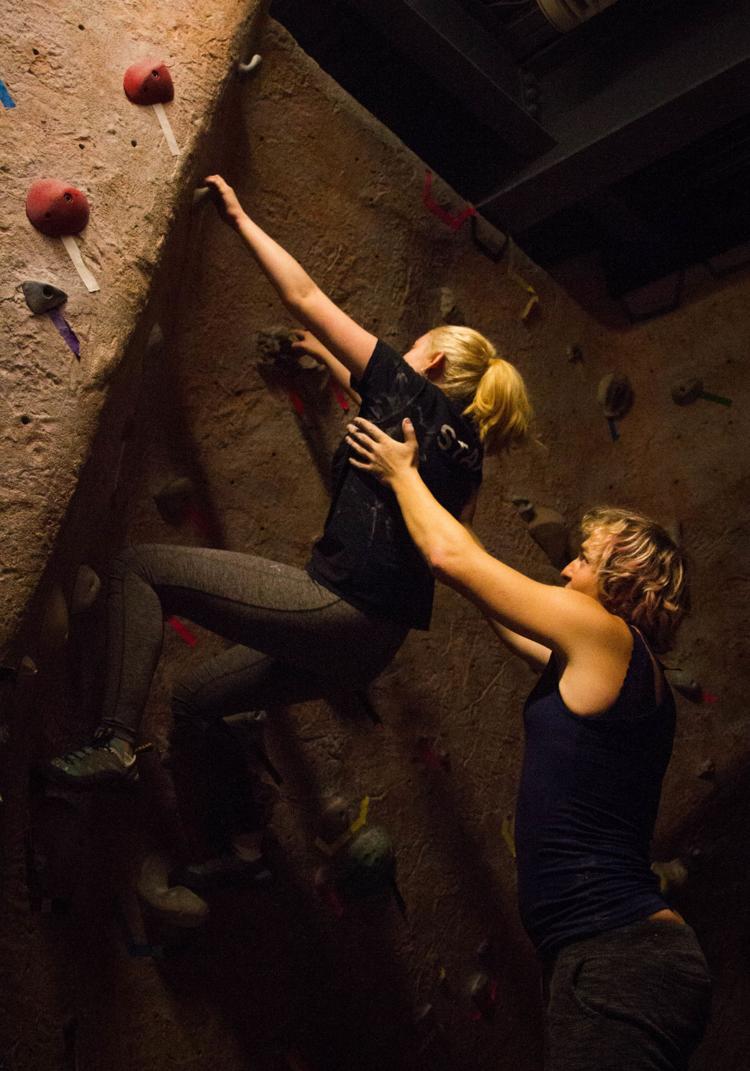 During her sophomore year of college, Wall cooked the last cup of rice in her pantry. It was the last food source left in her cabinets and her last meal for the next three days. She took a photo of it to remind herself of where she was at that moment in her life, got onto Craigslist and messaged a man who had responded to an advertisement she'd posted for sex work.
"I think there are a lot of people that do sex work that come at it from an empowered place and that's awesome, and they deserve to have respect and they deserve to have protection for their work," she said. "I came to that profession solely out of desperation and hunger."
Even as she worked a job in the Outdoor Program as an instructor to help pay for textbooks and tuition bills, it didn't cover all of her school expenses, and as she says, the "Campbell Biology" textbook is expensive.
So, she turned to the now-retired casual encounters and personal ads section of Craigslist to advertise herself as an escort. During her talk about her life at DiverseU in November 2019, Wall showed the photo of herself that she used to advertise as a sophomore in college, about a decade prior. In the photo, Wall is 20 years old, standing in a dark room, with dollar signs pointing to different parts of her body.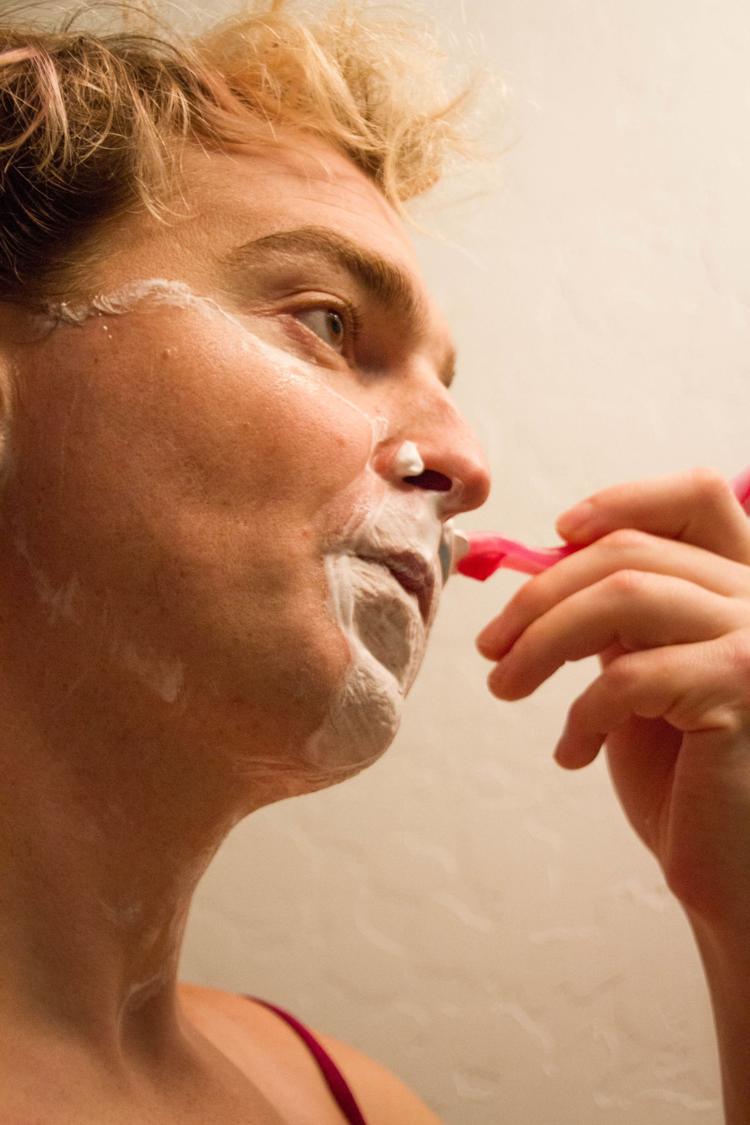 At that time, Wall said she knew that being an escort was not a safe job, not for many people anyway. She used certain tactics and websites to thoroughly vet her clients to make sure they weren't going to abuse her, or arrest her. She heard of that happening to someone she knew before.
"One of the frustrations I had with utilizing these responsible preventive measures was they tended to scare your clients off if they were unfamiliar with them," she said.
One day in 2009, at the beginning of her time as an escort, Wall took on a client and invited him to her home without her normal vetting process. She needed to balance the rest of her bills and just needed the supplemental cash. She charged the man $60 for an appointment lasting 15 to 30 minutes at around 1 a.m.
Her client came over and soon after they started, Wall said he tried to strangle her. She managed to break free and push him away. He chased her, so she started throwing books at him. Her 7-pound "Campbell Biology" textbook broke during the fight.
Her attacker slowed down and stood inside Wall's closet to regroup. She could hear him breathing, as if getting ready to fight her again.
"I'm telling him to get the fuck out, leave me alone, I don't know what the fuck is wrong with you, I'm gonna call the cops, and he doesn't say anything back," she said.
Wall was terrified for her life. She wondered if he might run to her kitchen and grab a knife. She didn't know what was going to happen next, and she didn't think she could make it out of her second-story apartment without the attacker chasing after her, or robbing her after she made it out.
He came back out of her closet, they again wrestled and she tried to kick him away. She eventually rolled him off to one side, when she pushed him down her entryway stairs. As Wall said, it was an older building with steep stairs, and he tumbled down them and broke a hinge and a panel on her front door. She opened the door, pushed him out, and he took off running.
She told her neighbors that she was OK, but not to call the cops. She also didn't get her money.
"I locked my very broken door and went back upstairs and fucking sobbed in my bed for an hour," she said. "I don't think I slept at all that night. I think I took two hot baths and sat there and was like, 'What the fuck am I doing?'"
After the attack, Wall felt powerless as she reflected on it and her gender identity, which had become harder to ignore during her time as an escort. She had asked her clients to use female pronouns during their encounters, and that had to have been indicative of something bigger. However, fear of telling her family, in case they disowned her, and telling her friends, in case they abandoned her, took over. Wall didn't come out and start using feminine pronouns all the time until nearly a decade later, during the fall of 2018.
Over the next 10 years, Wall received an internship through the Montana Space Grant Consortium and was able to stop doing escort work. She also completed her undergraduate degree in biology with a concentration in genetics and evolution, going on to work at the Howard Hughes Medical Institute Janelia Research Campus doing research on fruit fly genetics. After a year, she got a new job in Alaska guiding and exploring glaciers and ice caves before moving back to Montana in 2018. She came out as transgender and six months later started Out There. In December 2019, she was accepted into the Master of Public Administration program.
Out There ran its first trip in May 2019, with three registered participants. They were outnumbered by emergency responders, a photographer and other support staff that Wall and her roommate and fellow Out There leader, Cicada, had brought along.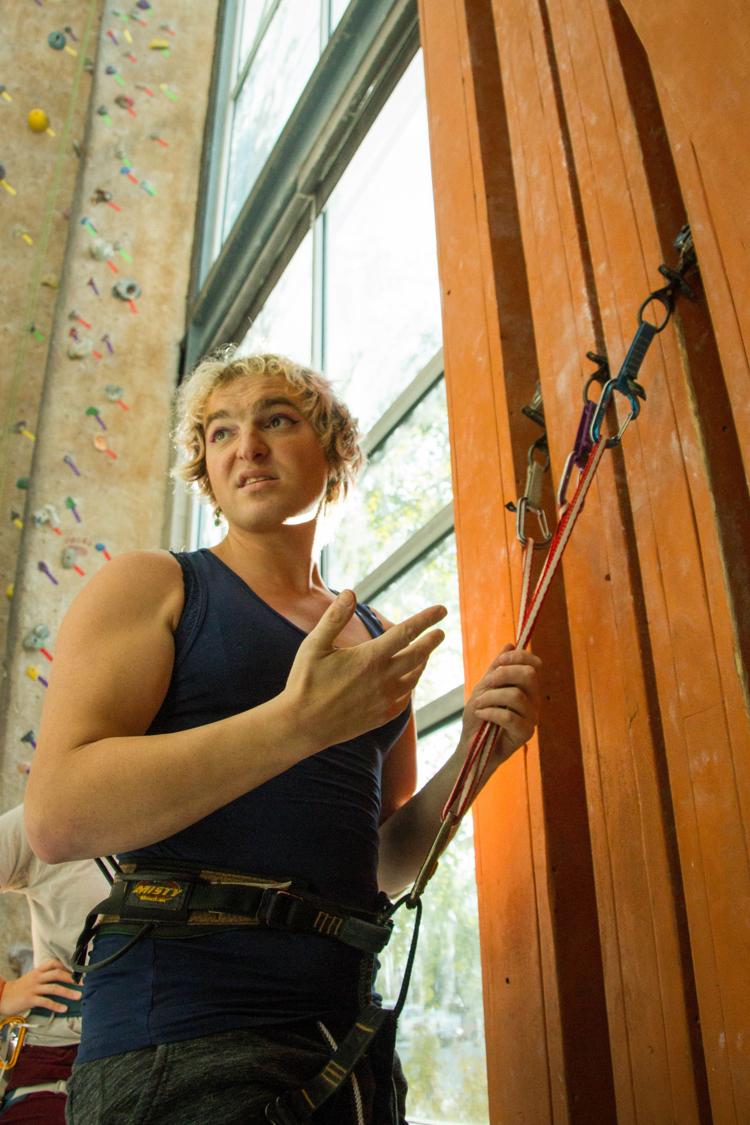 They were massively overprepared, she said, and didn't think anyone would show up because at the time, Out There was made up of about 20 members. The trip was meant to teach new participants climbing skills, but most people didn't even climb. And they didn't need to.
"We just made a space for them to hang out and be queer and be trans and get to laugh and love and try things out ... and they just got to be queer in the wilderness," Wall said.
Their next trip had 22 participants.
After that trip, Wall said she knew that she had started to accomplish what she was trying to do by forming Out There. Even if everything stopped right then and the club didn't succeed in the end, she knew it would be worth it.
"Sometimes I'll stop and be like, 'Remember when this was just like an idea, only a few months ago?'" Wall said. "'When we were like, 'Maybe it will never even work.' And now, here we are. I love looking back at that, because it's just so miraculous to me."