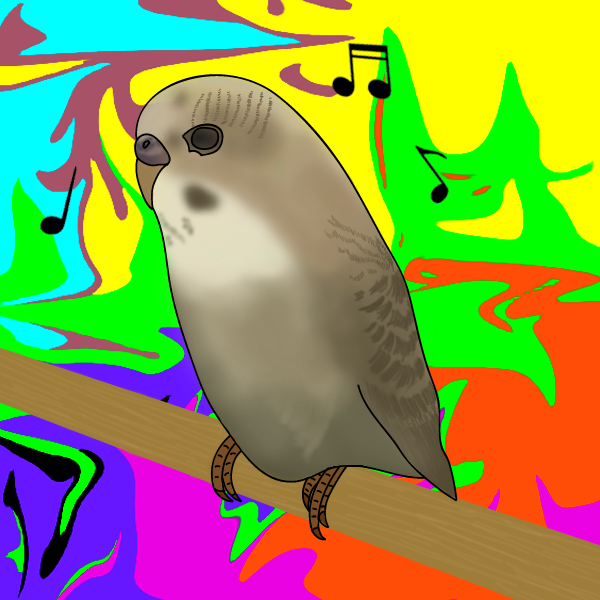 My musically-inclined, feathered friend, Moog, is back for one final round of the latest Spotify releases. For those who haven't been following — first of all, how dare you? Moog is the arbiter of good taste you never knew you needed. He just happens to be covered in feathers and appreciates a tasty batch of birdseed.
"SO HEAVY I FELL THROUGH THE EARTH" BY GRIMES
Extraterrestrial fairy queen Grimes is back with the latest single from her forthcoming album, the too-clever-by-half-titled "Miss Anthropocene." Following the electropop rush of the lead single, "Violence," "So Heavy" finds Grimes in full outer-space mode. The low rumble of a bass line slinks under her trademark wispy vocals while warped space whales echo in the distance. And what exactly has Grimes feeling so damn heavy? Why, love, of course.
DOES MY BIRD LIKE IT?
Moog flew in circles and honked for the song's entire 6-minute runtime. He is a bizarre bird, but I'm gonna go with "yes."
---
"EVERYTHING I WANTED" BY BILLIE EILISH
Billie Eilish has had a hell of a year. The "Bad Guy" singer-songwriter has topped music charts, won over the world and just generally been what traditionalists call "a success." So why is she not happy? In the vein of Britney Spears' underrated 2000 single, "Lucky," it turns out celebrity and wealth are not the panaceas many expect. "If I knew it all then, would I do it again?" she questions over softly building keyboards KAITLIN CLIFFORD | MONTANA KAIMIN and drum beats. Eilish notably leaves the question unanswered; even 17-year-old superstars have their limits.
DOES MY BIRD LIKE IT?
He was fairly indifferent to the whole affair, honestly. But I enjoy the song, so… Yes.
---
"BEAUTIFUL GHOSTS" BY TAYLOR SWIFT
Y'all, T-Swift is going to star in a film adaptation of Andrew Lloyd Webber's musical nightmare, "Cats." Were you aware of this? Do you wish I could take that back? Our first taste of Taylor in feline form arrives with "Beautiful Ghosts," an original track co-written with Mr. Lloyd Webber himself. And it's… fine. If you like stage balladry, this is par for the course. Swift throws every earnest bone in her body into this one, pining for better memories of the past. Aha, I mean, beautiful ghosts! Swift is a great songwriter, but her vocals don't really gel with this genre. That last note is rough.
DOES MY BIRD LIKE IT?
This is a song from a movie titled "Cats." What do you think?
---
"YO LOVE" BY VINCE STAPLES FEAT. 6LACK AND MEREBA
With a penchant for sharp-tongued sarcasm with sardonic edges, Staples is one of the most talented young rappers in the game. But "Yo Love" — a cut from director Melina Matsoukas' forthcoming film, "Queen & Slim" — has Mr. Big Fish Theory deep in puppy love. The laid back R&B-flavored clip is a breeze of guitars and romantic odes. But love is rarely simple, and Staples takes it to its most extreme. "I'd do life for your love," he croons. "I'd probably swing a knife for your love." If only we were all so devoted.
DOES MY BIRD LIKE IT?
He whistled like a sad R2-D2. Might be time to get him a girlfriend.