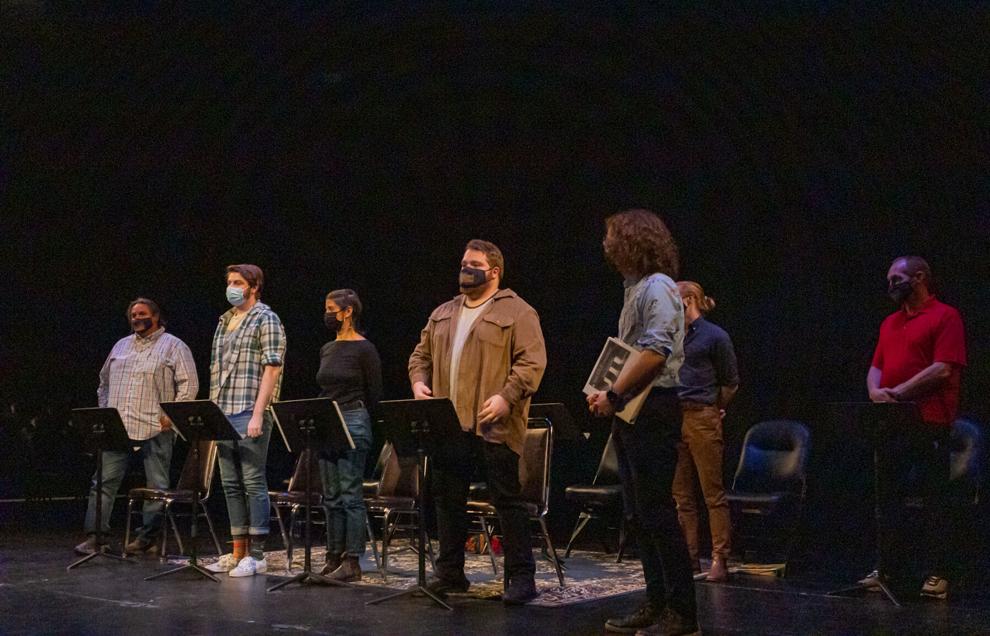 Four actors sat in a line, all playing the same person in varying stages of drunkenness and logic. The audience giggled hesitantly as one of the actors slurred his words and took a swig before the act took a dark turn. The character he played hit and killed a pedestrian with his car while driving 40 mph in a blackout haze. 
UM's Masquer Theatre hosted "THE DUI PROJECT," a staged-reading act, on Saturday night. UM students and community actors brought goofy, serious, wild or drunk characters to life in front of the laughing crowd, but the show held dark humor with a deeper meaning — the events of the act were written and inspired by real-life multiple DUI offenders who now share their stories about the struggles of addiction. 
The inmates who wrote the theater performance are currently serving time at the mental health facility Warm Spring Addiction Treatment and Change Center, and are set to be released after they receive treatment for multiple DUI offenses. 
"I held on to some things I never shared before, and this time I got it all out, it's like a weight lifted off my shoulders," said Darren Stroth, one of the actors and a recent graduate of the WATCh program. "This was very enlightening for me, it really was. I'm here to speak and start doing what I'm supposed to be doing and to help others and give back. That's where my heart's at." 
The idea for the project was pitched as part of "The Big Idea" grant offered by UM's School of Arts and Media. MFA graduate Elli Caterisano wrote the grant. 
Caterisano interned with Leah Loki, a former UM undergrad and Julliard Drama School graduate, in California at the prisons where she taught playwriting. She later asked Loki if she would like to direct the staged reading at UM. 
"I was like, 'absolutely,'" Loki said. 
The stage was set with a simple rug and two rows of chairs holding the actors in front of the full audience. The story cut between different acts of scenarios related to DUI offenses: courtrooms, police stations, neglected children and blackout nights. The vignettes were intense and raw. Nothing was censored, Loki said. 
Loki has spent the last 23 years working with inmates in high-security prisons to turn their own real-life stories into plays. Loki spent her first 15 years teaching playwriting to inmates at one California prison where she specialized in working with adult men serving sentences in maximum security. 
Though trained actors put on Saturday night's performance, the inmates hosted their own reading on Thursday at the WATCh program for their peers at the facility. 
"It's powerful and exhilarating to be part of — it allows them to tell their story on their terms, and make light of it and be humorous," Loki said. "We are afraid to give ourselves permission to laugh at them, but [the inmates] laugh at themselves."
As of Oct 12. 186 Montana roadway fatalities have been registered this year. Of those, 107 were related to DUIs or impaired driving, according to data collected by Drive Safe Missoula. 
The storyline of the staged reading for "THE DUI PROJECT" was written and produced in only 25 hours of work.
Penelope Hummingbird Baquero, teaching assistant and actor in the show, said working with the inmates and performing their work was powerful for her. 
"We were able to connect with these incredible people and make some art," Baquero said. "It helped me deepen my own questions about what addiction really is, and the root of all of it is — it is possible that all this is about human suffering, and for me it was transformative." 
The show ended with a debate between two psychologists, a mother of a victim of a DUI crash and a police chief. The inmate who wrote the debate scene said he always wanted to see a debate with a group of people like this, but never had the chance — so he wrote it instead. 
The debate ended with the idea that addiction is more than meets the eye. And more painful than just grabbing the bottle.