With a red handprint painted across her mouth, Marita Growing Thunder suppressed her nerves as she played her trombone and marched for the University of Montana's first home football game of the season. 
Growing Thunder, a junior studying political science, and several other students in UM's marching band have painted their faces each home game. The red words represent the Missing and Murdered Indigenous Women (MMIW) movement. 
MMIW is calling attention to the injustice against Native American women, who, according to the U.S. Department of Justice, are about 10 times more likely to be murdered than the national average. A study by the Urban Indian Health Institute (UIHI) last year found that Montana had the fifth-highest number of MMIW cases, and that four of them were in Missoula. 
Despite multiple attempts at collecting statistics from organizations like UIHI, there are tons of factors that make it hard to know the actual amount of MMIW cases, from misgendering trans women to unreported incidents. 
Growing Thunder felt she needed to bring awareness to the issue and decided face painting would be a powerful tool. But she was scared. She was scared for racist backlash, drunken tailgaters and for the safety of those around her.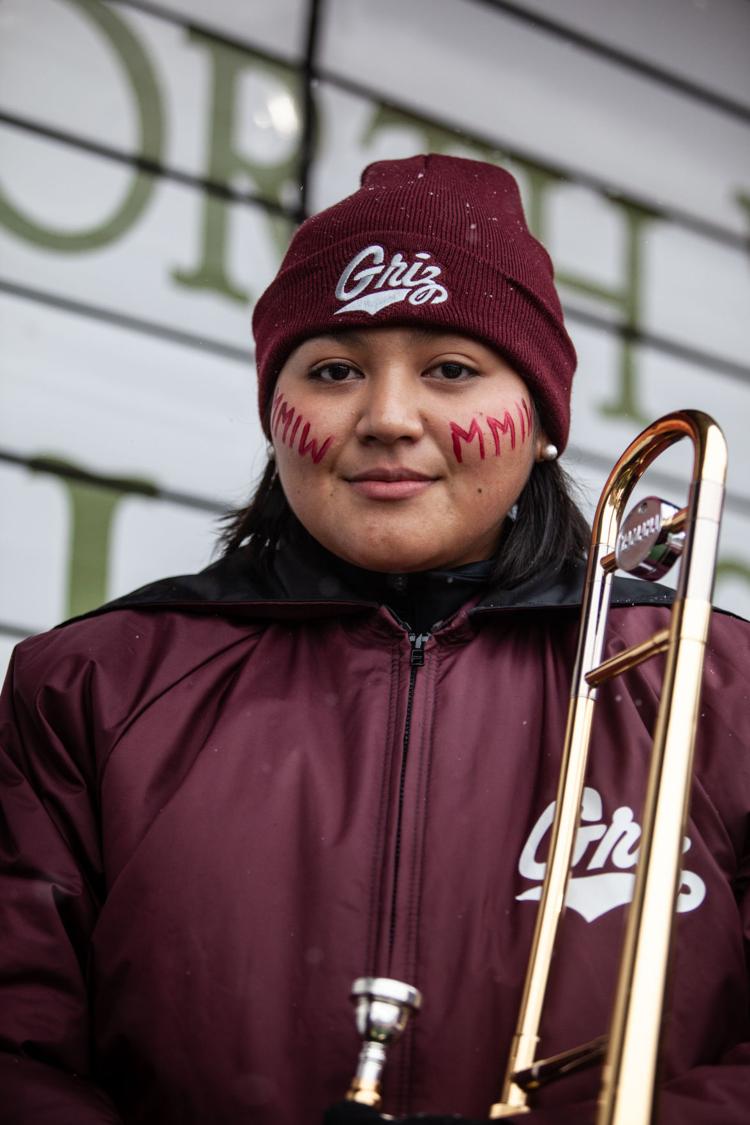 "People react in so many ways," Growing Thunder said. "You never know how people are going to respond."
But there has been a lot of support for the face painters. Growing Thunder says she's received support from her marching band section, the marching band director Kevin Griggs and from many others she doesn't know. 
Freshman Grant Anderson started painting his face during the second home game. He grew up in Washington, just outside of the Yakama Reservation. He knew almost nothing about MMIW or other important Native American issues until he came to UM. He used to feel it wasn't his place to be involved, since he isn't Native.
 "I now realize that that's the complete backward, wrong way of thinking about it," he said. "It's important to be an ally."
Anderson said he started painting his face to encourage other people, in particular those who aren't Native, to stand up and use their voices to advocate for oppressed communities. 
Growing Thunder has used her voice for the MMIW movement for years. Standing against the killing of innocent Native American women is close to her heart, as a Nakona Dakota woman, and as someone who had a close family member go missing.
Every day for almost two years, Growing Thunder made a dress or skirt made of ribbon to represent a missing or murdered indigenous woman. She would stay up late at night to make the dress and wear it the next day. Each one came with a story. She only stopped making them last year "out of self-care." She also does an annual walk at the Flathead Reservation during spring breaks. She'll walk 80 miles over four days, and sometimes people throw trash at her or spit on her, she said.
On Wednesday, Nov. 6, Growing Thunder is speaking for the DiverseU keynote panel on MMIW, alongside five others. She will also continue painting her face at each home game for the rest of the season.
"This isn't just the face paint," Growing Thunder said. "It's actual people. And how can a community lose a whole person?"