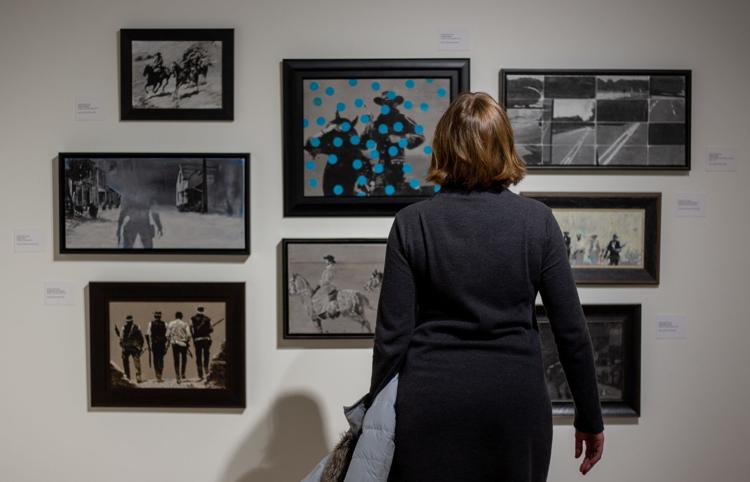 Sitar plucks and New Orleans zydeco rhythm bounced off the intersecting concrete, brick, steel and glass walls at Missoula Art Museum. Attendees moved slowly through the three stories of galleries, being careful to place their beverages on white-clothed tables before taking a look at the new installments.
The Missoula Art Museum, or MAM, is one of many local businesses taking part in the monthly First Friday art crawl. The museum has been involved with First Friday since the event started, MAM is also celebrating its 45th anniversary this year.
Brandon Reintjes, the curator at MAM, loves the opportunity that an event like First Friday provides for the community. He said having the gallery open later affords more people a chance to soak in the art on display, which busy work schedules may prevent them from doing during regular hours.
"We provide an opportunity with First Friday to welcome the public in to experience the museum in a way they may not otherwise," Reintjes said.  
Friday welcomed a new pair of postmodern exhibits to the museum. Artist Gordon McConnell's "When the West Was Won" traveling gallery moved into the third floor, giving attendees an opportunity to admire his unique style.
The gallery, which was meticulously curated by Leanne Gilbertson, is his first traveling exhibit. The Billings-based artist said  he has never had someone pay such close attention to his work like Gilbertson did.
The crux of McConnell's style is based in the recreation of scenes and imagery from old Westerns that the artist grew up watching as a child. As a kid, he would plant himself in front of the family TV, soaking in the black and white heroics of his favorite stars.
"I wasted thousands of hours watching western TV shows and movies," McConnell said.
Much of his work mirrors that fascination, with many pieces appearing in black and white. McConnell, who will be turning 70 this year, has built a distinct style. However, he does not pigeonhole himself when it comes to creating new work.
"I've kept a trademark image going for a long time, and I've continuously found ways to approach it differently," McConnell said.
"Gunpoint" is one of his newer works on display. While it still uses the contrast of light and shadow seen in old Westerns, it is not a pure recreation of a particular scene. Instead, it features over 30 different gunfighters' hands clutching revolvers from a variety of different films. The idea came from a dream McConnell had, where at the end of the gun there is nothing but oblivion.
Postmodern art took over the second floor of the museum as well, in the form of the Perception exhibition. Artists Ellen Garvens and Barbara Weissberger's pieces are stills made from household objects like cardboard and aluminum foil, placed in unusual ways to challenge the viewer's perception.
Siera Hyte, the education assistant at MAM, hosted a drop-in workshop where visitors could use a variety of found objects to take a selfie in the style of Garvens and Weissberger. The booth was covered with different items, including bubble wrap, wrapping paper and mirrors.
"I'm super excited, we've been coming up with different ways to make the First Friday more engaging and social for our visitors," Hyte said. "Taking pictures will be a really good way to do that."
The next exhibits at MAM will be focusing on deconstructing colonization through Native art. Hyte said the museum will ask guests to tell stories about the pieces, using their knowledge to act as crowdsourced curators. The new exhibit is set to launch in early March.