A downtown Boise hotel lobby buzzes with scrappy guitar-laden hipsters and rock stars in shades. It's every band's dream to be on a music festival lineup with their biggest heros, but not every festival feels as tangible as Treefort. Small local bands, still saving up for their first van, play on the same grounds as the big shots with the limo waiting out front.
March 20 through 24, Boise, Idaho, was taken over by the eighth year of Treefort, a five-day music and arts festival with an emphasis on the Do-It-Yourself attitude. The festival works with music culture in different regions to find up-and-coming artists and bring them to this camp-like festival,
"It is really about building networks, all of our communities need that exchange... We want active participation and the DIY community has that really naturally," said co-founder Eric Gilbert.
This year, Montana's hard work to uplift its DIY music paid off. More bands from Montana were invited than in the past few years. For those five Montana bands, making it on the festival bill is a milestone in exposure. We followed them in their experiences at the event.
---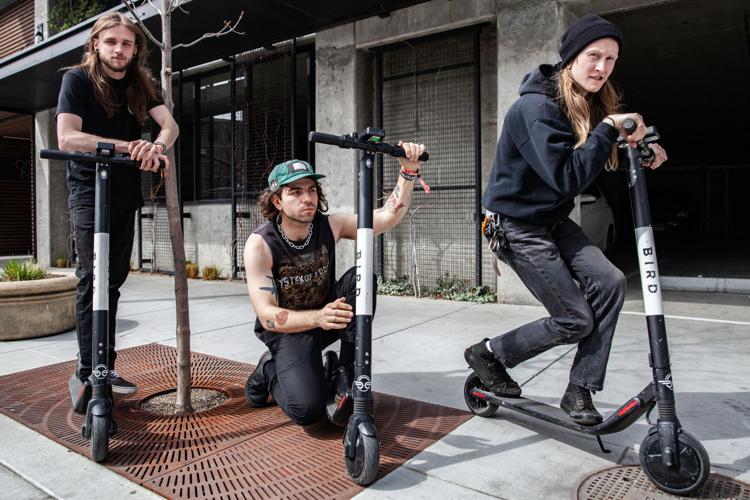 Charcoal Squids, Missoula, neo-psych rock
For Missoula psych staple Charcoal Squids, the third time's the charm. After applying to play the festival every year since 2017, frontman Joshua Bacha feels more prepared than ever.
"You work really hard, put in the effort and get to be a part of something that people care about… it's validating," Bacha said.
Bacha credits the band's Treefort selection to his operation of Ghost Carrot Records, an indie record label in Missoula that books shows and festivals. For Bacha and Squids bassist Riley Roberts, the opportunity presents new connections with artists and industry-makers.
But the success story is not always sunny. The stress of working with three creative minds in a high-pressure situation like a festival can test the relationships between bandmates.
"We're trying to figure stuff out, and I think that's what we're doin right now," said Bacha.
"Managing money and time is a huge part of keeping creative and staying satisfied," added Roberts.
For Charcoal Squids, it's been a delicate balance. "When you're in a three piece, you have to respect what [other people in the band] do," said Bacha.
Through it all, Charcoal Squids packed Boise sports bar Tom Grainey's alongside its Bozemanite friends, Panther Car. Charcoal Squids is finishing up its newest album, "Queen Birthday Bug," to be released later this year.
---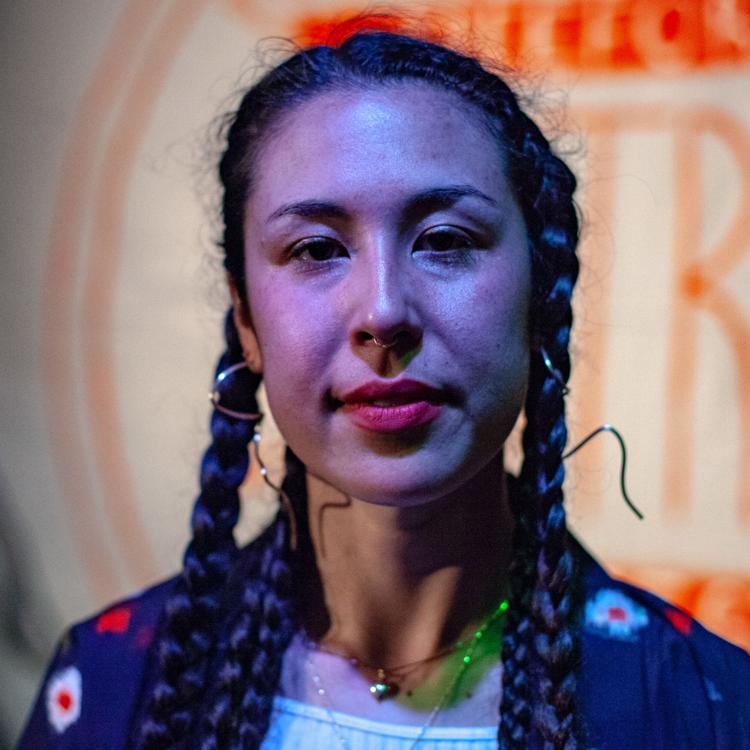 June West, Missoula, indie pop
June West lured festival passersby from rain-slicked streets Saturday night into the District Coffee House, howling and dancing to homemade beats.
"It feels great to be presenting my own work in a way that feels genuinely me… I have been able to really explore what kind of music I want to make and the place I have come from," said West.
West is a Missoula native whose exposure to Total Fest and position as KBGA music director helped define her "identity as a music lover." She returned home to Missoula after moving to Tucson, Arizona, where she absorbed desert rock, '60s psych and latin music.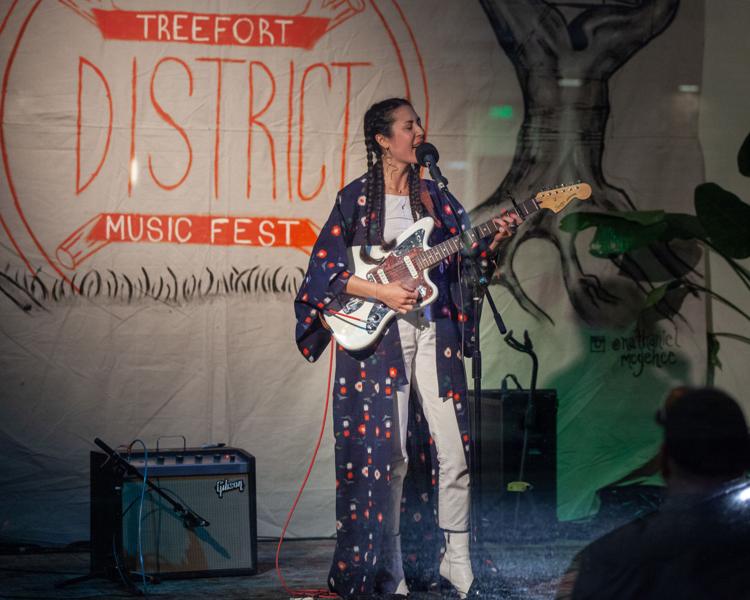 Her self-titled debut album is well-traveled in musical influence. She is rooted in soul and always trying to "uplift artists through the music [she] makes by celebrating them." She caught one of those inspirations, Sudan Archives, after her set. West is talented, grounded and pioneering in placing value on music.
She hopes to inspire other women and people of color by making high quality work and treating it as such, holding her music up to a standard and taking entrepreneurial ownership over it. She said Treefort has been a great opportunity to connect with other creatives in the industry and practice self advocacy.
She will return to Missoula and continue cultivating, curating a Union Ballroom residency every Thursday of April. With conviction, she strives to create an environment in her hometown "where musicians can get payed and valued for their work."
---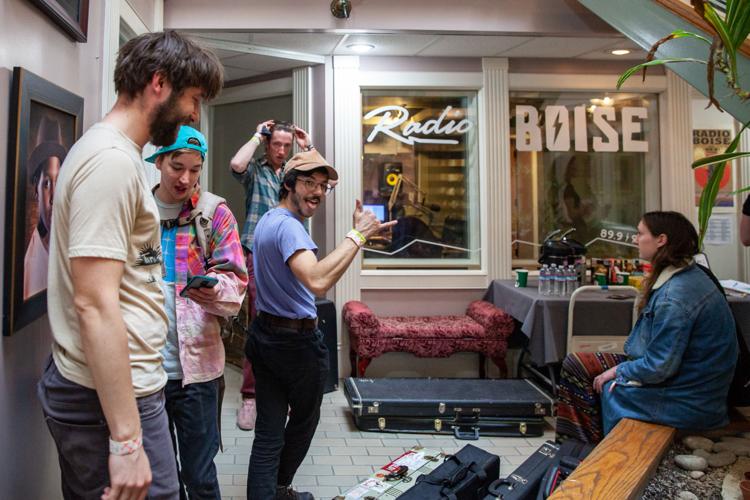 Panther Car, Bozeman, indie rock
Panther Car is a driving force in Montana. Chrys Kirkwood, the band's drummer, started Lotus Eaters Productions- forming all-age pop-up venues and organizing Labor Fest's first year in 2018 with an in-state lineup.
"We've been working hard hyping up the music community around us… It helps us really appreciate all the things that go into Treefort," Kirkwood said.
The community participation that the festival draws is an inspiration he wants to bring to Labor Fest. The diverse lineup and highlight of on-the-rise artists plays a big part. "It is really inclusive, you have really big players and little Montana bands like us," guitarist Connor Smith said.
For the festival, the progressive-pop band played entirely new music off an album the band is still mixing. It is full of hazy dream-state rock.
"It is nice to have an ever-evolving set, we keep writing new music," bassist Andrew Cornell said.
The band got some local coverage doing an afternoon live session on Radio Boise Thursday, March 21, and played the following night at Tom Grainey's in downtown Boise. Scott Merenz, guitarist and lead singer, delivered the new lyrics coyishly, but the band continued making bright-eyed glimpses at one another with toothy grins.
Surrounded by friends and fellow Montana bands, the band's energy was palpable and turned new audiences' heads from slight bobs to full-fledged flinging and dancing. Kirkwood said the festival is "this mythical Mecca" that everyone talks about and idolizes, so to be playing it was "a dream come true."
---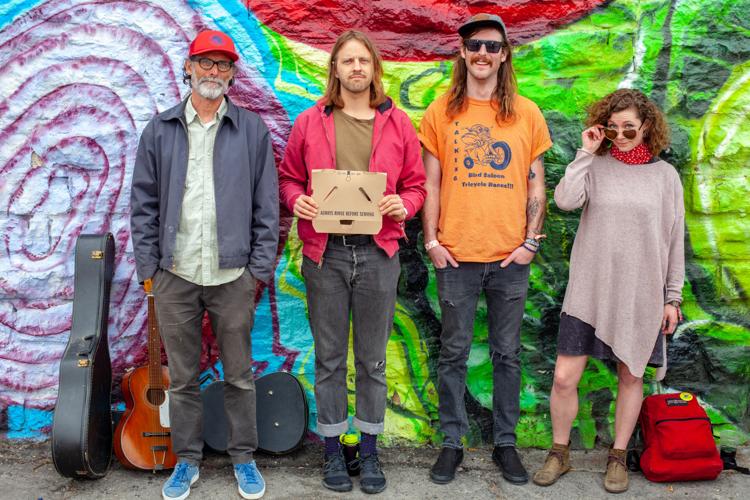 King Ropes, Bozeman, psych country
"Make it weirder" is the motto of Dave Hollier, guitarist and songwriter for Bozeman's King Ropes, a man whose personality is reflected in the antics and imagery in his music. King Ropes embraces the whimsical, fantastical imagery of country singers like Willie Nelson or Bob Dylan, or even the rough poems of Tom Waits.
As a personality-led group, Hollier's surprisingly short experience as a musician (he only began learning the guitar when he was 24 years old), has cemented his perspective as a music listener first, intentionally avoiding sounding like other bands.
The mixed bag of influences on supporting punk and jazz drummer Jeff Jensen and Seattle-based guitarist Ben Roth lend their varied backgrounds. For the Bozeman native, traveling and playing music for years has seemed to pay off. King Ropes was booked after its first application this year. "People were surprised that we hadn't played Treefort," said Hollier.
Access to the I-90 corridor provides a pretty straightforward tour path out of Bozeman, and King Ropes remains rooted there for the time being.
"As I started to meet musicians in Bozeman, I realized I didn't need to wait to tour with people from LA or New York." Hollier, Roth and Jensen, alongside Keith Martinez, a Bozeman friend who is filling in for usual bassist Aaron Banfield, are showing out for the hometown in Boise.
For Hollier, being from Montana catches the eye, which gives the band more character than being based out of New York or LA. "It's totally exotic," Roth said, sarcastically. But there's truth to that, as Montana's rock scene captures a grassroots approach to making itself heard.
---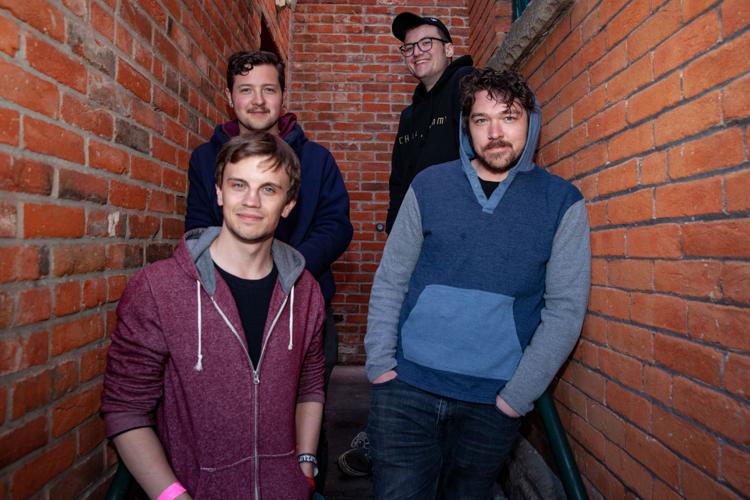 Chairea, Bozeman, emo/math rock
Emo and math rock were a force to be reckoned with in Boise this year, with emo giants American Football headlining, and numerous local and regional math punk groups filling breweries, bars and cafes.
Chairea is plucky, angsty and cathartic, exemplified through its newest release, a split tape with Bozeman friends Tiny Iota. Montana's music festival quantity and quality becomes more and more aboveground, and bands like Chairea have brought zeal to the bills.
After playing Camp Daze in Missoula, Dreyfest in Billings and Laborfest in their hometown of Bozeman, it seemed natural to take the next step and play regional shows. And this time, they get be on the same poster as their friends from out of state, and even their inspirations.
Frontman Michael Mckelligott and drummer Connor Lachenbruch said they didn't expect to make it into Treefort this year, and were pleasantly surprised. Mckelligott said part of their increased exposure to Montana music and arts festivals is their own contribution in helping organize.
Lachenbruch has worked closely with Lotus Eaters Productions, volunteering at events and helping put together the crafted bills that put Bozeman on the map for bands looking to play in between the Pacific Northwest and the Midwest along the I-90 corridor.
"It does feel like Montana is being recognized as a place that makes good music," said Lachenbruch.
With rock bands like Chairea taking real estate at booming Treefort venues like Tom Grainey's, there's no doubt new bands and fans are forming positive perspectives on Montana's blossoming musical growth. Lachenbruch and many other Montana musicians are focusing on developing a more robust infrastructure.