Images of women in red dresses with somber expressions, bird feathers drifting above mountainscapes, and flames engulfing dollar bills fill the apartment studio. Clumps of charcoal sit in a drawer near the home's door, a sponge stained with black ink rests next to containers of maroon and green acrylic paints in the living room. The folky tones of Mumford and Sons echo throughout the studio, and the scent of fresh tea drifts from the kitchen. Andrea Castillo, a multicultural artist who is Navajo indigenous to the southwest, quietly scans the room looking at the many artworks she said have saved her life.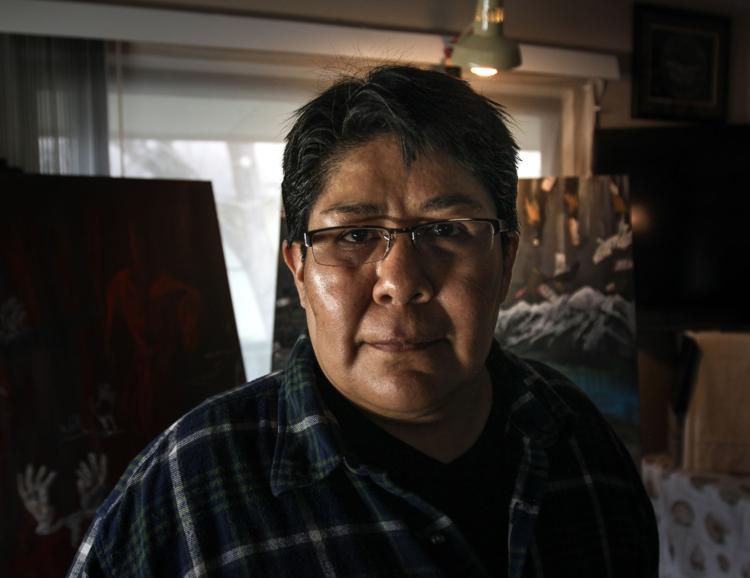 In her adolescence, Castillo recalls battling with thoughts of depression and PTSD.
"I was a highschool dropout, I didn't belong with my family and I was struggling with my own identity as Native American gay women," said Castillo.
Eventually, Castillo asked her grandmother for permission to leave her Navajo reservation located in Arizona.
"The only thing my grandmother could give me was a bundle of charcoal. She said, 'Take this with you and use it, it will protect you, it's your physical form of a mother,'" Castillo said.
The artist associates with the blackened ash because it is a substance produced by earth. For her, carrying charcoal means she's carrying a piece of mother earth, allowing it to protect her.
When Castillo arrived in Montana in the '90's, she discovered charcoal was essential to her artwork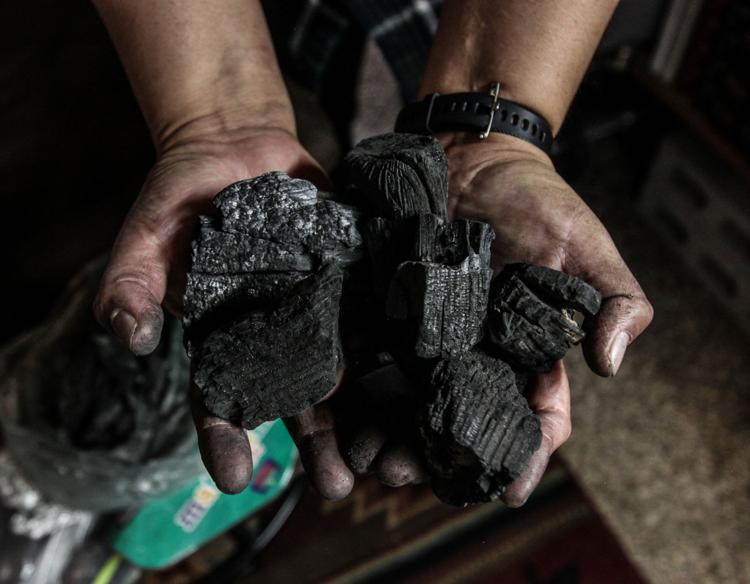 "I just remember going to my room, closing the door, bringing out the charcoal and I started painting for two hours. It helped me out, that gave me voice, and that gave me courage and it gave me the ability to express myself with charcoal," Castillo said. "And that's what saved me. To this day I carry that with me."
Some of Castillo's artworks have been inspired by her depression and PTSD. The artist says she has created those pieces to give hope to the hopeless, so they too can walk through the pain.
 In her living space, Castillo has a framed graduation photo of herself, dressed in a cap and gown and smiling from the University of Montana's Oval after earning a bachelor's degree in arts. After her education, Castillo decided to pursue an ongoing epidemic that is currently devastating Native American communities: Missing and Murdered Indigenous Women.
To this day, state and national cases regarding hundreds of vanished Native American women remain unsolved. According to Michelle Guzman, the director of American Indian Services at the University of Montana, the state of Montana has suffered enormously from the epidemic.
"How many people of come up missing, reported missing? This year in Montana alone, it's over 40," Guzman said, adding that there are likely dozens of other cases that have not been reported in 2018.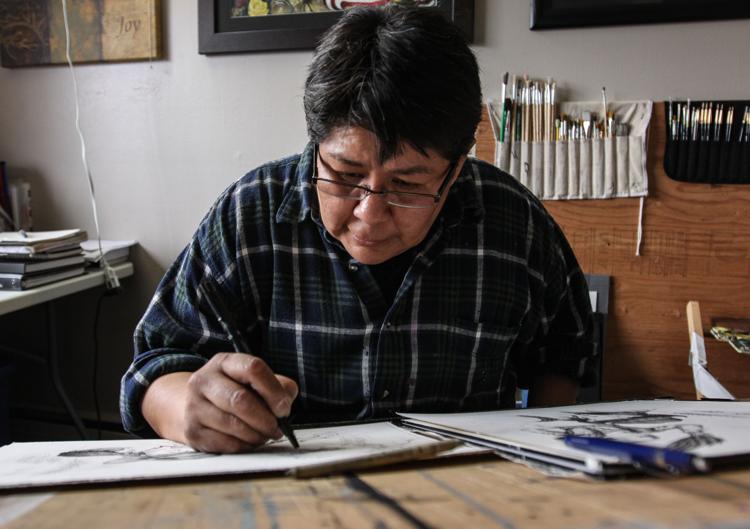 Castillo chose art as a way to acknowledge the missing and murdered.
"That was the first one I made," Castillo said, pointing at a blackboard brimming with ghost-like faces of vanished women drawn in white. "I kept seeing them in my dreams. I was trying to fight against it, but something about it was too much for me. We're losing a bunch of Native American women and they are not being recognized."
Castillo has presented the piece at multiple galleries and gatherings, including a Native American-led vigil that recognized Missing and Murdered Indigenous Women held on the University of Montana's campus in January 2019. At the vigil, Castillo attached a Sharpie to a string so families could write prayers on the border that outlined the group of faces.
At the far end of her studio, the wide frame of an unfinished artwork eclipses the window light. In the piece, a Native American woman with closed eyes is painted above a turquoise lake, a mountain valley in the background. A blackness filled with the white outlines of men holding assault rifles erodes a corner of the landscape, and dollar bills speckled with blood flutter above.
"The destruction of Mother Earth — all these people come into your land and they forcefully take your lands and profit off of it. They leave their lands destroyed, no resources left. Nothing. They're violating, they're raping our mother. They are doing things that are destroying and our Native women are missing," Castillo said.
When working on the piece, Castillo took her grandmother's advice to heart and used charcoal.
"When I do acrylic or watercolor, there's always charcoal involved," Castillo said. "I never separate the two because it protects my story."
For Castillo, protecting her story is critical. Once, at the Western Arts Week in Great Falls the artist was asked if she had Native American crafts such as teepees and buffalo. Castillo responded that she did not, but she offered pieces that told truths about the modern-day Native American. For Castillo, the instance represented individuals romanticizing the Indigenous people in the worst way.
 "Ignorance," Castillo said. "Ignorant of the real deal of what happened to Native communities and is currently happening now."
The artist said those circumstances can be used as a learning tool.
"The best thing about it is handling yourself professionally. Doing it with a smile. Blending other stories in with my own experiences and putting those into perspective. Opening up their minds and opening up my mind. I showed them my art to say what was real and what was not romanticized."
For the future, Castillo hopes to continue enlightening audiences with her story and others. Castillo will do so by displaying her pieces regarding Missing and Murdered Indigenous Women at upcoming galleries.
"How do you bring them home? You acknowledge them. You don't just leave it alone or unsolved," Castillo said about the women. "We need something that is permanent of them to look at and be reminded of that."
In the future, Castillo plans for an art exhibition focused on her pieces of MMIW combined with ecological destruction to tell a story.