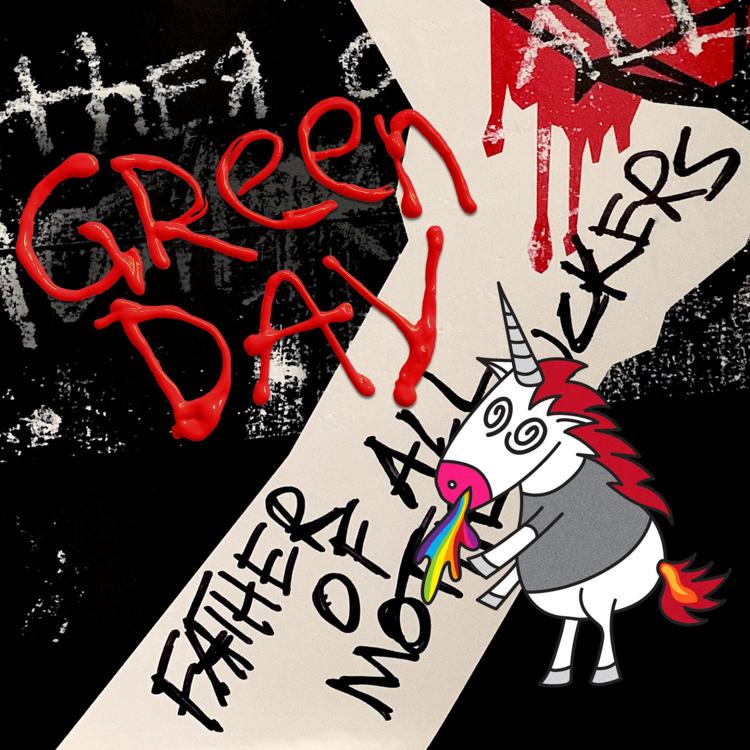 Are you full of piss and vinegar? Do you need to rage, but in a healthy way? Are you yearning for the angst-driven passion you had as an angry teen but don't want to feel like a has-been? Don't worry, Green Day's got you.
"Father of All Motherfuckers" is Green Day's 13th album and it is so punchy that it feels like pure adrenaline could literally start pouring out of the headphones. It somehow feels like a whole workout despite only being 26 minutes.
Despite the length, the record isn't one-note. It's not just pure rage. It's uneasiness and love and an internal revolution. And then there's some more rage. But it wouldn't be a Green Day record without it. This is punk, after all.
Green Day is the band that provided a pivotal soundtrack for the angsty teens of the last three decades. "Time of Your Life" has a resurgence of being the class song for graduating seniors every other year, although maybe it should be "Boulevard of Broken Dreams."  It would be easy to rely on the nostalgia factor. Some fans might be pissed, sure. But the large majority probably wouldn't be burn-down-the-house mad about it.
"Father of All Motherfuckers" doesn't feel like listening to an old record. Despite the pop/punk/rock staples Green Day is known for, like the sort-of lovesong "Meet Me on the Roof" or the hyper-aggressive-white-male-rage tune "Stab You in the Heart," it feels new while not feeling like it's following a formula. And that's because it isn't. It's a record for angry American youths, even if they've grown up. And that's timeless.
The record noticeably misses the obviousness we saw in the George Bush-bashing "American Idiot" of albums past. The lack of clearly laid out harsh government reprimands is not what fans would expect, especially after Green Day led the 2016 AMAs in a "No Trump, no KKK, no fascist USA" chant. But that doesn't mean the record isn't good.
In an America where people, no matter their creed or political affiliation, are angry, rock is essential. Listening to angry music while doing non-angry things like grocery shopping or studying is cheap therapy.
In the era of Trump and home-grown fascism, the world needs rock that takes a stand. But is it a bad thing if rockers just want to release a tight, punchy record?  Does every rock song released need to explicitly condemn bigotry? Do artists who have built their entire career on fighting the establishment need to be told to take a stand?
No, they don't. In this case, the most powerful form of resistance is choosing not to play into the idea that everything should elicit a tweet from the President.