Fishing runs deep here in Missoula. But most fly fishermen don't cast into the Clark Fork in the middle of the night. Or dance barefoot on the shore if they catch a lot of fish when a full moon is out. 
But in Guinea, West Africa, that's exactly what fishermen do. Most fishermen there use nets instead of fishing poles. Prime fishing hours are often after sunset. And if the full moon is out, the glow off of the water lights up the night and, according to Alhassane Camara, the villagers and fishermen alike can't help but dance.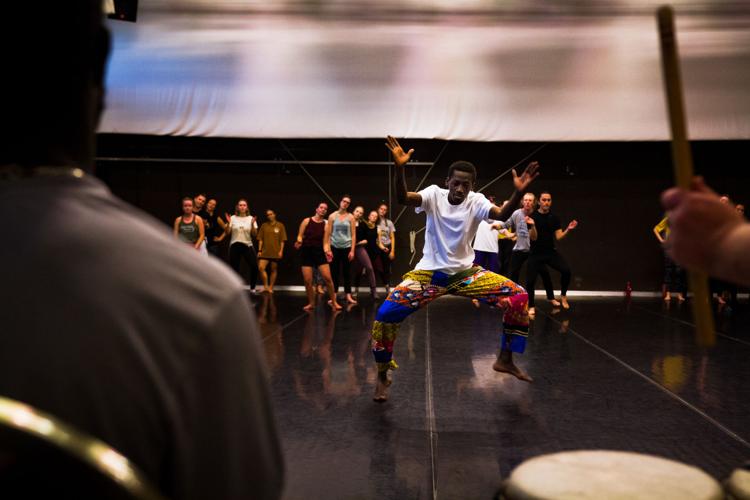 This celebratory Guinean dance is one of the many styles Camara teaches around the world. He loves to teach, and sometimes perform, dances from his country. This particular one is called the "Cou Cou."
"Not coo-coo crazy," says Mory Fofana, Camara's partner in guest-teaching African dance at the University of Montana. Students from the Intro to Modern Dance class laugh. They're in the basement of the Performing Arts/Radio TV Center, a room also known as Open Space. Fofana is strapped to a large drum, which he plays with taped fingers to keep them from splitting.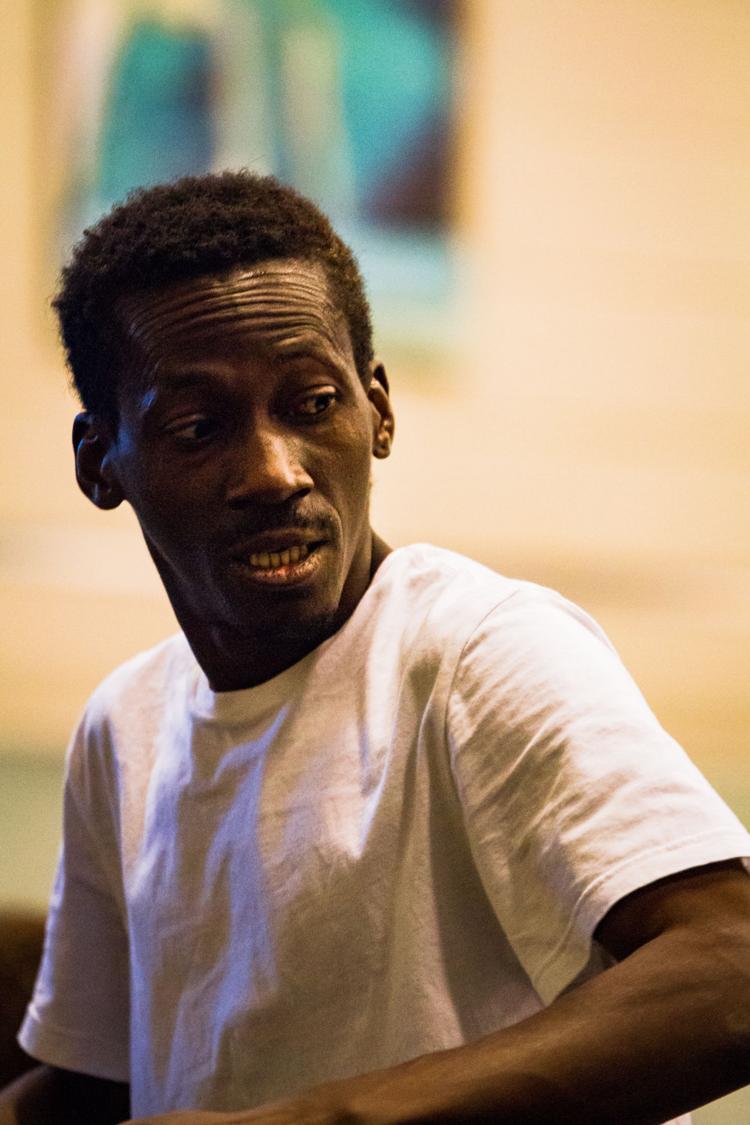 Anyone watching his fingers work over the surface of the drum would be surprised his hands don't break. Fofana's palms are cracked and calloused but nonetheless beautiful as he drums. His fingers and thumb trace the surface of the instrument between beats, somehow keeping time and creating a melody simultaneously in a mesmerizing display. Tom Berich, who is playing a drum alongside Fofana and two other musicians, says this style of drumming requires building up tolerance and careful study of technique to prevent injury.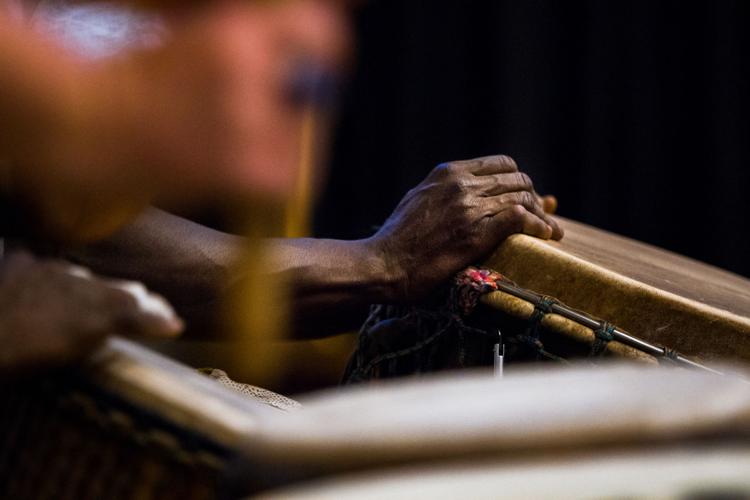 "Don't try what we're doing without a few years of practice under your belt," he says. Berich has been playing drums for 25 years. 
Fofana keeps a watchful eye over the room full of dancers and their teacher, Camara. The two need only make eye contact to give direction. Camara nods briefly to Fofana, who instantly quiets his drum and the drummers beside him. Camara directs his students to take a seat as he turns to face the mirror that runs the length of the room.
Camara has been dancing the Guinean dances he teaches since he was 7 years old, which is obvious in the way he moves. It's like watching waves on the shore. He dances fully and fluidly; his entire body creating a highly energetic and graceful dance that seems as easy as breathing. His bare feet thump into the dance floor, creating a rhythm almost as deep as the beat of the drums. His arms swing high and wide, then low as he bends into a near crouch, all the while murmuring a quiet beat to himself.
"Ba ba de de de de…"
Camara gestures for his students to follow his lead. He breaks the Cou Cou down one move at a time. Camara occasionally stops the students, smiling and mimicking their half-hearted dance moves by sassily flicking his wrists and feet at them.
"I don't want to see that," he says. 
Camara turns back to the mirror and slows his movements down so the students can observe the technique of the dance. Arms don't just swing up, but fingertips must lightly tap shoulders, making a curve with each limb. And feet don't just kick out at high speed, but toes must reach forward and barely touch the ground before being pulled back again. The dance requires courage and enthusiasm. The highly energetic beat calls for nothing less and the movements look almost spastic if not felt keenly by the dancer. Everyone's cheeks are red and shiny. They pant, but also smile and giggle at each other and themselves. Camara smiles back.
"I love these smiles," he says. It's a dance of celebration, and serious faces are discouraged while performing it.
Camara and Fofana are here at the request of Tarn Ream, who has danced with Camara before. Ream is an African dance instructor with the School of Theatre and Dance at the University of Montana and co-founder of Unity Dance and Drum, a local non-profit that sponsors African music and dance education and performance. She brought Camara and Fofana to UM because she wants her students to experience the culture of the style of dance she teaches.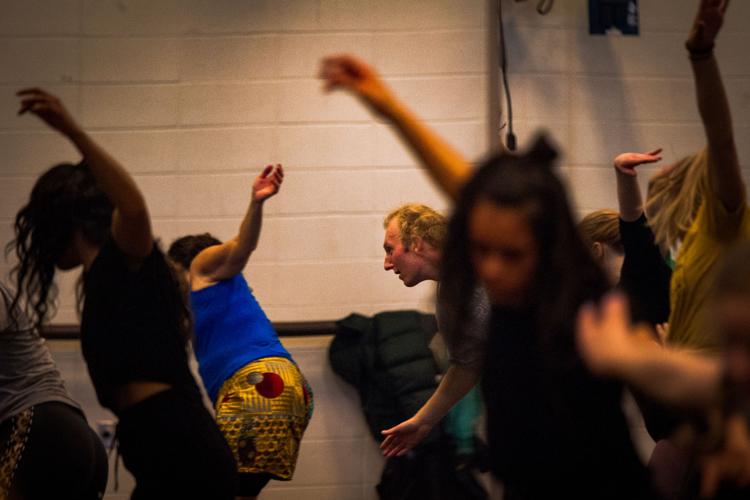 The dancers walk the length of the room in rows as they dance. Fofana teaches them the chanting song that fishermen in Guinea sing. Camara nods to him and he leads the other musicians in a song that shakes the floor and resonates up through the feet and straight to the core. Students dance the length of the room before racing to the back of the line to dance again. None are quite so graceful as Camara, but most are smiling.
"It gives a sense of culture," student Rachell Fisher says. She's worn out from dancing, but grinning from ear to ear. The dance is different from what they usually practice, and it's harder than it looks, but the students are enjoying it almost as much as Camara does.
"It's my medicine," he says. "When I don't dance, I feel sick."
Camara's mother was a dancer, before she passed away. He feels he is carrying on the legacy of his family. He and Fofana refer to each other as brothers. They are brothers of circumstance rather than blood. Fofana often travels the world with Camara, teaching the drumming and dancing of their homeland together.
Allhassane Camara and Mory Fofana will be leading dance classes throughout the rest of the week, both at the University and the Missoula Senior Center. They'll also be performing at UM's Dance Open Space on Friday, Oct. 4, 7 p.m.