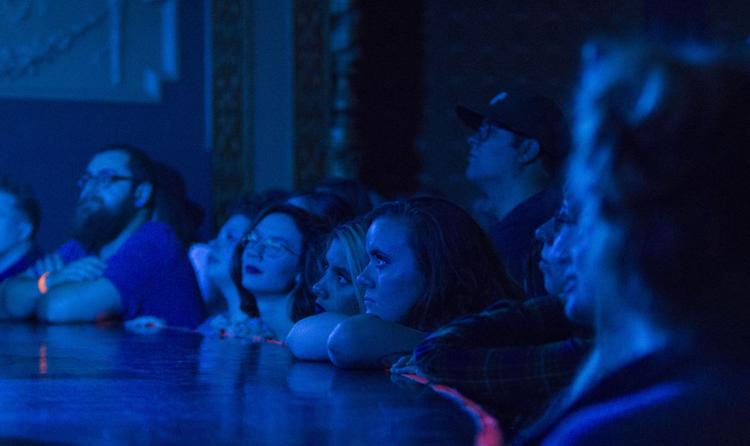 Standing in the appallingly long line for the women's bathroom at the Wilma Tuesday night, I overheard a man talking to his friends about Iron & Wine's opening act, singer-songwriter and Tulsa, Oklahoma native, John Moreland.
"He's the best songwriter of my generation," the man said. When one of his friends mentioned the particularly short length of Moreland's set — about 35 minutes — he launched into a screed about audience behavior at the Wilma.
Missoula resident and avid Wilma attendee, Willy, 39, asked, "Why do you think he only played for half an hour?" His friends shrugged. "This is a constant thing with openers," Willy said. "There needs to be a manager at the beginning of the show who asks people to be quiet."
I went to Iron & Wine with the intention of reviewing the concert. As a massive John Moreland fan, I expected to write about him as well, perhaps even making the controversial claim that there's no way in hell Moreland should still be an opener at this point in his career.
And it was a great show. Iron & Wine was charming, and he and his band were incredibly talented. The theater was packed, and the audience hung on to every lovely, folksy, impeccably harmonized line. During the encore, the women in his band even came out sporting beards!
But I found myself walking away from the show frustrated, yet again, with the way in which audience behavior at the Wilma during opening sets discourages attendees from showing up and experiencing potentially great musicians they've never heard of before.
Iron & Wine is not the only artist to bring an opening act on the road with a much quieter sound than the headliner. This August, singer-songwriter Amanda Shires opened for Ryan Adams at the Wilma. Shires' entire setup included herself and a ukulele, whereas Adams' was touring with a full band. Before the show, Adams came out on stage and asked the audience to remain quiet for Shires' set, likely thinking that hearing it from the source himself would inspire some conscientiousness among the audience.
He was wrong. The audience was loud, some were belligerently drunk, and though Shires was gracious about it, Adams made his dissatisfaction clear when he and the band came out. He ended up arguing with drunk audience members and playing an hour long set before storming off stage.
John Moreland's setup included one lead guitarist and himself, seated, playing acoustic guitar. Though he was only on stage for 35 minutes, the man poured his heart out, his typically raspy but rich voice telling stories of heartbreak, addiction, depression and religion. I just wish more people had a chance to hear it.
Iron & Wine brings "Beast Epic" Tour to The Wilma
Sam Beam, a.k.a. Iron & Wine, brought his "Beast Epic" Tour to The Wilma Theatre on October 17, 2017. The "Beast Epic" album, released in August 2017, is Iron & Wine's sixth studio album. According to Pitchfork, an online music magazine, the album rediscovers Iron & Wine's original "acoustic instrumentation" from his early career.