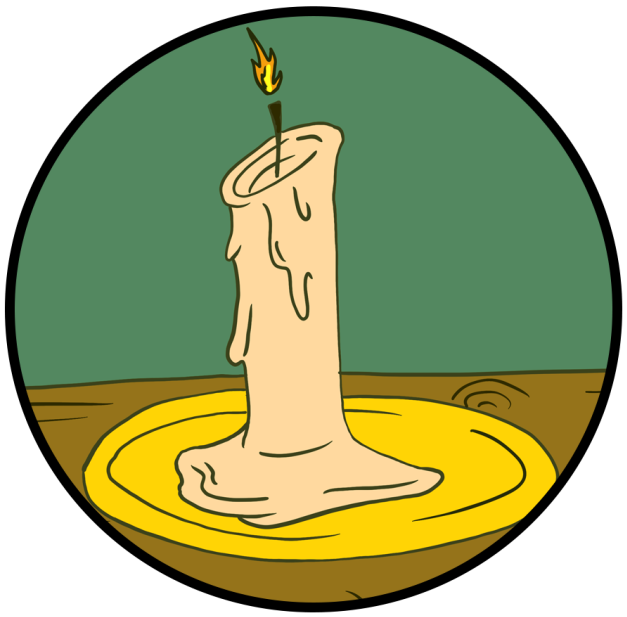 Spooky season is candle season. Something about the combination of open flame and chilly air just pops. It's one of nature's greatest mysteries. Hey, just like astrology! Like the all-encompassing zodiac, there is are plenty of different options when it comes to finding the right fall scent to match your own special sign. But are you a Cinnamon Apple, or is Pumpkin Spice more your speed?
---
LIBRA (SEPT. 23 - OCT. 22): APPLE PUMPKIN
Your gentle airy nature is all about balance, finding a compromise in difficult situations. Apple Pumpkin is, of course, your go-to. Taking two disparate flavors and making them work together? That's Libra magic.
SCORPIO (OCT. 23 - NOV. 21): HARVEST
Secrets are a Scorpio's friends. You big tease. You thrive on the "I-know-something-you-don't" rush of being inscrutable. The vaguely-named Harvest captures your vibe perfectly. What does it even mean? No one really knows.
SAGITTARIUS (NOV. 22 - DEC. 21): ENCHANTED MOON
Sag, you're a dreamer. You might be a fire sign, but your head is definitely in the clouds. And that's a good thing! Such an idealistic worldview deserves something equally dreamlike, and Enchanted Moon certainly fits the bill. We're pretty sure it doesn't smell like cheese.
CAPRICORN (DEC. 22 - JAN. 19): PUMPKIN SPICE
If it ain't broke, don't fix it. Capricorn, you believe in the power of tradition. So why shake things up when Pumpkin Spice is right there? A whiff of the ol' P.S. and you're transported to every fall memory you've ever made. Just the way Caps like it.
AQUARIUS (JAN. 20 - FEB. 18): CINNAMON
Aquarius is one of a kind — progressive and uncompromising. If Capricorn is your grandma in fuzzy slippers, Aquarius is the kid who dropped out of college to join the Peace Corps and change the world. Cinnamon typifies your headstrong spirit.
PISCES (FEB. 19 - MARCH 20): HOT COCOA
Pisces may be the fish sign, but we know you're actually a big softy. It's all teddy bears and sunshine for you, even in the face of those freezing Hellgate winds. Nothing warms the frostbitten fingers like a steaming cup of hot cocoa. Satisfy your chocoholism — which should be a word, honestly — with the complementing candle.
ARIES (MARCH 21 - APRIL 19): CRANBERRY
There's nothing an Aries won't tackle headon. Bold, brash and bossy, you make an immediate impression on everyone you meet. Cranberry suits you especially well. There's no hiding a flavor like yours.
TAURUS: (APRIL 20 - MAY 20) AMBER
Simply put, you're a rock. Like, the stable and dependable kind. We promise it's a good thing! What could be more rock-like than something fossilized?
GEMINI (MAY 21 - JUNE 20): TOBACCO LEATHER
Love it or hate it, Gemini's notorious "double personality" is impossible to ignore. The shockingly great combination of tobacco and leather is the perfect example of an acquired taste. We hate to break it to you, but you are the epitome of an acquired taste.
CANCER (JUNE 21 - JULY 22): AUTUMN LEAVES
The moodiest of signs, Cancer is all about catching those feels. The brilliant colors of a Missoula autumn is sure to make any self-respecting crab stop and shed a tear. No? Just us?
LEO (JULY 23 - AUG. 22): CIDER
The bright, tangy flavors of a delicious apple cider recall Leo's cheerful nature. Tone down the chipperness a bit. You're making the rest of us feel bad.
VIRGO (AUG. 23 - SEPT. 22): CHAI
Oh, loyal Virgo. You're always there to comfort when we need you, like a fluffy blanket or the world's coziest wool scarf. Chai's warm blend of spicy and sweet is like coming home, just like you on your best days, Virgo.