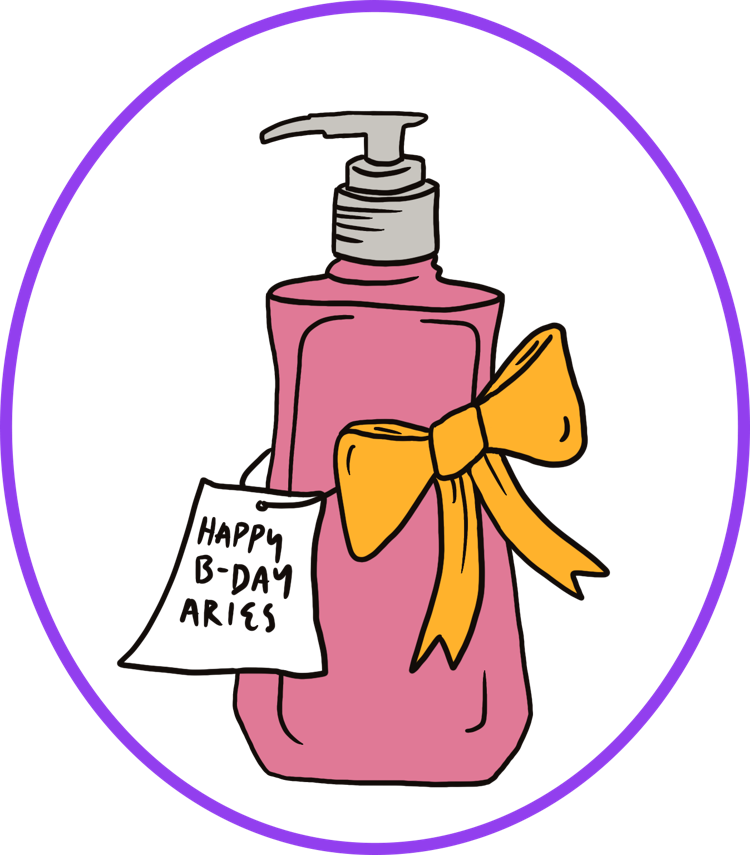 Welp. Here we are. We're out here (inside our own homes) practicing social distancing and hygiene. Even Co-star changed "work" to "routine" as soon as everything started shutting down. Wash your damn hands so we can get back to normal! Here's your song to sing for 20 seconds while you hit the suds.
Aries (March 21-April 19): Happy Birthday (twice)
Aw. This one hurts a little bit. Happy Aries season? We could all get on the same Zoom call and sing with you if you want?
---
Taurus (April 20-May 20): No Scrubs (TLC)
Leave it to a Taurus to maintain their high standards even while social distancing. This is also a good song to sing if you're feeling lonely to remind yourself why you didn't quarantine with that business major you've been texting.
---
Gemini (May 21-June 20): Toxic (Britney Spears)
So wait...you can't make out with a stranger for the foreseeable future? Time to live vicariously through Britney, bitch.
---
Cancer (June 21-July 22): Jolene (Dolly Parton) 
We can't exactly place why, but somehow "Jolene" just radiates Cancer energy. Call it classic country twang, call it mild but constant romantic insecurity… 
---
Leo (July 23-Aug. 22): Love on Top (Beyoncé)
Convenient because you already know all the words and can perfectly execute the multiple key changes. Call your roommates into the room whenever you need to wash your hands and put on a concert.
---
Virgo (Aug. 23-Sep. 22): Truth Hurts (Lizzo)
Tbh, Virgos are kinda thriving in social distancing. There is absolutely no one to distract you from all this fucking work you've gotta do. How does it feel to finally check off everything on your to-do lists?
---
Libra (Sep. 23-Oct. 22): Heaven is a Place on Earth (Belinda Carlisle)
The fact that y'all can remain so optimistic through all of this is a little freaky but we can appreciate it. What screams "Libra" more than a pop ballad from the '80s? Kale berry smoothies, probably, but that's not the point.
---
Scorpio (Oct. 23-Nov. 21): Lose Yourself (Eminem)
Every Scorpio knows this song. We guarantee it. It's just part of your whole ~vibe~, you know?
---
Sagittarius (Nov. 22-Dec. 22): Unwritten (Natasha Bedingfield)
Social distancing just means more time for all of you to work on every unfinished art project you have lying around the house. Or time to home-bake more bread. If today is where your book begins, then it is beginning with sourdough.
---
Capricorn (Dec. 23-Jan. 19): Baby Shark
Purely because your roommate ate your Lean Cuisine stockpile. Sweet sweet revenge. Sing it loud and proud. You can always move out as soon as this is over.
---
Aquarius (Jan. 20-Feb. 18): Africa (Toto)
IT'S GONNA TAKE A LOT TO DRAG ME AWAY FROM YOUUUU...THERE'S NOTHING THAT A HUNDRED MEN OR MORE COULD EVER DOOOOO….
---
Pisces (Feb. 19-March 20): Landslide (Fleetwood Mac)
There is absolutely no way some pandemic is going to stop you from being witchy. Channel Stevie Nicks, dammit. We recommend turning off the lights, lighting a few candles and using your black charcoal soap.