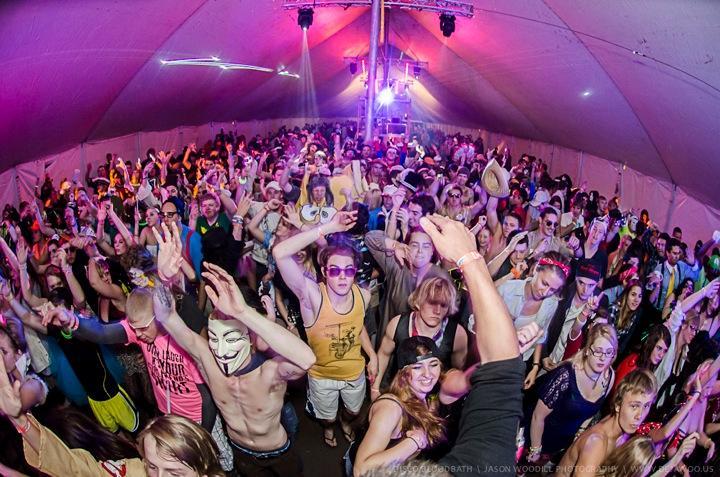 Despite efforts to secure a venue, Disco Bloodbath, which has been one of the largest Halloween parties in Missoula the last 12 years, will not be happening this year.
The annual EDM festival, a popular party among University of Montana college students and thousands of spectators from around the Pacific Northwest since 2010, wasn't able to secure a suitable venue this year
Logan Foret, a UM alumni with a bachelor's. in Recreation Management, started Disco Bloodbath in 2010. It was a natural step up from the club shows he had been booking and it was a much needed missing piece of the Missoula holiday party scene.
"I do not use the word rave," said Foret. "It is a major four letter word for me but, there really is no other way to put it. There was sweat dripping from the ceilings."
EDM was gaining popularity all over the U.S. and the Pacific Northwest is a fertile ground for festivals, nowhere more so than the booming college valley of Missoula. Foret wanted to throw the kind of Halloween that he would want to attend.
Eventually, he found a golden opportunity in an empty downtown warehouse.
Where Montgomery Distillery is now, there used to be a large outdoor gear retailer. Foret rented the downstairs space, which was mostly empty storage, to build a stage and throw a rager.
"I was expecting like, 200-300 people and I think we sold a little over 2,000 and turned away another 3,000." said Foret. "It was complete illegal chaos."
Over the next twelve years Disco Bloodbath would go through a number of format changes and move from one space to another as different opportunities came and went, but the party remained a Missoula mainstay.
"There is no question that Bloodbath is the largest Halloween event in Montana," said Foret. "I know other people coin their events that way and that's totally fine. But if you've been to a Bloodbath, there's no question it is a beast to be reckoned with."
Foret and his partner Kyle Glover are part of BFK Productions, an EDM-focused entertainment production company based in Missoula. BFK has produced thousands of events in the local area, sometimes independently and sometimes as outsourced planners. It designs the venues and stages, plan PR and marketing, and book talent for some of the area's largest festivals.
Bloodbath migrated from the Front Street warehouse space to an empty building on Third Street, which is now the Missoula International School, for a few years. Each year they had to figure out a new space, which meant the event was ever-changing. For a few years, they rented large circus tents and threw the party at an outdoor racetrack in Wye.
"Year three was Disco Mudbath," said Foret. "Which everybody still jokes about."
If they weren't able to secure a large enough space they'd fall back on a scattered downtown model, which had its own issues. Negotiating space with open businesses meant they would only get a day or two to decorate and set up the stages, whereas they could take a month or longer in their own warehouses.
"The tents were fun and the downtown models were fun, but this is really about stepping into a space that people have never really been before and turning a concrete box into our kind of dark creative playground," said Foret. "It takes having those large blank canvases to make Bloodbath what it is."
Since Sears left the Southgate Mall, Bloodbath has been taking over the giant empty building left behind.
"We did our first Bloodbath there, then we developed the Gigglebox, our museum concept," said Foret. "Throughout that entire process they've been so supportive of any weird shit that we've come up with."
This last year Southgate Mall changed hands and the new contract holder was keen to fill the nearly 61,000 square feet of space with a new retailer and signed an agreement with Hobby Lobby.
Despite all that they miss, they said the event is a Missoula event and their major audience is and always has been UM students. They can't justify taking it to another area even if Missoula doesn't have the space they need. BFK would rather not have the event for a year than to make it unaffordable.
"We know our major demographic is the college crowd and asking them to travel, get hotels," Foret said. "Like what was a $15 ticket for them, just became a $200 trip overnight."
BFK hopes to bring back Disco Bloodbath next year and will continue its search for a venue.