As I walk into Imagine Nation Brewery on a Sunday afternoon for an event named "Queers and Beers," I'm expecting Cher. What I end up getting: purple kombucha.
The Queers and Beers event is a collaboration between Imagine Nation Brewing Co., the Western Montana Community Center and the Gay Health Task Force.
Kylie Pearson, the beer ambassador of Imagine Nation Brewing Company says the brewery tries to be a good advocate for the LGBTQ community. A huge part of that, she explains, is the monthly Queers and Beers night, which happens from 5 to 8 p.m. on the last Sunday of the month. It "serves as a safe space," Pearson says. "Have a beer, or just drink kombucha, or soda … and feel comfortable and safe."
Imagine Nation is the perfect place to explore as I force my first-ever I'm-too-young-todrink-so-I-guess-I'll-get-this-even-though-I'venever-tried-it kombucha down my throat, one disgusting sip at a time. The bar is laden with handouts and brochures for various activities such as recycling and vinyl nights. The walls are plastered with pictures of famous activists such as Greta Thunberg. An enormous stained glass window sits in the corner of the room as if lifted directly from a cathedral and bestowed upon the brewery as a gift from God. The whole setup can only be described as "groovy."
Noticeable, also, is a table set up specifically promoting The Center. It's filled with pamphlets, business cards and free condoms. If you ask, they'll send you into a back room where the Gay Health Task Force is rapidly testing for HIV, Hepatitis C and Syphilis, as they have been doing since Queers and Beers began in spring 2018. "It's another opportunity for us to get the word out on sexual health," explains Andy Hardison, HIV/STD and PrEP Outreach specialist. "We always like to go where the people are."
Soon, more and more LGBTQ folks and allies of all ages drift through the door. With so many people in one room, the conversation flows naturally, which, of course, is the point.
This, according to Blake Brassfield, a young adult whose group is here for Queers and Beers, is the only sort of remotely gay bar in town except for the Highlander. It's the only one that feels open and celebrating of queer people, he notes. "It's right there in the name: Queers and Beers," he says.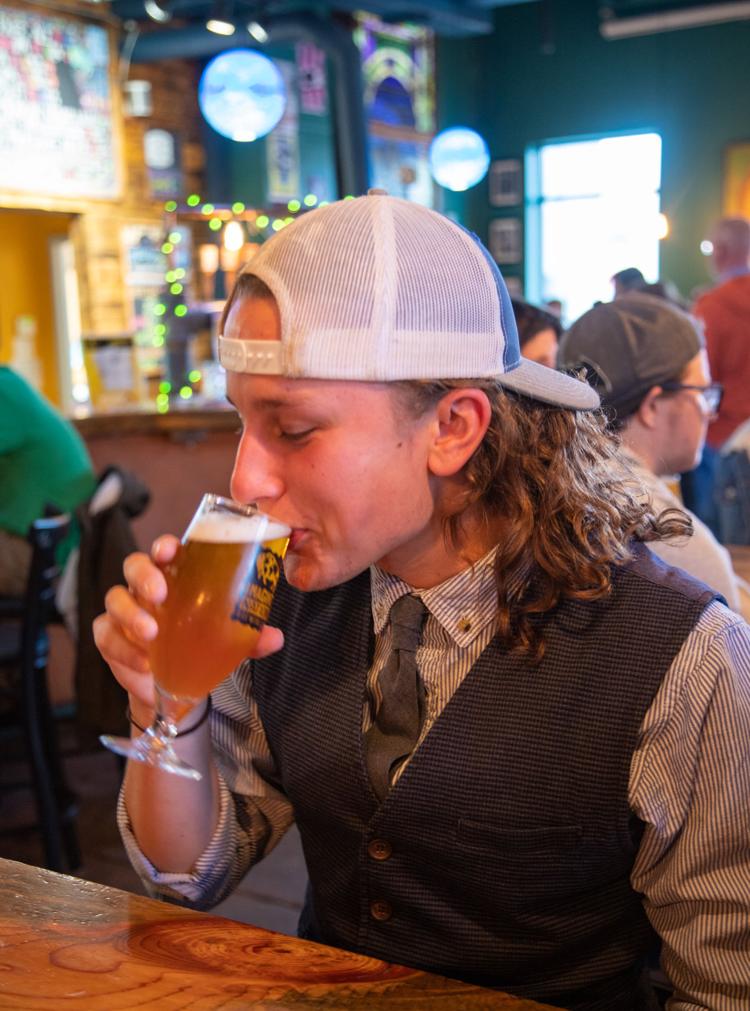 The idea that Missoula has a large gay population but a lacking gay community is present throughout the conversation of the night. Sam Boudreau is a grad student at the University who recently moved here from Vermont, and is self-described as "gay as shit."
"It's vital that we create unity among queer people," Bordreau says. To him, a prevailing issue around the LGBTQ community, and specifically with gay men, is how much everything is about sex. With apps like Grindr and Tinder being the only window some gay men have to the queer community in their towns, he thinks it's important for LGBTQ people to support real-life events. "It's easy to block someone or to not see someone online, but it's much harder to make a connection with someone in person and then ignore them in person," Bordreau says.
For many, Queers and Beers seems to be a great escape from a heteronormative world into a place where, even if everyone doesn't know your name, they respect it, and your identity along with it. "It just feels safe," says Logan Dovico, a regular who started coming to Queers and Beers after last year's Trump rally, which coincided on the same day as the event. He attributes the pleasant atmosphere to things like the gender-neutral bathrooms, saying they make the event feel more inclusive.
Former New Yorkers Nancy Menning and Allison, her wife of seven years, feel similarly to Dovico in terms of the event being a safe space to meet other people. "You just moved to the area and you're looking for a diverse community," says Menning, adding on jokingly, "I miss my queers!"
Whether it is gender-neutral bathrooms or a drink named after Harvey Milk, Imagine Nation Brewing Co. feels like a safe space for many LGBTQ individuals. Queers and Beers, for many, is the only way to interact with other queer people in the Missoulian community.
The next Queers and Beers night will take place Sunday, Nov. 24, from 5 to 8 p.m. at its usual location of Imagine Nation Brewing Co.