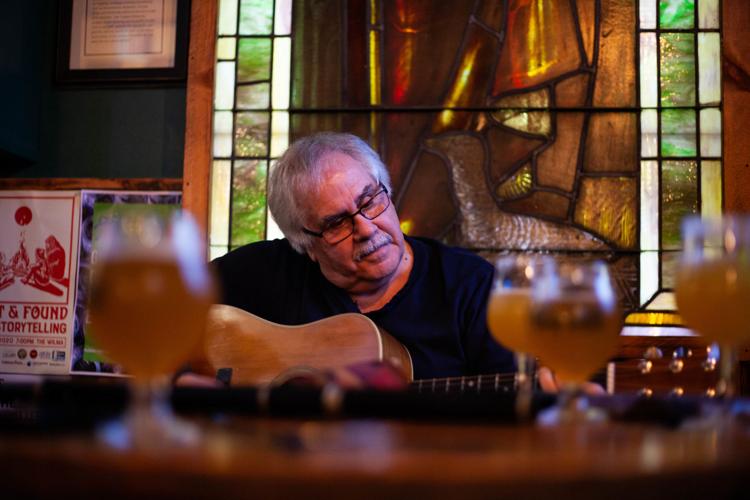 With most of its chairs empty, Imagine Nation Brewing Co. oozed a mellow mood on the evening of Feb 18. Then the trill of an Irish whistle shook it from its slumber, and a tight-knit group of musicians began their first ditty of the night. As the song ended, some early arrivals applauded.
The members of Imagine Ireland smiled and praised each other's playing.
"That was some noise," said pipe player Steve Dagger, smiling ear to ear.
Imagine Nation patrons are treated to a taste of traditional Irish music every Tuesday by Imagine Ireland, a group of musicians who, despite appearances, insist they're not a band.
"We're better than a band," said Kevin Keskeny, the group's member of strongest Irish heritage.
"We're just emulating what happens in Ireland," Dagger added.
What happens in Ireland, as they tell it, is pretty informal. Those who know the folk music of the Emerald Isle get together in bars like Imagine Nation, coming and going and playing to their hearts' content.
Besides Dagger and Keskeny, the group is completed by flutist Laurel Lundquist, fiddler Mary Angela Collins, strings expert Rick Anderson and guitarist Gary Janego.
The sextet of friends has played weekly at the pub since it opened four years ago, all specializing in traditional instruments, from pipes played using a bellows to a bodhran (pronounced "bow-ron"), a handheld drum. 
The musicians began to file into the bar around 5:20 p.m. and gathered around a low table beneath a towering stained glass window. Amber glasses of the pub's finest and a paper dish of Dots Pretzels were strewn across the table.
Imagine Nation makes sure their glasses never go empty — for Imagine Ireland, it's on the house.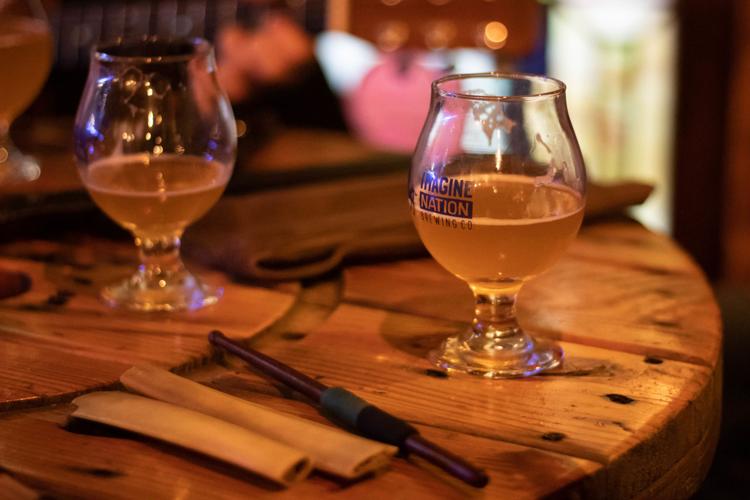 "Musicians' wages," Keskeny said jokingly.
As they struck up their first tune, the atmosphere in the bar transformed. Their music is unlike most everything played live in Missoula. It evokes a simple sort of feeling. 
In a word?
"Happy," said Lundquist, an Irish whistle in her lap. "Just happy."
She wasn't alone in that assessment. Over the course of the next hour, the bar went from a few scattered patrons to a bustling crowd. One UM student, who arrived early for the show, said it was her third time listening in.
"Their music — obviously — is really good," Jaysha Jagers said over the noise of a particularly toe-tapping song.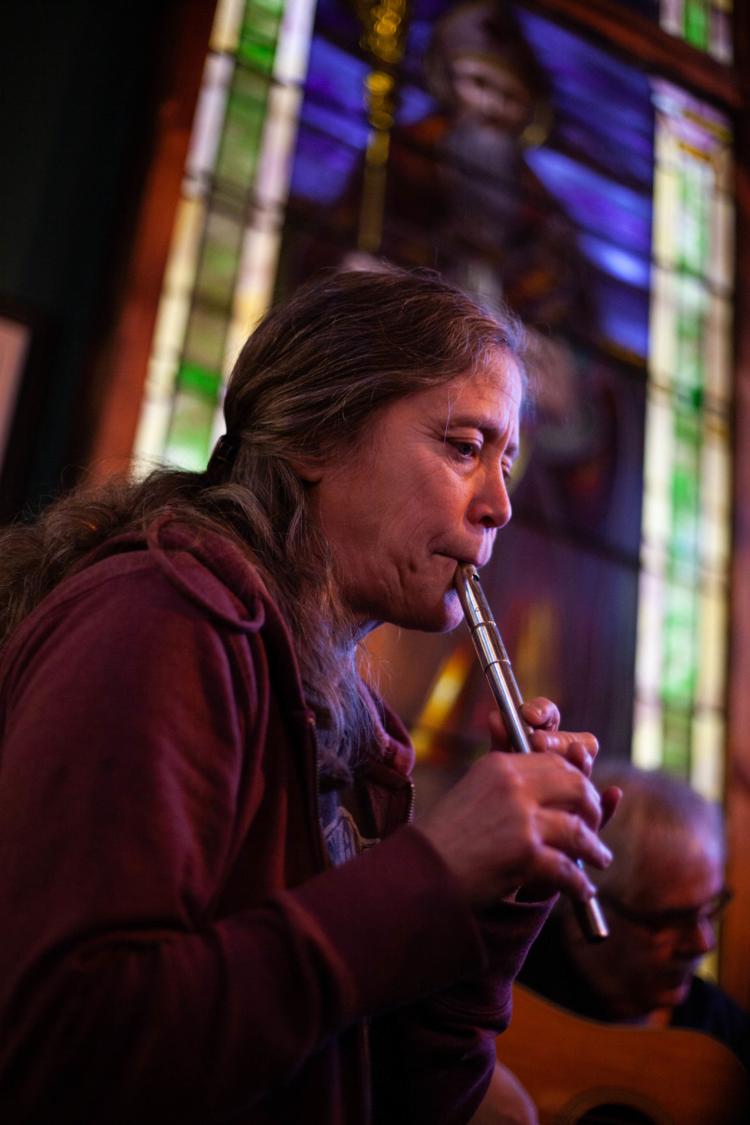 Jagers, a freshman in the pre-med program, said she has strong Irish heritage, but that it's not the reason she discovered Imagine Ireland. A friend in her Irish class brought her to a show, and she fell in love with the musicians and the music. 
"They're just so happy and passionate," she said. "I just love their attitude."
Jagers' friend, journalism student Brook Oswald, was the one who got Jagers hooked. Oswald is taking Irish for her language requirement and said she was in a "bit of a funk" at the start of the year. Imagine Ireland was just the cure she needed.
"It's become a weekly tradition for us to get away from the stress for a while," Oswald said. 
Some of the group's followers go much further back. Before the musicians had even arrived, Gerry Blackman, 79,  was perched at a tall table, drink in hand.
"I'm a groupie," she said with a grin. "I think that's what they're called."
After a trip to Ireland years ago, she said she fell in love with the Irish folk groups she heard play.
"And Imagine Ireland's better than any of them," she said, eyebrows furrowed in determination.
Gerry was there for Imagine Ireland's first show at Imagine Nation four years ago. Now, she gathers together with friends and acquaintances each Tuesday night to share her love of the group.
As the night was picking up, one of those friends came dancing up to Gerry's table. At 7 p.m. two more joined the fray.
One of them was Kathy Olson, who said that Gerry and the musicians she adores share a tight bond.
"When we all clap, they say, "thank you, Gerry,'" she said laughingly.
Janego, guitarist and bodhran player, had the evidence to back it up. That evening, Gerry had brought them a gift — a bottle, stowed away in a paper bag.
Imagine Ireland has a knack for bringing together people of all ages and walks of life. As the music played louder and the bar filled up, Gerry's table of friends listened just feet away from where two little boys were shyly approaching the musicians, dancing a bit before running off.
The joyful beat of the Irish folk tunes was so infectious, even Quixote, the huge bison on the back wall, seemed to bob his head along.
Quixote, said Keskeny, happens to be from the same bison ranch where he received the pair of thin, white bones he sometimes clicked together during songs.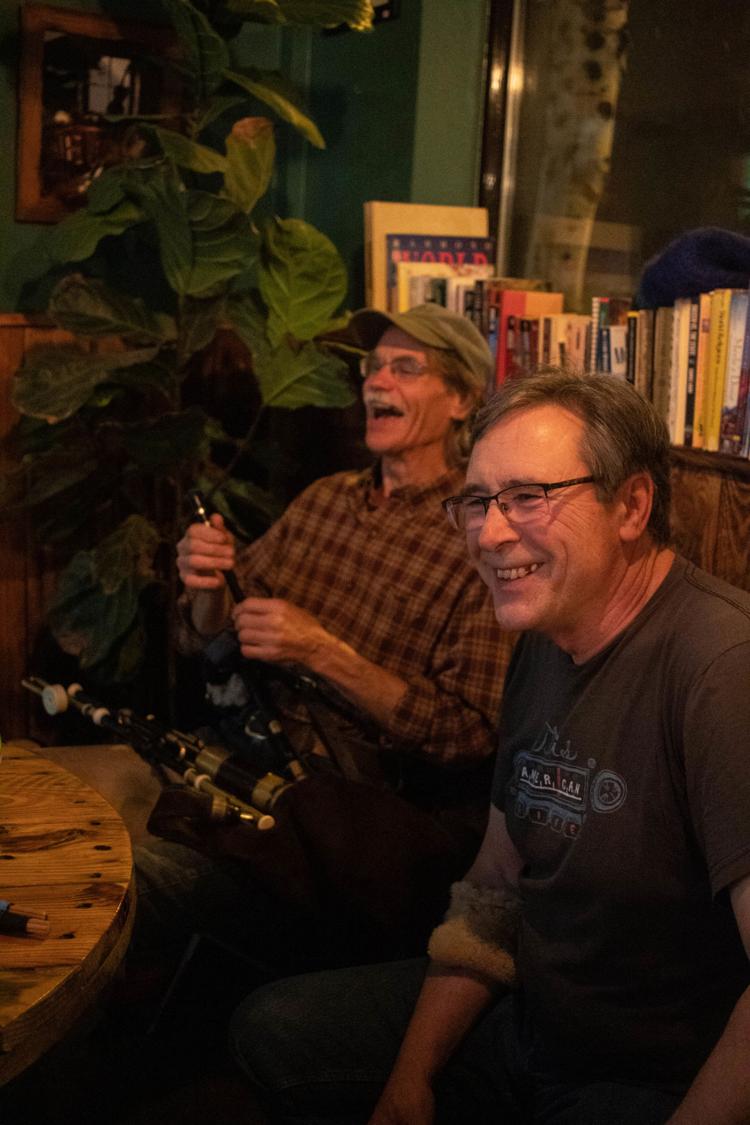 According to a sign beneath Quixote, the spent grains used to make Imagine Nation's brews become feed for the bison. In a sense, Imagine Ireland's music plays, in part, from the heartstrings of the bar and the patrons who've grown to love them.
 As Keskeny put it: "We found a home."