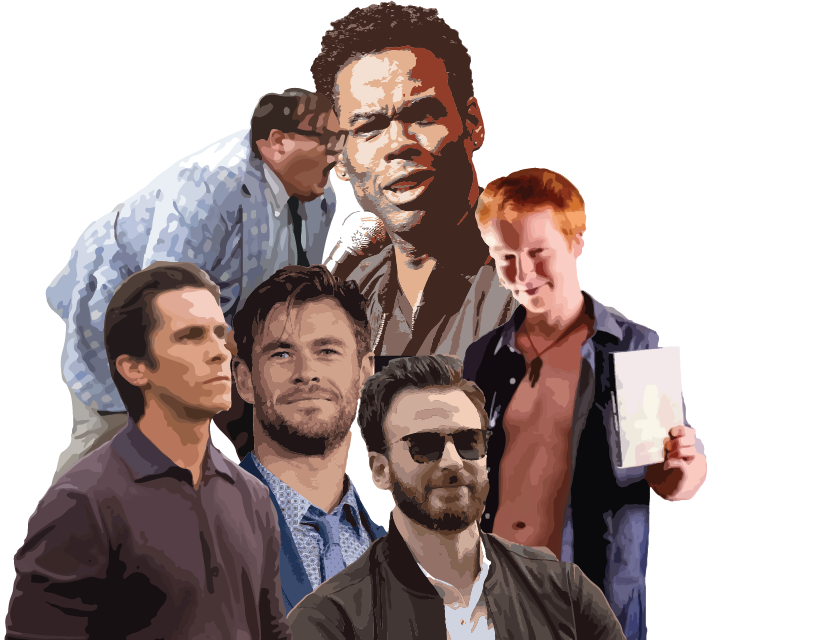 The name "Chris," of Greek origin means "Christ-bearer" and is commonly associated with religion. Religious or not, the name Chris guarantees you're a god-tier badass. It's simply the alpha name. Apply Chris to any face in any case, and it's immediately better-looking. No matter the spelling, the Chris reigns supreme — god among mortals. If you were unfortunate enough to be named something other than Chris, fear not, for the stars have assigned you a Chris.
AQUARIUS (JAN. 20–FEB. 18):
Christian Bale Temperamental as you may be, we admire your dedication. You can play a really scary bad guy but an even scarier good guy. You've been known to stay awake for years at a time and cause people to quit in group projects. Those who question your versatility need only look at the fact you've battled space robots, raced hot rods and thrown Heath Ledger off a building.
PISCES (FEB. 19–MARCH 20):
Chris Shields You're meticulous and hard working, even if your biggest flex is your DVD collection. If you aren't spending your free time in a movie theater or making bread, you're probably watching YouTube behind-the-scenes videos of crazy practical gore effects. Classic Chris.
ARIES (MARCH 21–APRIL 19):
Chris Rock Your enthusiasm is unmatched, but your big mouth could get you slapped. Even though you peaked in DreamWorks movies, you're the only person on the planet that can make something with Adam Sandler and Kevin James tolerable. Quit doing live action and stick to the standup.
TAURUS (APRIL 20–MAY 20):
Chris Evans Whether you're pulling helicopters out of the sky with your bare hands or kicking the shit out of Michael Cera, you go big or go home. Somehow you were the sexiest man alive and a shitty version of Buzz Lightyear in the same year, but that sums up your lifestyle. After all, you're America's ass.
GEMINI (MAY 21–JUNE 20):
Christopher Lloyd Gem, you're equal parts scatterbrained and effortlessly charismatic. Your curiosity matches your ability to learn quickly, but when you aren't playing genius scientists, you're playing mental institution inmates or idiot uncles. Although you haven't landed any decent roles lately, everyone still loves you just as much as your occasional returns to the spotlight.
CANCER (JUNE 21–JULY 22):
Christopher Robin Sometimes you're a sweet and lovable animated character, but other times you're a hyper-realistic version of yourself. The fact you still play with stuffed animals says two things about you: You're a child at heart and you use your imagination to cover up a tragically dark origin story. Someday you'll have to leave the Hundred Acre Wood, but until then, have fun Heffalump hunting with the seven deadly sins.
LEO (JULY 23–AUG. 22):
Chris McLean Leo, you're a whore for drama, so it comes as no surprise you decided putting a bunch of teenagers on an island for an elimination-style competition reminiscent of "Survivor" was a good idea. Nothing satisfies your sadistic-tendencies quite like constructing excruciating and gruesome games like "Slap-Slap Revolution." You really love being in a familiar environment, surrounded by people you love…to hurt.
VIRGO (AUG. 23–SEP. 22):
Christopher Nolan Congratulations Chris, you're at the top of your game. No one puts asses in seats quite like you do. Your crazy ideas send Matthew McConaughey to space and lead you to recreate nuclear explosions in full practicality. Contrary to the themes in your life and movies, time is on your side, so take a chill pill and learn how to mix sound. Always remember, when in doubt, blow shit up.
LIBRA (SEP. 23–OCT. 22):
Chris Hemsworth This Chris isn't just god-tier, you're god-status. In addition to being the most beautiful human being, you're always everyone's favorite dumbass. You're sociable and friendly, which is why you shut conflicts down immediately via hammer, ax or laser gun.
SCORPIO (OCT. 23–NOV. 21):
Christopher Lee You may seem helpful on the surface, but you're slightly evil underneath. You're elusive, you're mysterious and most of all, you have a really cool voice. Your eyes pierce the soul, but your soft spot for Tim Burton matches everyone else's.
SAGITTARIUS (NOV. 22–DEC. 22):
Chris Farley Well la dee freakin' da. You're the only person who can out-dirty-dance Patrick Swayze even if you do live in a van down by the river. Don't listen to the people screaming "you won't amount to jack-squat" in your face, because even if you have no indoor voice, people miss it when it's gone.
CAPRICORN (DEC. 23–JAN. 19):
Christopher Walken Your weird voice makes you the focus of bad impressions, but that doesn't faze you. In fact, nothing fazes you. You remain collected and admittedly monotone in just about every situation. You'll be damned if anyone's puts their greasy hands on your legacy.