In the Missoula Veterans Center bathroom, foam coffee cup in hand, I painted toilet paper from mahogany to tan, until it turned red. My pedometer tallied over 6,000 steps, and, while some Missoulians enjoyed a late lunch, I was bleeding out of my ass, drinking coffee I stole from veterans and in danger of being late for "The Muppet Movie." Just one of those days. 
I'm not the guy to bounce in an inflatable house full of children. I don't like kids — they enjoy life too much. I don't see live music, I don't sing karaoke. I work out by myself, I see movies by myself. If I were stranded on an island with anyone in the universe, I'd choose the oldest person in the world, so I wouldn't have to wait long for dinner.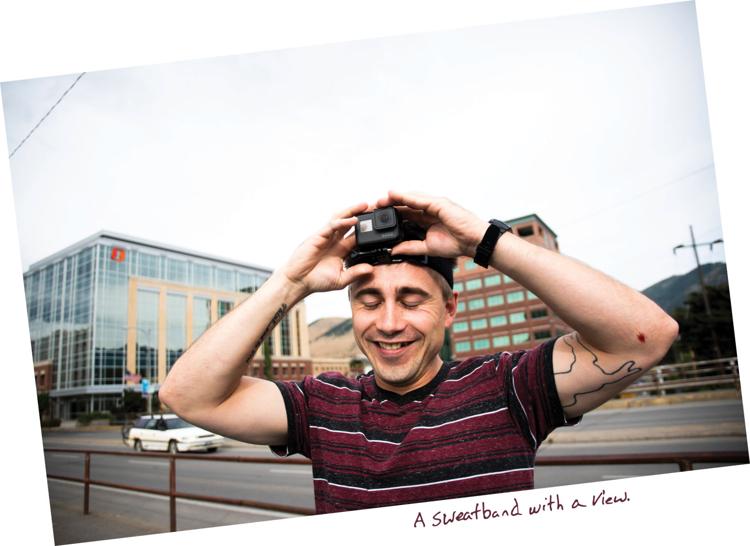 A campus can be an island. There is escape into the nightlife of bars and house parties. But what's on the next street over? The day is filled with class, practice, familiar friends, the rec center, naps, cliques, lunch lines, dorms, video games, studying, smoking pot. UM has dozens of organizations and clubs — the Oval was lined with them during WelcomeFeast. But where's the rest of Missoula? What are we missing? Who are we missing out on? I wanted to find out.  
So, when I took the assignment of attending every single event listed on Missoulaevents.net on Thursday, Aug. 30, I left the island, and almost drowned.
At 9:57 a.m., 2007 UM national lacrosse champ, Kevin Flynn, invited Kaimin videographer John Hooks and me into the Missoula Indoor Sports Arena. On one side is an AstroTurf field corralled by hockey boards and freckled with sports balls. On the other, the reason I was there, a pump was giving life to an inflatable obstacle course, complete with tunnels, pillars, hurdle walls, a rope climb, slides and a basketball hoop. With my GoPro on, I dove into the first area and immediately got stuck. I vaulted an air mattress-sized wall before faltering on the rope climb. I think a kid peed on it the day before and made it slippery. After a slide, a slam dunk and a victory bounce, I felt optimistic, and in need of an inhaler. I exhaled five syllables that became my mantra: no time, next event.
The Missoula Public Library is more than a place to leach internet while slugging Steel Reserve with your favorite bag lady (hey, Barb). The library is an excellent place to bring babies. During "Tiny Tales," a story-dance-song activity time for infants to 3-year-olds, Bradin Farnworth led a group of about 25 children and their parents in wiggling, clapping, and dancing, before settling in to read "Digger Dog," holding it up like he was at WrestleMania gospelizing John 3:16. The dude's awesome.
Early events were located in venues I wouldn't normally go without a child. Luckily, this assignment provided enough of an excuse that I didn't have to make a candy stop. 
The SpectrUM Discovery Area was a great place for me to organize. It's a science center that caters to children and middle schoolers, but keeps adults occupied with physics, chemistry, light and shadow, medical, and water table exhibits. But the erosion table and its miniature animals and trees is where it's at. Water dribbles over sand — actually recycled plastic — to demonstrate the effects of erosion. It's a great excuse to get messy and violently erode a pine tree into a beaver into a moose.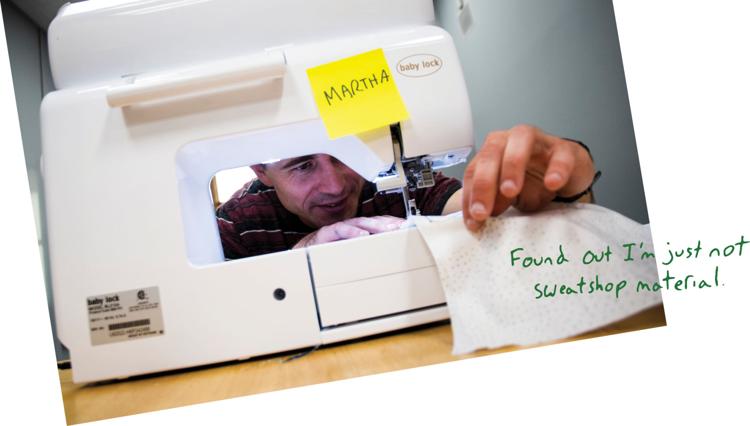 Chase Waterland, a biology major at UM, was teaching botany at the Discovery Desk, a rotating, hands-on science exhibit, when he dropped this bombshell: A tomato is a berry. It's a fruit, too, but it's also a berry. Reality shattered, videographer gone, I drove back to the library questioning my belief system.
In the library's bathroom, I laid out clothes for OULA, Missoula's homegrown strain of the dance-workout cult Zumba, on the baby changing station. The plastic was color-wheeling toward a career smoker's teeth and had more scratches than a cat lady's forearm. How? We're not changing wolverine diapers in here and there's no way it would support an adult for a kinky, fingernail diaper role play. The only legible scrapings were "FUC" — halted by the scribner upon realizing, "Hey, not cool, babies might read this."
I walked out of the bathroom with new incognito mode searches, feeling like a Kirkland brand Clark Kent with a super wedgie and headed to Smartphones and Tablets class at the library. The librarian, Stephen, soothingly explained what a smartphone was, and how the big button turned it on. I graduated class valedictorian and ready to rip my pants off and dance.
Downtown Dance Collective was already in full OULA. The GoPro recorded my dance moves, echoes of everyone else's, in the wall-length mirror. I was an unoiled C-3PO, but I'd caught onto the slide to the right-to-the-left-hands-on-hips-squat-hairflip-jump move by the time I had to go. I ran to the truck, falsely feeling agile, like an agile puma, an agile dance puma. The steering wheel cover darkened with sweat.
It wasn't the first time I had to strip down in the Missoula Senior Center parking lot and dry myself with a dirty hoodie — I was a dishrag after last year's Thanksgiving dinner.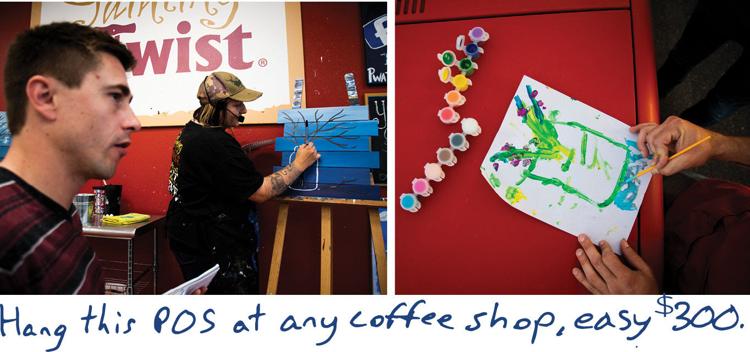 I envy the elderly, they enjoy life so much. The Missoula Senior Center has energy – not kinetic – it's pent up curmudgeonry fed by weird perfumes, huffed denture glue and dank, homemade meals cooked by Roberta and Co. in the center's kitchen. Grab a 25 cent coffee and head downstairs to the thrift shop where that $10 birthday check grandma sent stretches to 1939. 
The tables were being used by bridge players … serious architects: "Don't trump your partners ace," and "Never lead from a king," and "What is this for again?" My schedule was tightening, no time to learn, but the next event, Meditation at the Veterans Center, was promising.
It didn't go as I planned, but I did get to meditate on life, choices and my event blitz while barricaded in the Vet Center's bathroom. It was a low point. I'd missed meditation and each grindy wipe diluted the sexy feeling of being a Napoleon Dynamite-Shakira hybrid I'd carried since OULA. I had doubts; I was off pace and wasn't even halfway. But I had a mission. I had toilet paper. I could still make the theater. I pulled up my pants and was halfway there before I realized I'd left my coffee on the toilet tank.
I plunged into the Roxy, perspiring and inquiring about Muppets. Someone had hand-chalked a muppet outside of theater two; the other patrons, a mom and her kids, and I were all surprised anyone else was there. I didn't stay long — I was worried about chafing. For my review I went elbow deep into Statler and Waldorf, the hypoglycemic movie panning muppets.
I felt rejuvenated after a quick shower and change of clothes. Morale was high as I hunted a library parking spot. Upstairs in the library, during Lego Club, a white sheet was spread like a picnic blanket before a plastic tub full of Legos was tipped over. The sheet acted as a bundle to dump the Legos back into the bin — genius. 
I constructed a Winchester House inspired staircase to the void, but I couldn't find a person to ascend to their death. A young girl swirled the pile of multicolored bricks while sweetly explaining that children quarter the bodies. She showed me a red knight's torso with only one blue arm. Alright, some kids are cool.
I never found a head for my sacrifice, which, as I came to realize, bonded us. 
A sprint from the library, up a flight of stairs and through two doors is the Insectarium. A colony of bees lives here — they buzz through a special tunnel to the outside. A wolf spider had just finished its weekly cricket. Madeleine Hull, museum interpreter, told me wolf spiders have good eyesight, while tarantulas rely on detecting vibrations. It was a close call, but we came to the conclusion that a bus-sized tarantula would be the less scary of the two, because jetpacks.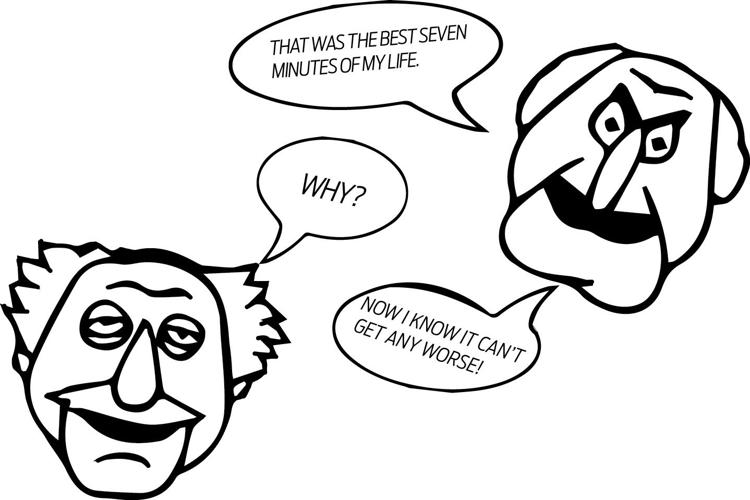 I am a very, very prenatal man. So, I was very disappointed when I arrived at the Open Way Mindfulness Center to find that prenatal yoga had been moved to Wednesday. I had needed this. My brain was blending people and events. Sweaty Muppets. Especially for the places I re-visited and the blip events, places I visited for less than ten minutes. Digger Dog Dismemberment. I drank more coffee and stared through the windshield.
The inside of Imagine Nation Brewery is a kaleidoscope of objects: popcorn machine, artist galleries, books, stained glass, brass taps. On the back patio, there were two couples on dates and a few other scattered guests. A sandbox had buckets and a small bulldozer. Tuesday's traditional Irish music is a highlight, but today was non-profit appreciation night; event 2,235 for the place. On the wall, a large bison head named Quixote caught my attention. Printed above was his title, "Guardian of Those Who Dare to Dream."  At what point is all those events too many events? When does the event dream become the event nightmare? The event horizon?
Start engine, shift, reverse, "getthefuckoutathewaydon'tyouknowhowimportantthisis!" swerve, shift, punch it, go, brake, park, run, check watch, wipe sweat, catch breath, open door, "Hi, I'm Ryan with the Montana Kaimin." Ad infinitum to nauseam.
I wanted Flow Yoga with RASA at the Mindfulness Center, but guess what? It was moved, too, replaced with "An Evening with Greg" at 7 p.m. Not very mindful to not update your events, Mindfulness Center. Greg is super nice, though. 
By now, the 9-5 grind was over, I was on my second pair of underwear, and singles, couples and families were gathering at Caras Park for Downtown Tonight to enjoy vanilla reggae and food trucks, as is Missoula tradition. It was a food truck orgy: burgers, noodles, rice, tacos, donuts, ice cream. It was the last Downtown Tonight of the year, no more festivals in Missoula until May — just kidding, Festival Fest starts next week. 
Kaimin photographer Eli Imadali and videographer Micah Pengilly joined me at the park — they eased the pressure. Events are better with friends. Added to my to-do list: make friends.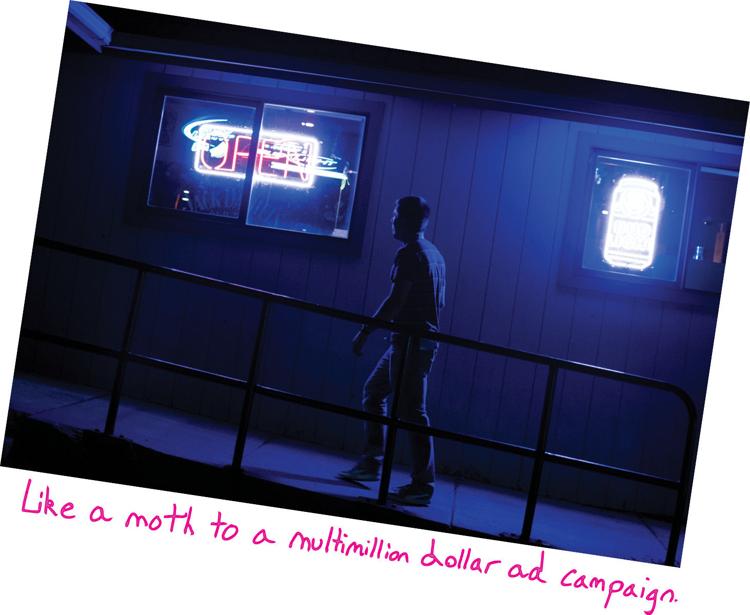 The event list was more than halfway done, and we were just hitting the evening. We caught Tim Helmore's set at Draught Works next. Helmore seemed puzzled, maybe a little worried, that a man with a note book was suddenly standing near him while a photographer and videographer went full on paparazzi for 90 seconds before leaving. Discovering Missoula's music scene is best done with a slow simmer, but we had a schedule to keep.  
The crew was vibing, but I was feeling tired and dehydrated when we arrived at the Red Willow Learning Center to live a meaningful life with Lama Tsomo. She sat on a black pillow, looking like a cutout in front of a red-paneled, black-trimmed folding screen. Her message – that compassion breeds satisfaction – was being live streamed all over the world. Focus, she said. But the day's events still buzzed in my mind. iPods vs Androids vs erosion. Turn into yourself. Tomatoes equal bison berries. "We stumble from one event to the next," she said. Bounce house dancers.
"Feel this next breath." And I did… Gotta go, thank you, gone, truck, traffic, swerve, the next one, the next one. 
The well-used playing cards at the senior center may be faded and bent, but nothing beats bingo. Bingo is a bucket of chum and the sharks feast on multiple cards. B11 — Mark — G34 — Mark — O62 — the announcer's tempo is important. A long pause between two numbers and spectacles tilt up and 50 silently disappointed grandparents mentally cut the caller from the will.
An announcer should have a baritone, precise, comforting voice. A Cronkite-Barry White, I thought. The sharks flashed teeth, "Your voice changed," and "It's deeper," and "Puberty set in." 
Heckled by the elderly. I looked down at the already called ping-pongs and said, "Yeah, well these aren't the only balls that are dropping." 
And I was back in the will.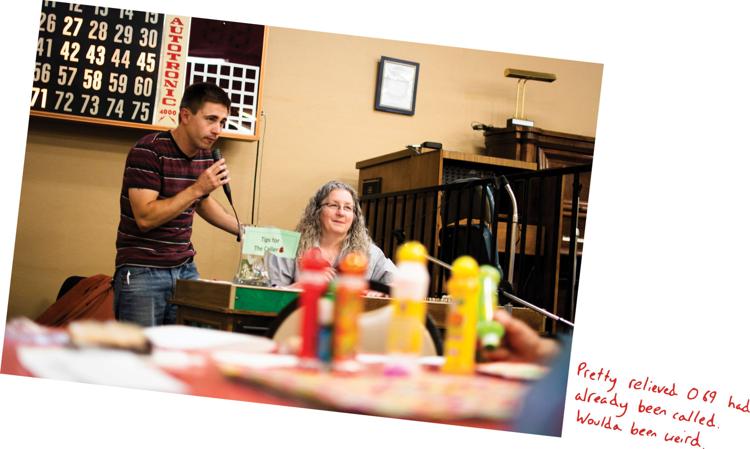 We left the most dangerous parking lot in Missoula with a quick frogger across the street, back to the Roxy for "The Miseducation of Cameron Post." I have no idea what it was about, but the advertisements sure were bright. 
The Jack Reidy Conference Room is part of the Missoula City Council Chambers. Tonight it was the site of local government in action. Agendas were passed out. Minutes were amended and the previous BBQ and speaker event declared a success. Phantom ribs lodged themselves in my throat while I imagined the speakers' informative information. What was this all about? What was at issue? Where do we stand? We'll never know – the wheels of government turn slower than the wheels of my '87 Ford Ranger.
Tucked way in the back of the Confident Stitch is the Sewcialist Union. A pizza and beverage fueled sewing circle with the "Cadillac of sewing machines." I sat in the tailor's seat and revved the needle, born to sew. Slowest. Needle. Ever. "I adjusted the governor," said Jane Mandala, resident sewcialist. No time to lose the training wheels, a quick stitch and ditch.
I have an artistic flair, so, when I saw Painting with a Twist on the schedule, I was ready to bust out the watercolors. The store offers BYOB painting classes, perfect for people who still have enough self-respect to need a reason to drink. Sarah, the class leader, described herself as self-taught and had prepared a very delicate, realistic print of "Mason Jar with Cherry Blossoms." 
I didn't have the money or time to take a class, so, outside, I fused everything I'd gleaned with my natural talent to complete a fridge-worthy "Mason Jar with Cherry Blossoms" masterpiece. Prints are available. 
We drove into the nightlife and pulled up to Green Alternative Dispensary. Etched into the building's façade, above the entryway and caught in the sun: DRUGS. Inside, the air had a pot after-smell, but the marijuana had been removed from display cases and secured in the back by the budtender, whose job title is the lamest part of the whole industry. It's weedologist.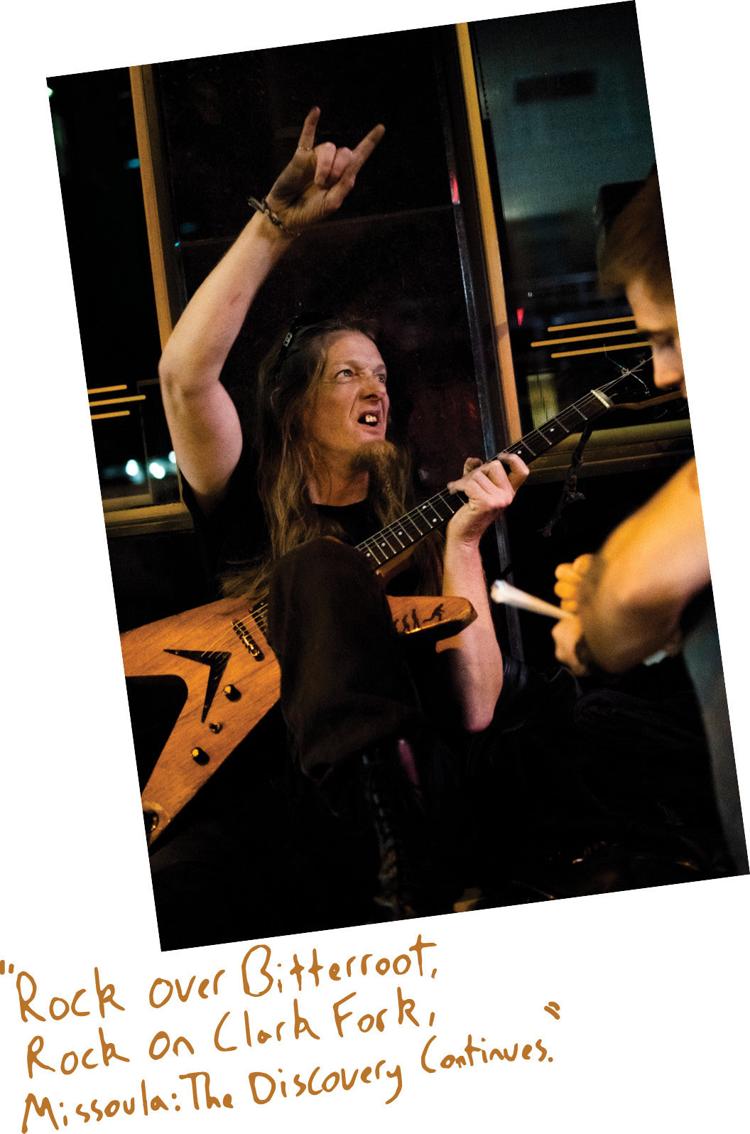 Jerry Spurlock owns the joint. He received his bachelor's in photojournalism from UM and has fond memories of fading into the darkroom. "I got a four year degree. Now I sell pot," he said. 
It was open mic night and Spurlock sat behind a set of fire-engine-red Rogers drums – off limits to anyone else, but there was another set for public solos. 
The crowd wasn't huge, eight or nine musicians, but they were tight, calling "hey!" when a regular walked in. Spurlock said the typical set is a solo artist, but poetry or comedy is welcome. Leith, a solo artist with a lovely voice, was accompanied by Spurlock's drums and an electric bass as we walked in. She's on her way to Boston, but said she stopped in to get a taste of Missoula's flavor. 
It was dark. Local Government Sewing BBQs. And I could feel the end as we came downtown. Mason Jar Cherry Balls. 
The Old Post had a country folk band out back in the parking lot. The guitars, fiddles and bass were lit by autumn orange light, and cowboy boots kept time next to PBR tall boys and a pitcher with two $1 bills in it. The porch was full, faces turned to the musicians and a few people gathered in the lot, staying to listen, while we went off to the next one, which didn't last long.
The Top Hat is conscious of its corporate image, despite being a Buffalo Wild Wings with live music, and we were asked to leave for taking photos without a press pass.
Johnny Woo shreds. He sat reclined against the Missoula Compounding Pharmacy on the corner of Front and Higgins, one black leather boot sticking out, Dean guitar in his lap, ripping into his amp the size of a bathroom heater. His hair teased the fretboard when he dipped his head. How long have you been playing? "Oh, about three hours," he said. He laughed and said 32 years – dad jokes. 
He used to busk in San Francisco. There were all these people, he said, but no one would stop. Once in a while he'd get tossed a $100 bill, but few and far between. A passerby stopped to play air guitar as Woo tackled a Mercyful Fate solo. In Missoula, it may not be $100 bills, but people stop.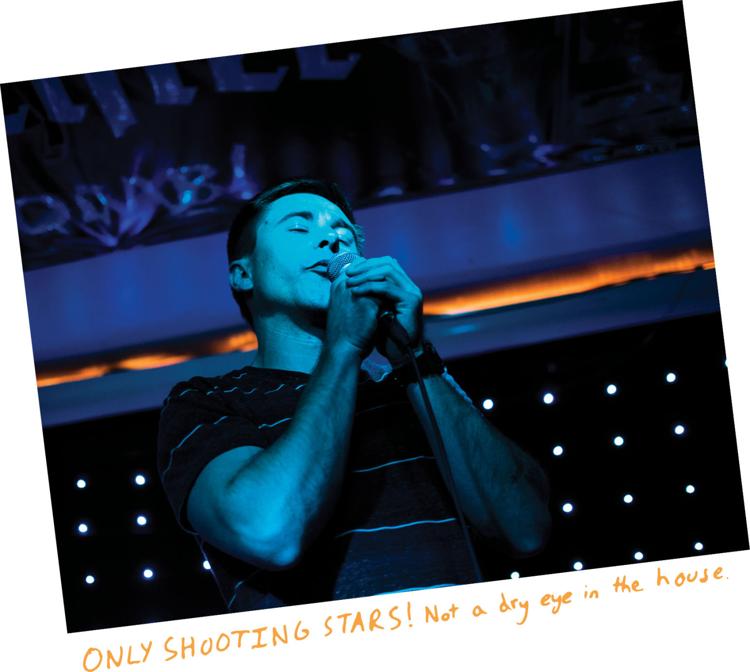 Go. Last one. Cowboy boot Budtender. Keep focused. Dark Horse karaoke. 
The stage was empty. The dance floor was empty. The barstools were empty. But I would have sung "All-Star" to a packed house, to Griz Stadium. I didn't care anymore, I'd survived, I was happy. The DJ, the bartender, the cook, a guy in a ballcap playing keno and my fellow crew witnessed the Haley's Comet of karaoke and I was done, see you in 75 years, done. Total steps: 21,160, or about 10 miles. Two pairs of underwear, 11 hours and 53 minutes. Done.
Blue light emanated from Aaron, the DJ, as he belted his favorite song, Journey's "Lights." Memories were bingo pongs jumbled in a mixer, randomly popping up and lighting a panel of bulbs from purples to pink to blue to a rainbow, backlighting the stage; red and green dots skittered across the dance floor like water bugs. "When the lights, go down in the city… ," I let go and felt my breath. We stumble from one event to the next. It was the dehydration, the exhaustion, but I felt the song was mine. I was back on my island. I felt quiet.