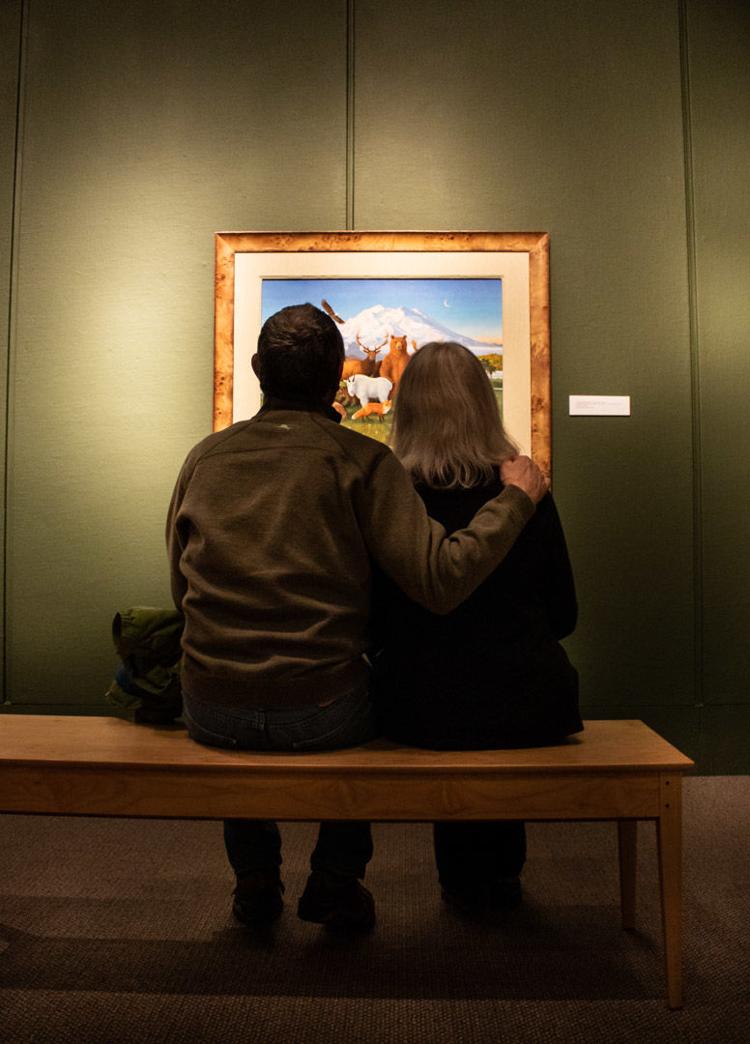 Missoula-based artist Monte Dolack's exhibition, "Monte Dolack: The Artist's Nature," opened Friday as part of the inaugural kick-off of the Montana Museum of Art & Culture's 125th anniversary. It will be the first major gallery for Dolack in nearly 30 years.
Museum director Dr. Rafael Chacón addressed the packed crowd to launch the exhibit, which will occupy the Meloy and Paxson galleries until May 15. Chacón stressed the importance of Dolack's work, comparing him to some of the greatest artists in Montana history, like Charles Russell and Rudy Autio. 
"Monte is with the greats of Montana artists that define us," Chacón said, adding that he is honored to have an artist of Dolack's stature leading the inaugural event. 
Dolack, dressed in a dark jacket with a button-down featuring bright, swirling colors, then spoke to the eager crowd, discussing the beginnings of his career. He never wanted to work a regular job, choosing to seek out work that would exercise his creativity before establishing himself as an artist in the early '70s. 
"I did any job I could to keep a pen and a brush in my hands," he said, describing one of his first jobs as a cartographer in Denver. 
The exhibit features works spanning much of Dolack's career, from studies and sketches in nature to the finished full paintings. A key theme in the presentation of these works is Dolack's evolution as an artist, primarily in the last 20 years. 
Steve McArthur, a fan of Dolack's work and friend of the artist, was grinning ear-to-ear as he strolled through the Paxson Gallery. McArthur, who has been collecting Dolack's posters with his kids for 20 years, views his work as capturing the spirit of Montana.  
"Monte is an original helping to define what Montana is to the rest of the country," McArthur said. 
Dr. Jeremy Canwell, the exhibit director and curator, described Dolack's evolution as being a melding of two different artistic minds into one. Canwell points to the whimsical humor that can be found in Dolack's "Invader" series, which showcases a domesticated wildness with his human-like portrayal of animals in human spaces. In contrast, "Smith River in June" shows a much starker look at nature. 
"I find those to be two different artists almost," Canwell said. "The one that is doing this more whimsical fun stuff, and the one that has this more stark view on the environment." 
Dolack, who has been a mainstay in the Missoula artistic community since opening his first studio in 1974, wasn't nervous for his first major exhibit in three decades. 
"I'm not nervous. I did the work, it's done," he said with a laugh. 
The exhibit is comprised entirely of borrowed pieces from Dolack's personal studio or private collections. Many of them he has not seen in decades. Seeing the "Montana Grayling" piece for the first time in many years, which was for the Arctic Grayling Recovery program, brought him back to the day he caught the fish. He said it reminded him of the sounds, smells, feeling of the water and even of the music he was listening to while painting. 
Many of Dolack's works showcase nature with a side of humor. 
"My sense of humor, which is my sixth sense, would come into play," Dolack said when describing his usage of humor as a vehicle to bring attention to climate change. 
Climate change is a deeply important issue to Dolack, who has been implementing it in his works for decades. One of his most recognized pieces, "Refridgeraiders," shows penguins raiding a household refrigerator. Underneath its humorous veil, Dolack wanted to show how climate change was forcing the Arctic animals to find a new habitat in the cold embrace of a cramped appliance. 
Keeping his finger on the pulse of major issues is something Dolack strived to do while working as an editorial cartoonist for the Montana Kaimin in the early '70s. He finds his commitment to remaining present, especially with environmental issues, further strengthened because of youth movements spearheaded by climate activist Greta Thunberg.  
"I might be a boomer, but I'm there too," he said.
"Monte Dolack: The Artist's Nature" will be on exhibition from Jan. 17 to May 15 in the Paxson and Meloy Galleries at the University's PARTV Center.