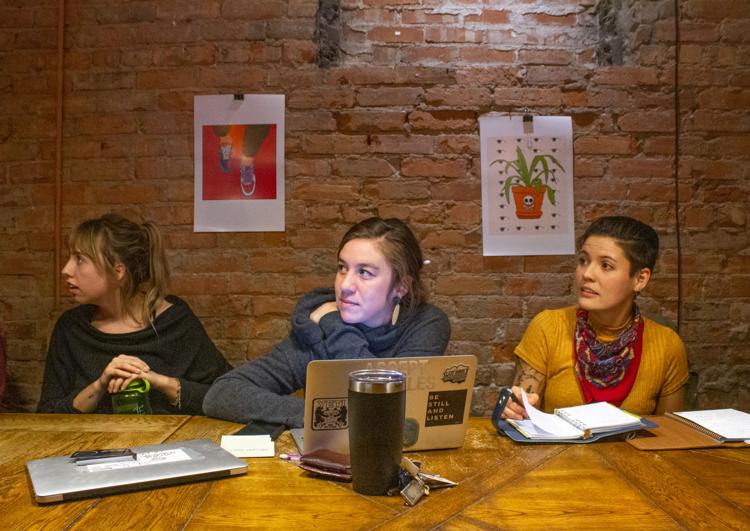 Few things trouble a songwriter more than the dreaded "writer's block." A collection of local musicians met at Break Espresso in downtown Missoula last week to brainstorm methods of breaking through and stimulating the art of songwriting.
"I need to make a mess," Jocie Collins said. "It's part of the process. I need a little bit of chaos to start it."
Others noted an improvisational style works best, while others still preached the power of an hour or two on the open road. 
"When I'm driving, different signs will prompt whatever flow. I'll be across town and suddenly have a song," Maria Zepeda said.
Zepeda is the president of this spitballing collective of 13 musically-inclined persons, a small portion of the burgeoning organization known as the Montana Area Music Association (MAMA). MAMA dedicates itself to the state's growing musical scene and its musicians. In a town with a shrinking number of independent venues, this sort of support is crucial.
A chance meeting with the vice president, Anthony Lamar Brown, at the Missoula arts venue Wave & Circuit led the pair to found the group, with its first official meeting in February of this year. Whether it's promoting productive relationships among artists, ensuring fair wages or providing resources for those lost in a confusing climate, MAMA hopes to be the go-to for musicians, veteran and newbie alike.
 "There are individual communities around the Missoula scene, but not a group of people willing to connect artists. There wasn't a hub beyond just going out [around town]," Zepeda said. She herself is a classical guitar teacher and founder of the band Why We Came West.
MAMA is fiscally sponsored by ARTS Missoula, a local organization with similar creative goals. Moving forward, Zepeda says an education committee is being formed. They aim for a full set of workshops to become available for prospective artists in the spring, ideally providing options for University credits. These will include subjects like creating content and websites and general self-promotion. Once these plans are solidified, MAMA may apply for full non-profit status. 
A weekly series of self-care sessions are also planned beginning Dec. 5, "promoting mindfulness and taking care to foster creativity," Zepeda said.
 The organization will hold a fundraising event, "Meet your MAMA," at the newly opened Zootown Arts Community Center located on West Main Street. MAMA's collegiate branch — humorously named "Baby MAMA" — will hold an event Nov. 16 at the Food Zoo from 5:30 to 7:30 p.m. Local bands Cosmic Sans and The Fertile Crescent will perform, followed by an afterparty at GILD on the Hip Strip from 8 to 10 p.m. 
Those interested in learning more about Montana Area Music Association can visit mama4MT.org.