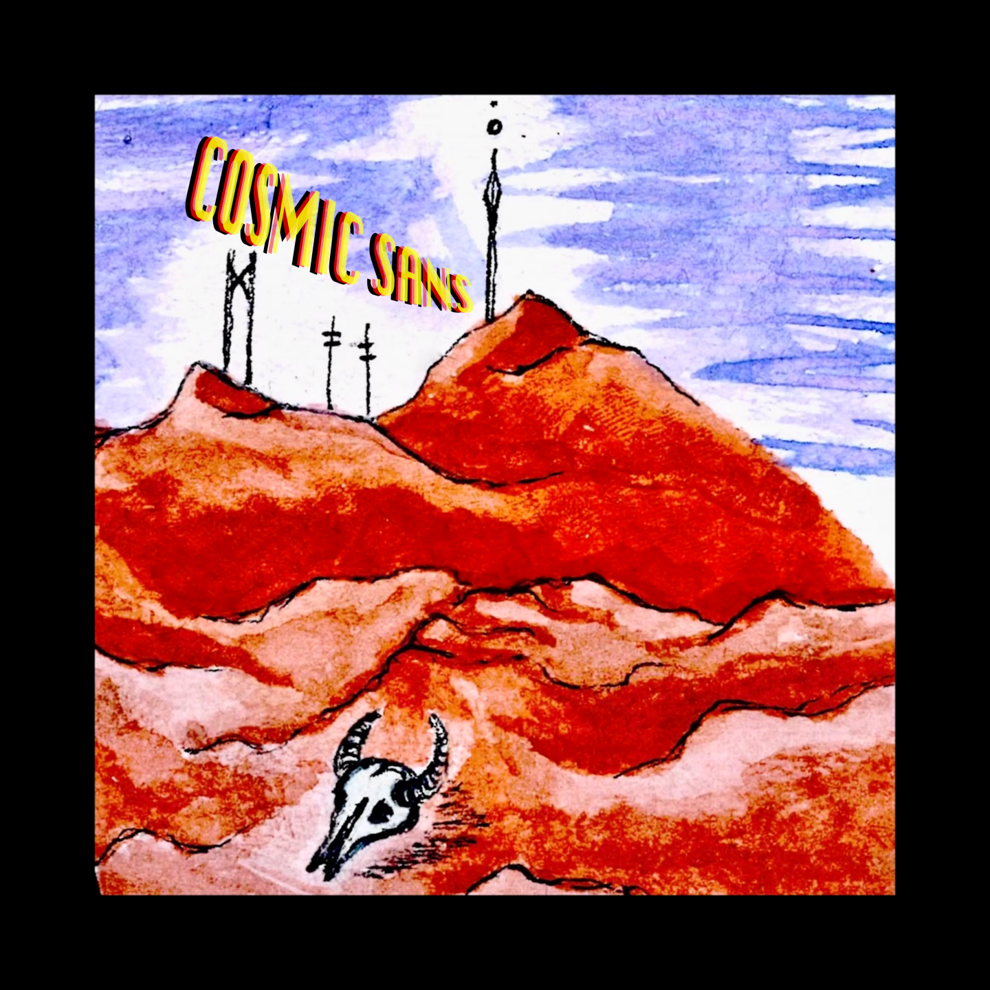 With Missoula's music scene finally bouncing back to its original glory, locals can get ready for not only a brand new debut album from a local psychedelic punk band, but also a never-before-seen concert venue opening its doors to local music dwellers. 
Doors open at 6:30 p.m. for this UM student and alumni band Cosmic Sans, set to release its first-ever album this Saturday night at new venue "The Furnace." The location sits on East Spruce Street, across from Black Coffee.
"It's going be very hot,"  Seamus Jennings, lead guitarist and producer, said. 
The band, which originally formed in September 2019 and reinvented itself in the summer of 2020, has been on a mission to build its first produced album since last October. Finally, after a year of recording and producing, the crew will take to the stage with their shiny new songs. 
The solo-produced album is a collection of 10 songs that were painstakingly hand picked out of the more than 40 songs the band originally wrote. 
Cosmic Sans described the album to be "psychedelic punk," but notes of rock and roll, hip hop and pop can be heard throughout the songs. 
"People can expect it to be all over the place, it's going to be crazy," Jennings said. 
The album does not follow a linear storyline. The songs are built from different members' tastes in music and their personal COVID-19 experience, Jennings said. 
"The theme of the whole thing is about the pent-up energy that we're all feeling during the pandemic. A lot of the lyrical quality of the songs tends to be on the darker side, but the melodies are upbeat," lead singer Josh Howell said.  "There is a lot of  joyful anger in it." 
Each band member was at some point a student at UM. Jennings and Lane Ulberg at bass guitar are currently enrolled at the University. Rhythm guitarist William Stoskloph, Jake Howell on lead vocals and drummer Cole Bronston are alumni. 
The album release concert is a fundraiser for the Hellgate Roller Girls, who rented out their practice space for the band to host the concert. The venue, which is used as a roller rink, invites dancers and skaters to come together and enjoy the live music. 
"While they dance, we encourage people to bring their skates," Jennings laughed. 
The band said if people want a crazy and fun time, the concert is the place to be this Saturday night.
"It's gonna be very crazy. We have a really awesome lineup of people playing music with us and it's a celebration at this brand new space," Jennings said. 
The album will be released on Saturday following the concert. It can be found on Spotify, Apple Music and most listening platforms. 
Presale tickets are $7, while at the door are $10. CDs, posters and t-shirts will also be available for purchase at the event.