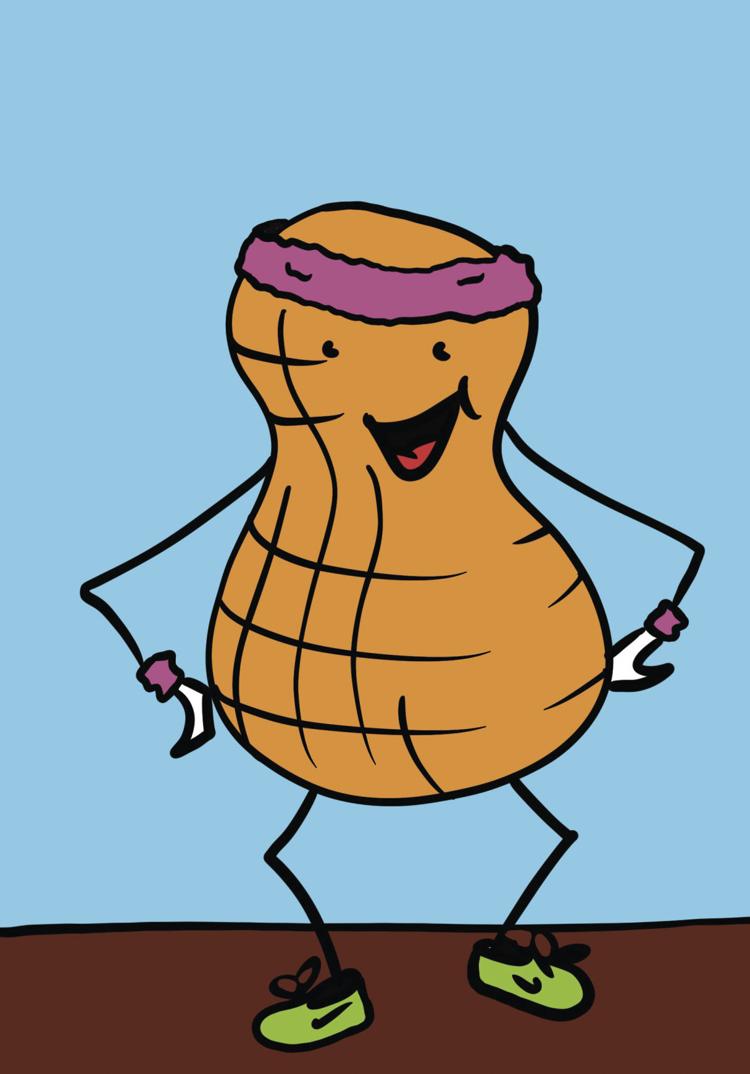 Walking into the Health Nut office in the Wellness Center on the east side of Curry Health, Denae Duren sets aside a box full of essential oils and jokes about an upcoming deadline she's been working on, slowly but surely.
"We publish on Tuesdays but we need time to look everything over during the weekend," she says. "I have a lot of writing to do." The piece she's working on right now is about bringing meaning to relationships.
Duren, a fifth-year community health major, writes for the Health Nut, a student-run wellness blog based out of Curry Health Center. When she says she writes for the blog, really she means that she writes it. All of it, on her own.
Emily Martin, a journalism major, runs all Health Nut social media, while Natalie Brancaccio, majoring in media arts, helps design graphics for the blog. Together they make a small team, sure, but an efficient one.
Health Nut features posts about five dif- ferent categories of wellness: fitness, food, lifestyle, study and sex. The blog has been a part of the Wellness Center at Curry for four years. It's for students focusing on holistic wellness — that is, a more well-rounded approach to their health.
"A blog is a casual platform. And I don't want people to think that their health and their wellness has to be some big, hard-to-achieve thing," Duren says. "It doesn't have to be hard, at all. So the cool thing about Health Nut is that you can portray these ideas on a casual platform, an easy way to execute them."
In a poll posted on the Wellness Center's Health Nut portal, 47% of UM students report feeling above-average levels of stress, 43% report feeling over-tired, 53% report they don't eat enough fruits and veggies in a day, and 71% support a tobacco-free campus.
Each article posted on the Health Nut takes on issues that any given UM student might face and help to offer problem-solvers and solutions. Duren says she wants students to have access to holistic wellness,
provided through advice, tips and tricks. To Duren, and the rest of the Health Nut staff, health and wellness are so much more than just diet and exercise.
Brancaccio, 20, has been designing graphics for the Wellness Center and the Health Nut blog for almost two years. She found the job opening through Handshake, but it was more to her than just a graphic design job.
"I care a lot about mental health, and I try to be an advocate for my friends and family with mental health," Brancaccio says. "So it was definitely something that interested me. It wasn't just a graphic design thing. I was getting to learn more about being happy and healthy."
It may be Duren's first year on the Health Nut, but she's been involved in lots of dif- ferent health programs on campus and in Curry. She was working as a health behavior coach in the Wellness Center when she heard there were job openings at the blog. It's the kind of thing she's always wanted to do. So she applied.
"I've not done anything like this before. This is a job that I have wanted literally since I started going to school here," Duren says. "So it's kind of a dream job."
Duren has written a couple of articles already: an article about buying healthy groceries on a college budget, and a list of discounts she thinks students should know about for the fall semester. She says she's got a lot of plans for the rest of the semester, ideas she's been brainstorming for the past few weeks.
Duren says this is exactly the sort of thing she wants to do when she graduates. And after that? She wants to become a health coach, with her own health and wellness blog on the side.
"It's literally been my dream to blog about health and wellness forever. I think it's an awesome way to get the material across," she says. "I feel like I read a lot of blogs and a lot of stuff online, that's how I learn. And I know that's the new up-and-coming thing now in our generation and the generation before us; it's the internet. I feel like there is so much you can learn from it."
You can find the Health Nut blog at healthnut.umt.edu.