Mourners with black and white face paint danced to traditional African music on Saturday evening at Caras Park. As people approached the crowd of mourners, one sound dominated the others — the strong and steady beat of four drums. The drums' rhythm vibrated throughout the crowd as people, some with painted faces, some with masks, moved to their beat. Students from the University of Montana's African Dance class started the dance. They performed a dance routine they have been working on for over a month.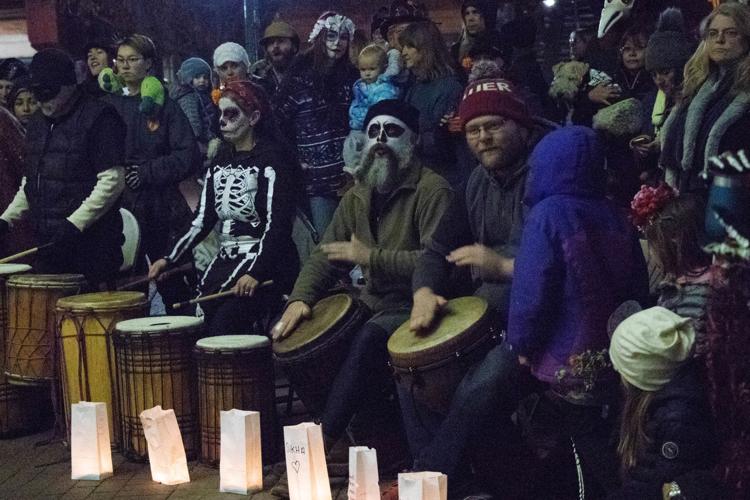 The dancing was part of the final night of the 27th annual Missoula Festival of Remembrance, "a month-long series of events engaging the Missoula community in healthy conversations about death and dying utilizing art as a vehicle for healing," according to the festival's Facebook page.
In honor of the dead, some people painted their faces black and white to appear like skeletons, while others wore grim reaper masks. Moira Bruce, a student part of the African Dance class, found the unique integration of death and dancing intriguing.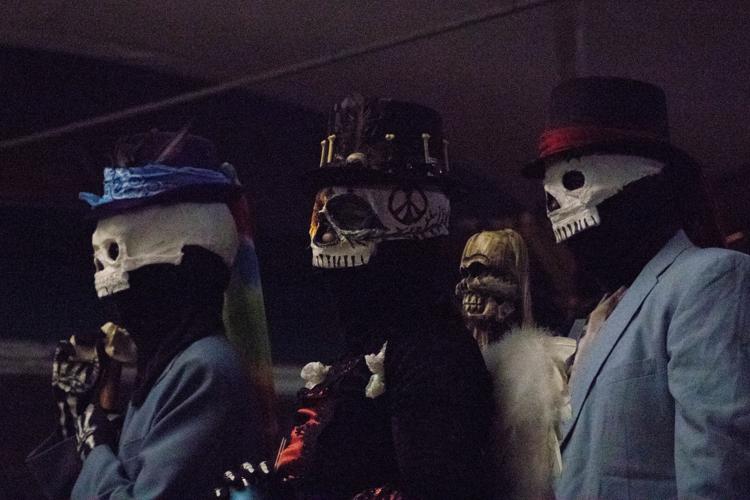 "In a lot of cultures, such as African culture, they dance to celebrate and to mourn," Bruce said. "So tonight we are celebrating and mourning at the same time."
This event was formerly known as The Festival of the Dead until 2017, when the festival committee changed the event's name and intentions. In the past there were objections raised to whether this festival was culturally appropriate. Some people believed a majority-white population taking part in an event inspired by the Mexican holiday Dia de los Muertos was insulting.
In response to this backlash, the festival's coordinators have changed the name to The Festival of Remembrance. They have also reached out to multiple ethnic groups around the community to "embrace a higher level of inclusiveness and respect," according to the festival's Facebook page.
Some people have attended this event for years. Colleen Alber and Don Podolzke have taken part in this festival for over a decade. When asked why they do it, they had one answer.
"Look at the pictures," Alber said as she gestured to a wagon containing a small shrine full of people's photographs. "That is why we do it — to remember our people."
Alber and Podolzke's faces were painted like ornamental skulls. The detailed lines and circles made it appear like it would have taken them hours. However, this was not the case.
"It didn't take long, like 30 minutes at the most. When you have been doing it that long, your friend knows how to get it on really quick," Alber said as she smiled at Podolzke.
When people finally began to meander home, they stopped to place notes to their dead loved ones on the communal shrine. The shrine was built to honor those who have died and to "help the ones who are living," according to a sign explaining the shrine's purpose.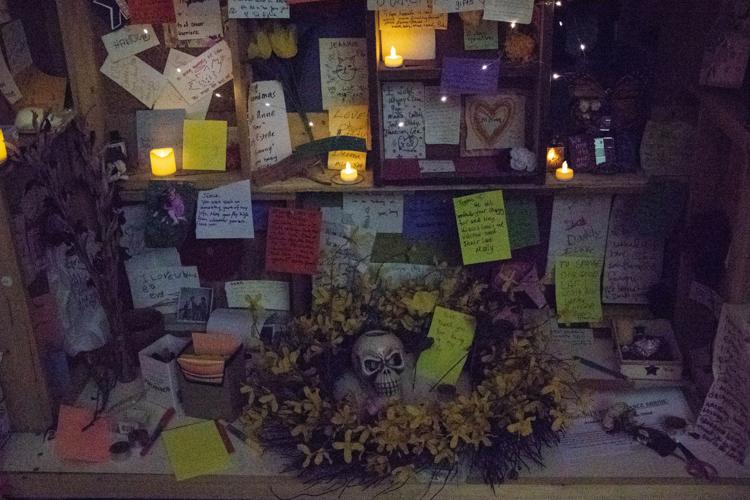 The month-long Festival of Remembrance is scheduled to take place next year with the same goals of celebrating and honoring the dead.