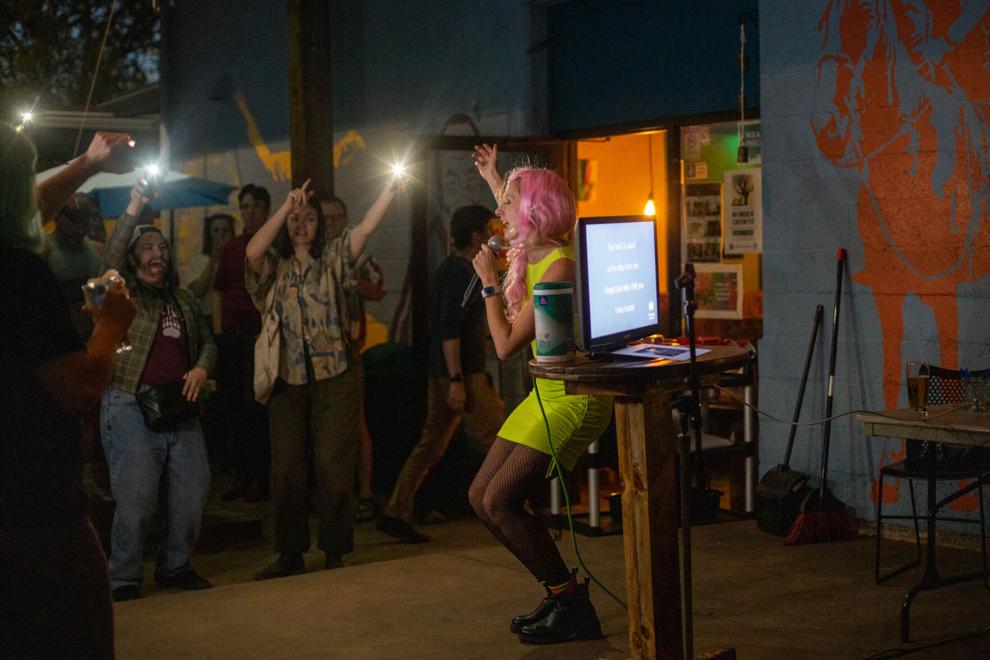 On any given Saturday night in Missoula, the bar-hopping scene is painfully heterosexual. But at Imagine Nation Brewing on Saturday, many patrons sported pressed nails, laced wigs and layers of makeup at the annual OUTlaws drag karaoke and gong show (a form of karaoke judgment where the host can end the performance at any time by whacking a gong)  in a celebration of gender diversity.
OUTlaws, the Alexander Blewett III School of Law student group committed to advancing the legal rights of LGBTQ+ community, hosted their annual drag queen-studded karaoke and gong show, which consisted of many law students in Party City wigs butchering classic gay anthems on the stage for their friends' delight and the drag queens' horror.
Kings, queens and non-binary royalty turned out their highest party-scene fashion in a night of dancing and karaoke untethered by the tendencies of conformity that plague our day-to-day lives. The atmosphere of unabashed comfort with even the strangest aspects of oneself swept up each person who walked into Imagine Nation Brewing, and the night gradually became more chaotic and, in turn, more beautiful in its celebration of individuality and connection beyond the confines of gender.
"This is an annual fundraiser our group puts on to help benefit Montana LGBT charities and have a fun night full of self-expression and singing," Vice president of OUTlaws and lead organizer Valan Anthos said.
The event's profits are donated to a different LGBTQ+ charity every year, and this year it benefitted Transvisible Montana, an organization that promotes education on transgender and non-binary issues.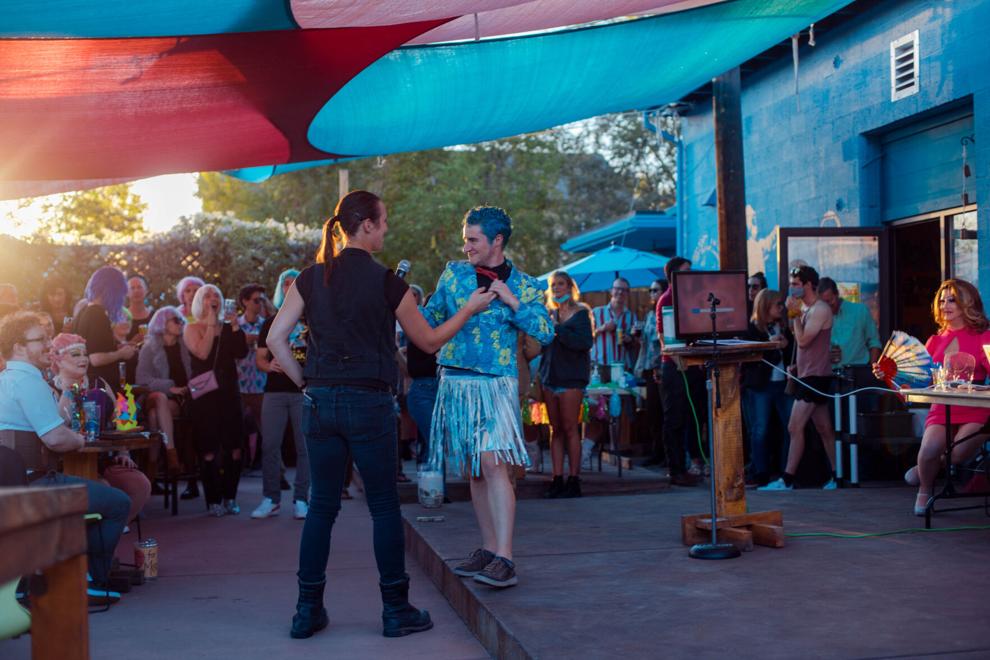 Montana drag royalty from the Imperial Sovereign Court of the State of Montana, the gay pageant system in Montana, were the judges of the amateur karaoke performances. They interrupted at their leisure by smacking a gong when they were not pleased with a performance, and would only resume the show if a member of the crowd tipped them. Which is a genius money-making scheme, to say the least.
"I love that the gong show gives people an opportunity to explore this when they might not be someone who would go to a drag show. It's also a really fun way to fundraise for our amazing LGBT nonprofits doing essential work in the state," Anthos said.
Many attendants made their first drag transformations as men in thrifted pencil-skirts and bold lip gloss, as well as women in oversized blazers and eyeliner-drawn facial hair. The hosting queens made sure to roast everyone who felt brave or drunk enough to perform, but encouraged and celebrated the campiest fashion choices and the collective androgyny each of the participants embraced.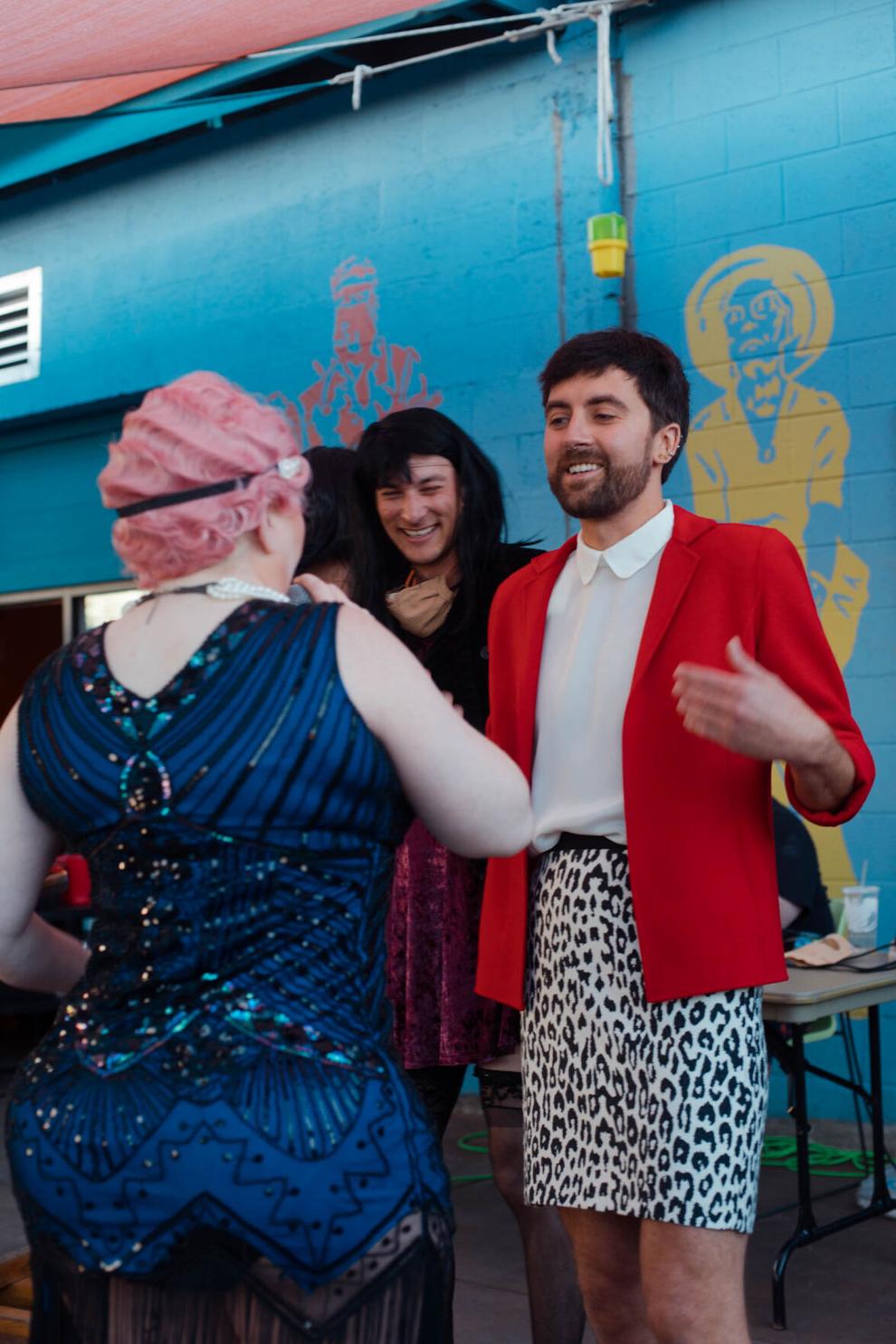 "Drag isn't limited to just a narrow version of cross-dressing, it can let anyone express new gendered ways of being in the world. It's similar to acting in that it allows you to embody different looks or personalities than you normally wouldn't," Anthos, a drag king himself, said.
OUTLaws raised funds for a charity that is vital to their cause and put on an event that was, in no uncertain terms, exquisitely fruity as hell. Attendants found an excuse to fundamentally change their appearances while remaining unequivocally themselves, and filled the night with color to combat the often monochromatic nature of their daily routines.