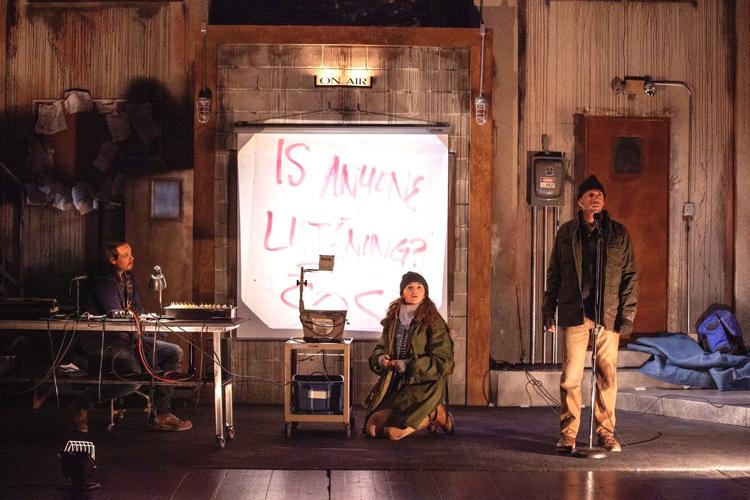 The Montana Repertory Theater is turning 'War of the Worlds,' a 1938 radio drama, into a contemporary stage play set in a post-apocalyptic world.  
An ensemble cast of five actors will use intricate lighting, set, costumes and sound design to modernize the experience for viewers without changing a single word of the original script. The production of War of the Worlds will open Thursday, Jan. 23 at 7:30 p.m. before touring around Montana. 
"If you just turned off the volume of the whole piece you will see a story of characters relating to each other and urgency and outside threat and delight and danger, and all these things that aren't in the script," said Missoula-based actor Jeremy Sher, who moved from Chicago seven years ago. 
New York-based director Caitlin O'Connell is their captain, Sher said. O'Connell led the actors with her vision for the show, while also giving them creative freedoms. Characters in the play broadcast the script, using coded messages, to try and contact other survivors. Actors use body language and non-verbal cues to tell a story on top of the one already created by H.G. Wells. 
War of the Worlds is a radio play based on the book written by H.G. Wells. Howard E. Koch wrote the play and it was performed by Mercury Theater in October 1938. The show starts as a seemingly normal radio broadcast, but is interrupted intermittently for news announcements that soon become reports of a full-blown Martian invasion. The broadcast was famous for convincing some of its listeners that an actual alien invasion was occurring, causing a panic. 
Sher says he is excited and nervous to perform the play for live audiences. He says the actors' every move is choreographed like a dance routine. They can't forget when they're supposed to move or where they need to place a prop. He says this is difficult considering they make new changes to the show every day. It could either be brilliant or a train wreck, he said. 
Actor Hudson Therriault graduated from the University of Montana in the spring of 2019 with a degree in theater and a focus in acting. He says it feels like he never left though, since he comes back every day to rehearse for War of the Worlds.  
"We just mesh so wonderfully well together," Therriault said about the small cast. "I'm really lucky I just got to graduate and do a professional show and have the experience that I'm having right now."
The ensemble cast of five actors collectively play over 20 characters. So Therriault says the actors put in a lot of time supporting one another. 
One of the biggest differences between playing in a professional show and playing in a school production is the roles he gets cast in, Therriault said. While a professor might cast him as a lovely maiden or a decrepit old man, in a professional show he gets to play a character he can relate to. 
"That is like the dirty little secret that the University of Montana acting program taught me, is that I will always be more interesting than any character I play," Therriault said. 
Rachel Lin is a New York-based actress. While visiting Bozeman in October she saw a casting call for the show. She knew she was interested. As a woman of Chinese descent, she thinks it's important to participate in recreations of older stories to influence collective narratives. 
She thinks that working on 'War of the Worlds' was an incredible opportunity to do just that. The way they perform the story that was written for a 20th-century audience is reminiscent of a lot of the world's current issues, she said. Plus, she loves the inherent nature of storytelling within the production.  
"It's been such a gift," Lin said. "I think a big part of the work I want to do is making old stories feel relevant and new."
"War of the Worlds" is playing in the Montana theater in the PARTV building on campus on scattered dates and times between Jan. 23 and Feb. 9. They will also perform in Plains, Billings, Lewistown, Helena and Butte. There will also be a special broadcast of the live show's audio on Montana Public Radio on Feb. 7.
"We're going to knock some people's socks off, I really think people are not going to be prepared for it," Therriault said. "Look out Lewistown, Montana."
Regular tickets are $25 and can be found on the Montana Repertory's website of Griztix. There is also a student rush price, meaning students can come the evening of the performance and buy tickets for $10 if the show still has seats available.