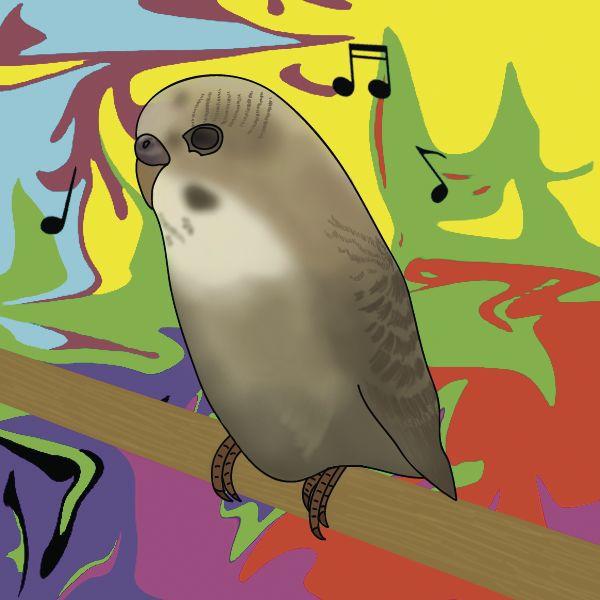 True fact: Moog, my pet budgie, has better taste in music than you do. Don't feel bad; he has me beat in that department, too. It's the inevitable side effect of feeding him a steady diet of music of all genres. Classical? He bops. Top 40? He bops. R&B? Oh boy, does he bop. I threw on this week's New Music Friday Spotify playlist and recorded his reactions to some highlights, lowlights and "meh"-lights.
Trust the parakeet. He's, like, a bird. Singing is his thing.
---
"LONELY" - DIPLO FEAT. JONAS BROTHERS
This sedate snoozer falls squarely into contemporary pop's bland "verse-chorus-lazy drop" template. Uninteresting guitar-led production fails to spice up a generic bore. And that chorus of, "I think you should be alone with me, because we don't have to be lonely," is distressingly flat. Does my bird like it? Moog shifted back and forth on his perch a few times, but ultimately, this one's a skip.
"MERCURY IN RETROGRADE" - STURGILL SIMPSON
Now, this is more like it. A glitzy stomper of a track recalling ZZ Top at its cheekiest, Simpson is in fine form here. Leave it to Mr. Simpson to push his creative boundaries with each new release.
Does my bird like it? Whistles and head bobs abound. Moog approves.
"EVEN IF IT HURTS" - TEI SHI FEAT. BLOOD ORANGE
The latest single from Shi's forthcoming second studio album, "La Linda," finds the sultry-voiced singer fluttering over twinkled keys and sparkling synths. Regular alt-pop collabo- rator Blood Orange adds his croons and voila, a simple stunner is born.
Does my bird like it? Everything about his body language asked me to press "repeat." I can't deny the budgie.
"SOMETHING HAS TO CHANGE" - THE JAPA- NESE HOUSE
Indie-popper Amber Bain is clearly an Imo- gen Heap acolyte — vocoder vocals, skittering beats and all. Bain's softly pleading chorus supports a perfectly hummable ditty, the kind to soundtrack late night drives through city lights.
Does my bird like it? You know the look someone gets when they're getting a really great massage? Eyes closed, serene expression; that's one happy bird.
"DIRT WE WERE RAISED ON" - JASON ALDEAN
My bird has never been a huge fan of modern country. Sorry to say Aldean's latest cut does little to sway him. Trucks, boots, and dirty backroad cliches fill another uninspired cowboy anthem. Weak guitar solos only serve to drag the whole thing down.
Does my bird like it? He squawked, "Turn this shit off," a phrase I certainly didn't teach him. Safe to say that's a no, then.