The electric bus pulled onto the bricks next to the tent at Caras Park and let out a great hydraulic sigh as it stopped. In 10 minutes, the bus was a stage.
A microphone stood in the aisle, flanked by cameras and a cell phone connected to the bus's WiFi. The bus's battery powered the entire operation.
Shanti Johnson, communications and outreach marketing specialist at Mountain Line, watched over the process, pacing from one task to the next.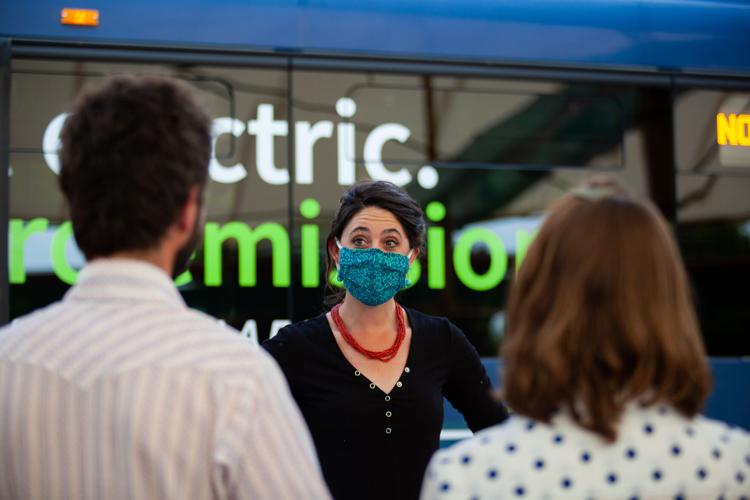 "I always get nervous, and then I hear them play," Johnson said.
Wednesday marked the second Mountain Line Electric Stream Session, a collaboration between the Missoula Bus system, 103.3 The Trail, and Destination Missoula. Their goal is to help local artists play shows in a year where there aren't many.
Johnson said the bands playing on the streams are acoustic solos or duets living in the same household. The livestreams start at 6 p.m. and happen every Wednesday until Sept. 16 on the Mountain Line Facebook page.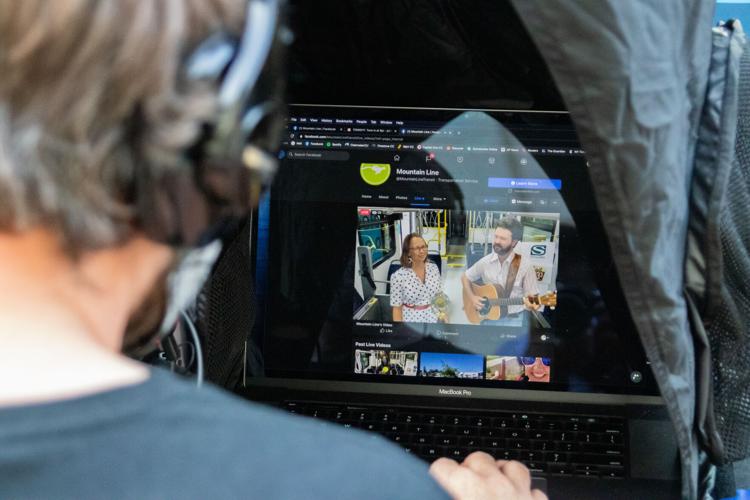 Johnson said the idea for the concert came from an event in 2014. Musicians played on the bus while driving downtown. The need to interact with Missoulians in spite of the cancellation of other downtown events was also a factor.
"We thought it was a good way to engage remotely," Johnson said.
Wednesday's livestream served as a replacement for the River City Roots Festival, which usually draws thousands of people. This stream featured Emzee and Silas, a neo-folk soul duo, and Good Old Fashioned, a folk country duet.
Maria "Emzee" Zepeda said that quarantine has been difficult for her and her partner, Si Smith. The duo have only played two shows since COVID shut down venues. One event was a livestream for Missoula Gives. The other was a socially distanced backyard show with around 30 people in attendance. Zepeda said she cried at that show. Smith laughed and said everyone cried.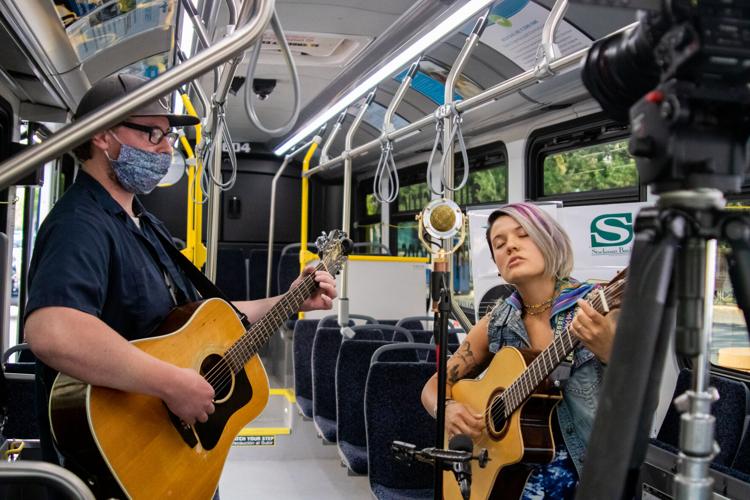 Zepeda said that the opportunity to perform at a Mountain Line livestream was incredibly helpful.
"Coping is a good word for it," Zepeda said. "This absolutely means everything."
Pandemic laws have stopped normal concerts for now. But on the bus, performers can take off their masks and play like they normally would.
Zepeda said that the bus-turned-stage was a great place to play.
"I like it a lot," she said. "It's super cool. It's cozy."
Chris and Callie Woodman of Good Old Fashioned have had their own quarantine challenges. They decided to take a break before the arrival of their baby in December, and the livestream marked their first gig back. However, Chris said he understood the challenges other bands have faced during the pandemic.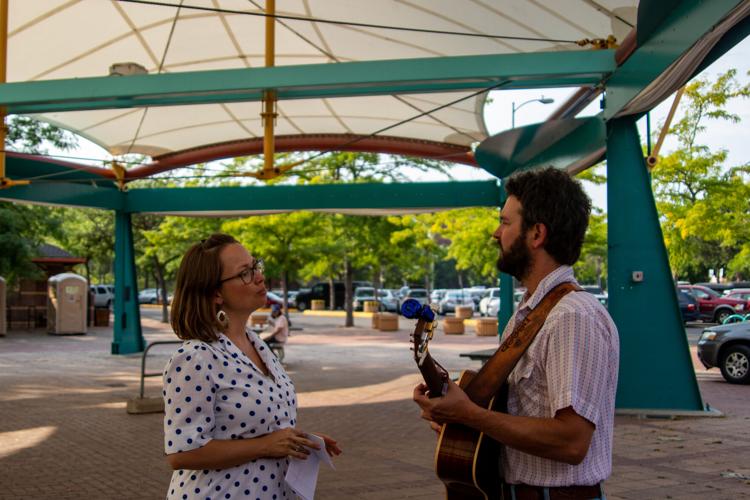 "Had we been trying to play gigs, it would've been tough," Chris said.
"It was a big part of our lives," Callie said.
As Good Old Fashioned started their set, a few people gathered under the tent. Heidi Starrett, who sits on the board of Missoula Downtown, said she was excited for the concert series and the opportunities it provides for bands.
"It just doesn't feel like summer without live music," Starrett said.