Granola Missoulians, we have found the concert for you.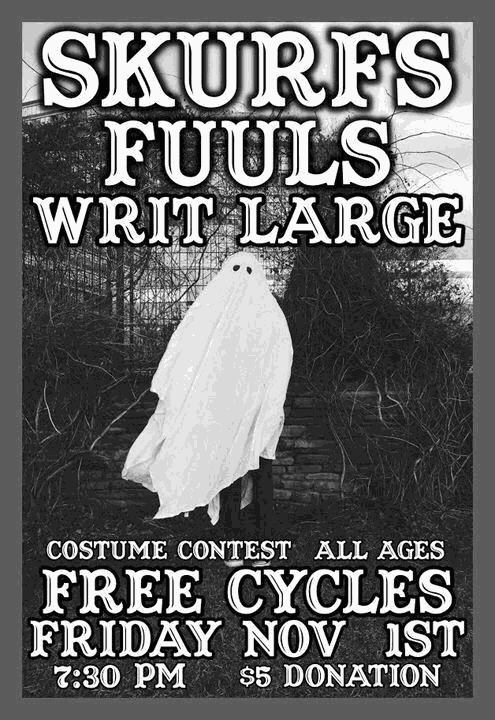 The community bike center you know and love, Free Cycles, is hosting local favorites, the Skurfs, FUULS and Writ Large for a Halloween-costume-dance-bonfire party.
If it sounds like a lot, that's because it is. 
It's got a stage, it's got fire pits, it's got some of the coolest hippies in the greater Montana area. What else could you possibly want from a venue?
The concert will showcase the Missoula music scene in a place beside the "concrete jungle," according to Free Cycles owner, Bob Giordano.
"It's going to be high-energy, raucous, clean fun," Giordano said.
The Skurfs, a ski-surf winter-loving band, are stoked to be playing at Free Cycles, their favorite venue in Missoula. According to the band, it likes to get loud and Free Cycles is more than happy to accommodate. 
This is a night of "fair-trade, organic, local craft music," according to band members Donny McBride and Stevie Nicklaus. "It's farm-to-ear."
The rest of the bands playing would agree. All of the bands are based in the Missoula music scene with a handful of UM's alums in the mix. This is about as local as you can get, without barging into a music major's dorm room. 
The most exciting part of the event? The costumes, baby.
Giordano is dressing up as a bicycle warrior, or maybe a whisperer. It depends on how he feels two hours before the concert. 
The Skurfs gave us a hint to their costume: "The average distance from the moon to the earth is 237,000 miles." We think we get it? But you should go to the concert just to be sure.
Writ Large's hint: It's aviation based. That leaves the hit movies "Planes" or "Top Gun" in our opinion. Prove us wrong, Writ Large. 
FUULS is so secretive with its members' costume choice it wouldn't even give us a hint. 
Expect original songs with covers salt-and-peppered throughout. Start practicing your dance moves for "My Own Worst Enemy." You're going to want to bring your dancing shoes —we're thinking Docs. 
If you want  a musical preview to get excited for this spooky concert, all of the bands are on Bandcamp, the online listening platform that has become a calling-ground for underground and local musicians.
You can expect rock and alt from the bands and "dirt waltz on ice" from Writ Large. Not quite sure what that means, but we can only guess you'll be into it.
The costume concert is friendly for all ages. If you have  younger siblings, bring them along and show them how to be cool. Or let them show you. Either way, your cool credentials are going to go way up after this.
Friday, Nov. 1. 7:30 p.m. $5 donation.