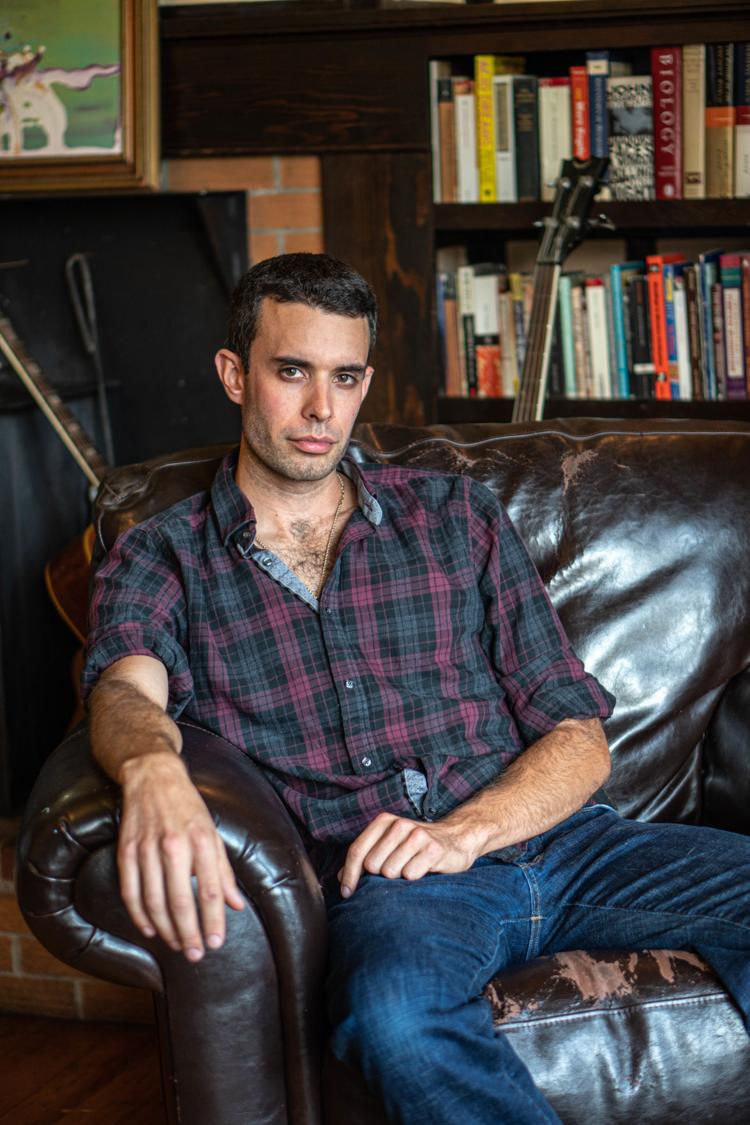 You're in an ocean. Not in a boat, not swimming, but floating above it all. You look around, and you see the vastness of the water in a 360-degree view. And then you hear the first few notes of Middle Sea's debut album, "New Blue Winter." 
Valley Lopez, songwriter and mastermind behind Middle Sea, created this image intentionally. 
The flow of his music and the melancholy nature of his lyrics contain a feeling of isolation and loneliness, one you might feel in the middle of an ocean with no one else around. 
But Lopez is hardly alone. He has gathered around himself a team of Missoula's best musicians, including Brady Schwerteger on bass, Jake Whitecar on guitar and keys, Cove Jasmine on drums, Nathan Crawford on trumpet, Lhanna Writesel on saxophone and Josh Hungat on trombone. We also can't forget to mention Gena the 17-pound cat, Middle Sea's mascot. 
All the members of Middle Sea also play in popular Missoula bands, including Norwell and Shakewell. The members are well-rounded, playing multiple instruments. They call each other "Swiss Army Knives," joking about the vast array of different skills everyone has. 
However, Lopez is the only member you consistently hear on "New Blue Winter." He recorded nearly all of the vocals in an Airbnb on a vacation in the San Juan Islands, Washington. That's the "I have to do this right now" passion that drives Lopez today. He wrote the songs, sang all the vocals and played nearly all the instruments on each track. Lopez's consistency directly translates to the album, leading to a record that is solid, but unsurprising. 
The upbeat beginning of "New Blue Winter" feels like what Middle Sea thinks is required for an indie album. It follows the blueprint of a typical blueprint, trying to get you to dance even though you're not sure you're feeling the music yet. Even so, the instrumental backing and Lopez's unexpected vocals keep you listening. 
And thank goodness they do. By the fourth track, "Nobody Knows," we finally sink into the vibe that works best for Middle Sea: melancholy sadness. Lopez stops trying to disguise his throaty vocals and instead uses them to his advantage. This change immediately makes the listening experience more enjoyable. Middle Sea follows this groove until "Late 2010," a break in the album you almost wish wasn't there, even though it's well-produced. 
"Sometimes" dives deeper into an otherworldly mood. It's the type of thing that could be playing in the middle of the woods under the light of a full moon. It's the only track that makes you feel something you don't quite understand. 
And then, of course, there's a love song. "I Saw You In a Dream" finds Lopez fixating on someone else for the first time. It's a jarring turn, but a welcome one. After all, don't all of us want to be in love? 
This is also where Lopez employs the efforts of his newly formed band. We get a horns section worth craving, rounding out the track to make it one of the best on the record. 
This kind of instrumental backing is the strongest part of the record. Through Lopez recruiting only the best musicians in Missoula, the quality of the music has gone from "pretty good" to "phenomenal," evident in their rehearsals. 
It isn't often that you get musicians that are committed to other popular bands to come and play with you. There's something alluring enough about Lopez's music — whether it's the lyrics or his passion — that draws these uber-talented musicians to him. 
The members are by far the best, most exciting part of Middle Sea. 
"New Blue Winter" will release Friday, Sept. 27. Middle Sea will perform at the Top Hat for a release party that night at 10:15 p.m. "New Blue Winter" is available for purchase at Ear Candy and Rockin' Rudy's and is available on major streaming formats.