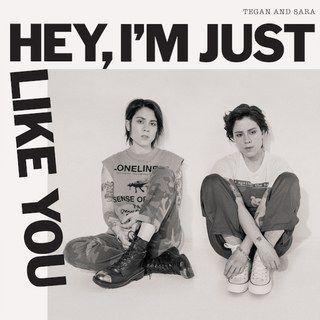 ★ ★ ★ ☆ ☆
Gay girls rejoice: It's time to remember how it felt when you first fell in love.
Tegan and Sara are back just in time for cuffing season, this time with "Hey, I'm Just Like You," an album filled with songs the twins wrote when they were in high school.
That's right, teenage Tegan and Sara lyrics coming out of 38-year-old adults. Sure, that sounds weird at first. But it's also endearing to hear such raw lyrics combined with Tegan and Sara's grown-up style.
It's the kind of collaboration you dream of.
Teenage, angsty, gay anthems coming out of a group that proves that if you're gay, you will be okay. And if you aren't okay at the moment, you will be someday.
Songs like "Hold My Breath Until I Die" cycle through the fear of what people, especially the girl you have a crush on, will think when they figure out you're queer, and the fear of losing the life you have.
But we also get, as I like to call them, gay girl bops. The title track "Hey, I'm Just Like You" highlights the strength and joy in finding a community. "I Don't Owe You Anything" will be on rainbow playlists for years.
"Don't Believe the Things They Tell You (They Lie)" is one of the first songs Tegan and Sara wrote together and is filled with high school angst. It's a song that, let's be honest, a lot of us can still relate to. Everyone, queer or not, has had moments where they feel numb,
no matter what someone says to reassure you. You can tell these songs were written in the 1990s. "I'll Be Back Someday" brings a semblance of pop-punk, which is to be expected from the girls who had a shrine to Kurt Co- bain. You want to skateboard into the sunset with your girlfriend to this song.
But just because there are bops doesn't mean the album feels complete. It still sounds like Tegan and Sara's signature early 2000s hits without a lot of growth. You'll want to dive deeper into the 1990s aesthetic we get a brief glimpse of.
More songs about coming out would have completed the "going back to our roots" theme Tegan and Sara were going for. With their original generation of fans aging with them, songs that make younger queer girls feel less alone could have been more impactful.
If you want songs that feel like they belong to today's queer culture, listen to someone else. If you want to remember how it felt to be a baby lesbian, listen to "Hey, I'm Just Like You."