Since they first rolled in in their Big Red Car in 1991, The Wiggles have delighted millions of listeners. Phil Collins once said of their music: "They saved my life and my relationships. I'm Phil Collins, y'all."
However, by 2013, the revolution was over just as quick as it had begun.
This is the (probably) true story of how the greatest music group of all time was torn apart by sex, drugs, rock 'n' roll and fruit salad.
Anthony Field, like any notable musician, had a traumatic childhood. His entire extended family was slaughtered in a steam roller accident when he was four. Before being crushed, his father cried out, "Son, start an Australian children's band for your daddy."
It was an oddly specific death wish, but Field was determined to fulfill it. By the time he was in college, he had found his dream team: Greg Page, Murray Cook and Jeff Fatt.
All they needed was a name. Fatt suggested "The Wiggles" as a tribute to how they had to wiggle themselves out of their windows every time they were caught with prostitutes.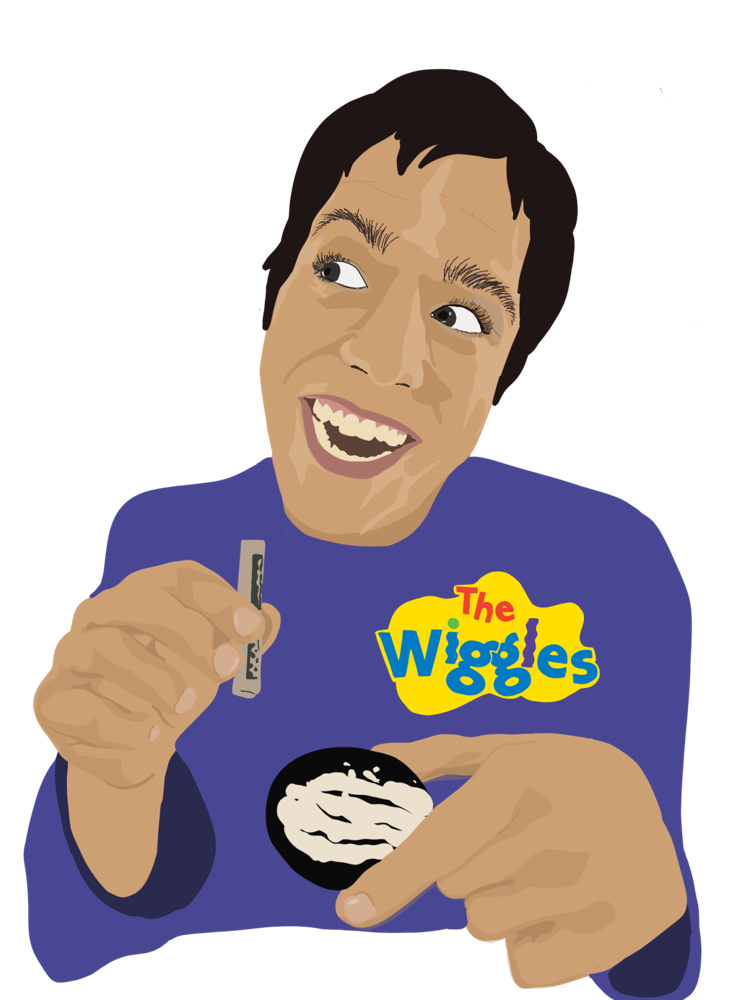 Inspirations for The Wiggles' songs came from strange places. One night, a stoned Fatt had the munchies and sleepily walked to his fridge chanting, "Fruit Salad, yummy, yummy." An Australian staple was born.
A few weeks later, the band held their roadie's bachelor party at the Tickling Ivory Gentlemen's Club. One of the ladies, nicknamed Bear, fainted from exhaustion. Upon seeing her, Cook quieted everyone down and whispered, "Bear is now asleep. Shh! Shh! Shh!" This of course, turned into the chorus of "Rock-A-Bye Your Bear."
But Page was becoming a massive deva, and his demands were insufferable. He forced the other band members to carry him on an 80-pound chair that had "I'm the Motherfucking Leader of the Wiggles" embroidered on the back.
It got so toxic that Page was let go from the Wiggles for six years. A dedicated online group, called "the Gregulators," pushed the theory that the band had tried to have him whacked by the mafia.
Field tried to keep the group together, but even he was subject to drama. One recording session, Cook casually mentioned that he was thinking of starting a solo career. "Your mom is thinking of starting a solo career!" Field shouted angrily.
After acknowledging that sick burn, the Wiggles realized that something had to change.
By the end of the year, everyone but Field had quit. He continues to perform with new members, but they've gotten lukewarm receptions. One particularly disastrous concert, the audience threw actual big red cars at the band instead of tomatoes.
Still, fans continue to cherish the classic music that defined a generation. The original Wiggles may be gone, but "Fruit Salad" is forever.
More from the Kaimin's NOT SAFE FOR KIDS series: