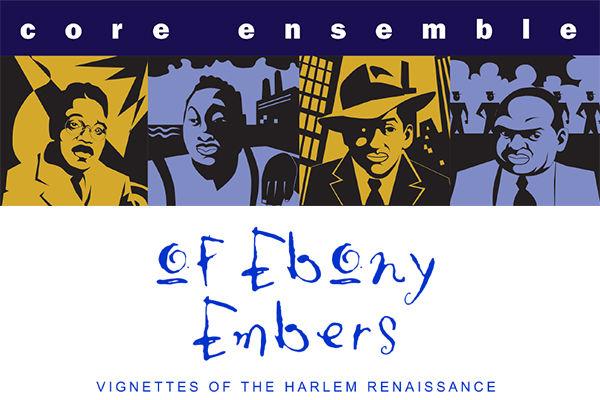 It's an HBO History-miniseries moment as Aaron Douglas places a rose for each influential creator of the Harlem Renaissance in a glass vase while jazz simmers from behind. Only, it isn't really Aaron Douglas, it's an actor. So set is the stage for the Core Ensemble's "Of Ebony Embers," an ode to the Harlem Renaissance performed last Tuesday night, Jan. 28, in the Music Recital Hall.
The "chamber music theater work" as described on the poster features only two players: Mikael Darmanie on piano and Dracyn Blount as Aaron Douglas, Claude McKay, Langston Hughes, and Countee Cullen. Spanning 70 minutes, the piece tells the story of the Harlem Renaissance using music from the era as well as poetry and historical fact.
The Core Ensemble constructed and performed the piece. Founded in 1993, its goal is to redefine chamber music as well as introduce diverse stories to as large a group of people as possible. The Core Ensemble annually tours shows that combine music with dance and narrative both nationally and internationally.
Following the performance, musical performance major Emily Rogers said she would be interested in seeing more pieces from Core Ensemble. "Being trained as a classical musician … we're so used to our comfort zones, our dead old white guy music," she said. "We don't live in one corner of the earth."
To pianist Mikael Darmanie, the show acts as an introductory piece to the creators of the Harlem Renaissance. "It's kinda like a spiderweb," he said. "You check out this particular writer, and you say, "Okay, let me look at other people." Darmanie has been with Core Ensemble for four years, and plays with the group when he's not touring with his band, Warp Trio.
Actor Dracyn Blount has been with the show for five years. Over that time, the impact of the men he portrays has become an increasingly large part of his life. "It opened a whole new world to me as far as black literature goes," he said, "to discover about this period of time that was so cool and contributed so much to American literature and the foundation of this country." Although he knew of Langston Hughes — the "rockstar of the Harlem Renaissance" as he says — before "Of Ebony Embers," he learned about Countee Cullen and Claude McKay through the show.
"It's easy to romanticize these poets. ["Of Ebony Embers"] was super humanizing, and the pianist was sick," said Reed Ellsworth, a fourth-year music composition major upon seeing the show. He also commented on the unique style of the piece, saying "I'm always thrilled to see stuff that's pushing the boundary of what a concert is."
Darmanie and Blount also held two master classes during their brief time here on campus — an acting seminar in place of a weekly theater forum and a piano convocation in the music building. During the acting seminar, Blount answered questions about the show as well as well as his acting career. His advice to young artists? "Focus. I can't say that word enough."