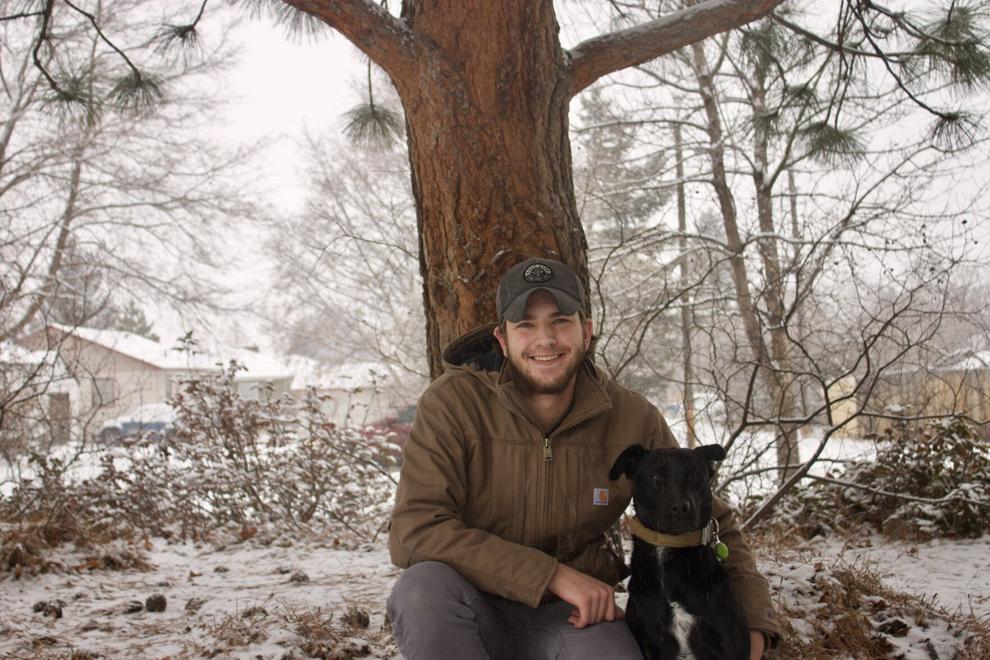 Spring semester is in full swing now, marking the third of the coronavirus pandemic. With it comes another semester without parties, large events or simply getting dinner with friends.
Students are looking for ways to alleviate the strain of isolation and loneliness. To combat this, students across campuses in the U.S. have been increasingly adopting emotional support animals, or ESAs.
The purpose of ESAs is much like a prescription given by a doctor. Only it's not a medication, it's a companion to help alleviate mental health issues such as anxiety or depression.
Logan Miller, a sophomore at UM, adopted his dog Delta at the Missoula Humane Society of Western Montana last August. Delta serves as his ESA and lives with him off campus. Miller adopted her after realizing the pandemic does not seem to be slowing down, and he needed some help.
"This summer during the pandemic I was not going through a good time, and she kinda got me out of that mindset," Miller said. "It's nice to have a dog around, it's motivation to get out there. Being alone is kinda bad for me. My life has gotten a lot better since getting Delta."
Over 1,300 students at UM have applied for ESAs this past year, both on and off campus, meaning roughly one out of eight people University-wide.
As of now, there are 187 ESA living in UM housing, Melissa Neidigh, the Associate Director of UM housing, said.
Director of disability services Amy Capolupo says this follows a trend. "Nationally, there has been an increase. But for our students, they have been requesting them even prior to the pandemic."
Sierra Lenox, the shelter manager at the Missoula Humane Society of Western Montana, said that the shelter has seen an increase in interest in adoption during the pandemic.
"We closed for about two months during the pandemic because of safety, but now we are seeing many people wanting to adopt animals from us," Lenox said.
Over the past eight years, students at UM have increasingly been requesting ESAs. The most popular of the animals for which UM sees applications for are dogs, cats and snakes.
"They might help people get out of bed in the morning, engage in routines, and give 
them a purpose," Capolupo said. "Dogs or cats can give a calming presence. Some people even have snakes that can constrict around them that can give them a calming presence and [make them] feel very supported."
The nature of what emotional support animals do has not changed during the pandemic. More people are experiencing isolation and increased anxiety due to the pandemic, as many studies have shown.
Something to consider during the pandemic is if your isolation and anxiety is related to the pandemic, or to your overall health, Capolupo said.
"This pandemic may be over by next fall, and if that isolation was just temporary in response to the pandemic, now someone may be stuck with an animal that they cannot care for," Capolupo said.
An important thing to consider when thinking of getting an ESA, Capolupo said, is making sure the animal will help you alleviate a disability (such as a mental health issue) and not make the disability worse by causing extra stress or anxiety.
"Ask yourself: Is this disability expected to last your lifetime? Some emotions could be temporary in response to the pandemic, compared to having major depressive disorder," Capolupo said.
The cause for the increase of ESAs at UM during the pandemic is that the University is not currently a "pet" friendly campus. ESAs are not pets, but that does not stop students at UM from petitioning to allow both to exist on campus.
"If we have a critical mass of students requesting animals, there shouldn't be a need
for a student to get a disability diagnosis just to get an animal," Capolupo said.
For Miller, even though Delta is registered as an ESA, having regular pets on campus as well would make life a lot better.
"I grew up with four dogs in the house, so leaving home and leaving the dogs kinda left a void in my heart, so getting Delta, it really helped me through it," Miller said.
Overall, many college students have a baseline of anxiety and depression, said Capolupo. Given the pandemic and all the hardships going on in the world, if animals can help the average student feel happier and more welcome, then UM should allow them.
"If going to college at the University of Montana is that more inclusive and friendly because we allow pets, then we should allow pets," Capolupo said.