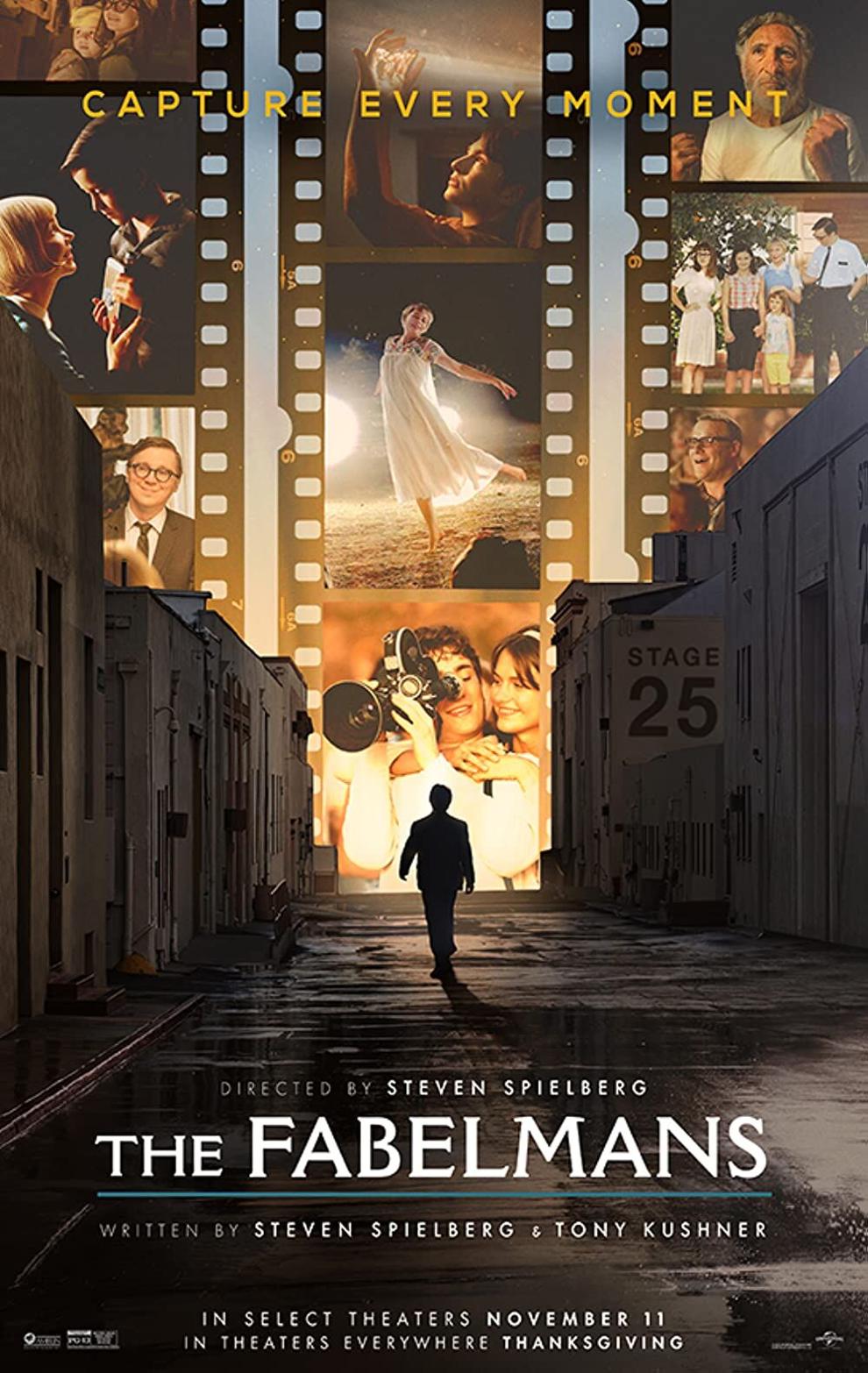 Steven Spielberg's newest picture "The Fabelmans" embodies the dazzling movie magic from which it derives. 
After directing sci-fi, dystopian, action, drama, comedy, musical, historical, biopic, crime, fantasy, war and animation movies flawlessly, Spielberg tries his hand at the semi-autobiographical thing; to the surprise of no one, it's remarkable. College film students beware, this is a pre-midlife crisis waiting to happen. "The Fabelmans" is equal parts awe-inspiring and just plain inspirational. 
Spielberg made a movie about Spielberg making a movie except this fictional version of himself is named Sam Fabelman and is played by Gabriel LaBelle and Mateo Zoryon Francis-DeFord during different stages of his life. Sam and his sisters are the children of troubled pianist Mitzi (Michelle Williams) and prestigious engineer Burt Fabelman (Paul Dano) in a Jewish household. 
As a Jewish household, the Fabelmans are often the odd ones out in the neighborhoods they relocate to for Mr. Fabelman's work. It's the cause of social grief for the kids in a time of antisemitic prejudice. On top of this, Sam is enduring the ups and downs of growing up. He's troubled with family drama, falling in love, societal, peer and personal pressures and hostility from those around him. 
Through all this grief, he wants nothing more than to make movies. Since the fateful evening his parents forced him into a movie theater, his ambitions were set. In a world of heartbreak and sorrow, the wonder of dazzling motion pictures keeps this kid going. 
Examining the narrative details, you can find anecdotes from Spielberg's prior work like the elaborate war movie filming scene, which shows what it might have been like to shoot "Saving Private Ryan." "The Fabelmans" deals with heavy semitic themes, similar to "Schindler's List" and it's a semi-biographical film, similar to "Lincoln." It's a stretch, but the monkey in "Raiders of the Lost Ark" could have been a reflection of his real-life pet monkey, represented in "The Fabelmans."
With only a single, tiny freakout scene, this is Dano's calmest performance. Powerful, but calm compared to the mental breakdown roles he usually plays in films like "There Will Be Blood" and "The Batman." Seth Rogen's goofy character Benny is surprisingly his least goofy role ever and the genuine emotion Michelle Williams brings with every painful facial expression is enough to bring tears to your eyes. 
Spielberg is considered the most commercially successful director of all time and the father of the modern blockbuster. At the young age of 75 with around six decades of filmmaking and well over 150 projects under his belt, he has absolutely no reason to keep making movies other than an insatiable passion for the craft. 
Cynics will scoff at yet another extravagant blockbuster tearjerker from an already award-winning director with more movies than people can keep track of, but "The Fabelmans," and every other film he makes, are proof that he's still got it. Excellent movie after excellent movie shows that the cinema industry is still, and always will be, safe in the hands of a Spielberg flick. If the guy was able to turn the stupid "West Side Story" into something absolutely beautiful and legitimately enjoyable to watch last year, he can do just about anything. 
It's a two-and-a-half-hour movie but it watches like two. This is a hard watch not because of the length, but because of how powerful it is. It'll pull at your heartstrings, open the tear floodgates and make you reflect on your entire life, where you are, where you've been and where you're going. It'll also make you want to go back and rewatch every single Spielberg movie over again as if you didn't already do that in preparation for "The Fabelmans."
"The Fabelmans" is a film student's kick in the pants that they probably needed, available only in movie theaters at this time. It's perhaps Spielberg's most Oscar-grabby movie yet, but it deserves every award it will undoubtedly receive.  "Top Gun: Maverick" finally has some competition for the best 2022 movie.