Familiar Missoula winds gust through the University's practice fields Sept. 4. It's a Wednesday, and army ROTC is running drills. The football team is practicing for the next game. There's also a drone in the air. It's not filming football players or camo-clad ROTC members. It's helping Director Kevin Griggs check the accuracy of the UM Grizzly marching band's formations.
Nearly 140 musicians have been outside for an hour and a half, running back and forth between formations, checking the positions of their feet — down to the inch — and practicing multiple different music scores, scores they should have memorized by now. They'll be doing the same on Friday and again Saturday afternoon. And after the first game? Rehearsal on Monday, then Wednesday, then Friday again.
One of these students is Connor Dennis, a fourth-year member. He's a double major in trombone and music education. But this year, Dennis isn't playing in the marching band. It's his first year as a drum major, helping out Griggs with all the logistics it takes to make a marching band performance function. He stands with everyone else in a pre-rehearsal huddle, listening to his director address the band.
"One of the things I know about this group from the years, is that we always find a way to get it together for Saturday," Griggs says. Light is reflecting off of the brass section: band members are either squinting or wearing sunglasses. "I like your focus. I know that you're all taking this seriously," Griggs tells them.
The students do take this seriously. They've been practicing for weeks already, coming to campus ahead of move-in and classes for marching band camp. All receive scholarships for their work: $1,000 for first and second years, $1,250 for third years and $1,500 for fourth years and above, according to the UM Grizzly Marching Band website.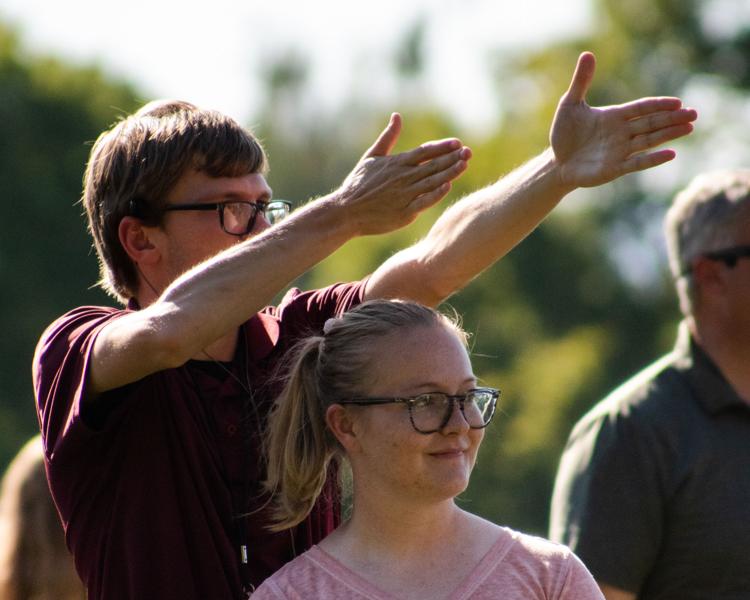 Dennis doesn't play the drums. He says it's a common misconception, but in reality, he's a student conductor. He meets with section leaders ahead of the season to teach a leadership seminar and heads the training of fundamentals of marching at band camp. During rehearsals and games, Dennis helps Griggs conduct the band. Dennis also takes it upon himself to provide snacks. There's breakfast too, apples and granola bars, for the members who live on campus and can't get into the Food Zoo on game day.
Dennis says when he started marching in his high school marching band, he wasn't so sure he'd like it. It grew on him, and he ended up being a drum major at Great Falls High School for three years.
"I loved it. It was a lot of fun, it was a blast," Dennis says, "and then I came here and I said, 'Oh absolutely, I've got to do Student conductor leads UM Marching Band to success on the field marching band." Music education majors are required, it's part of their curriculum to play at least one or two semesters, "but I always knew, every year I'm here I'm going to do marching band, because why not? It's a lot of fun," Dennis said.
At rehearsal on the practice field, band members hold their spots in line and practice surprisingly intricate handshakes (elbow, elbow, hip, hip, head on shoulder, fist bump...). Dennis runs between the lines in the formations with a measuring stick, checking the gaps and positioning of the band members. He's wearing khakis and a maroon Griz polo in the 88-degree weather. He checks in with different members too, helping to keep their energy up.
Griggs says this is the kind of energy he looks for when he chooses his drum majors.
"I watch every student from the first day in band to see who they are," Griggs says. "How do they interact? Are they a positive helpful person? Are they the kind of person that I could see in front of my group running things? Because once we get into performance, it's all students, and all I can do is sit back and be a cheerleader."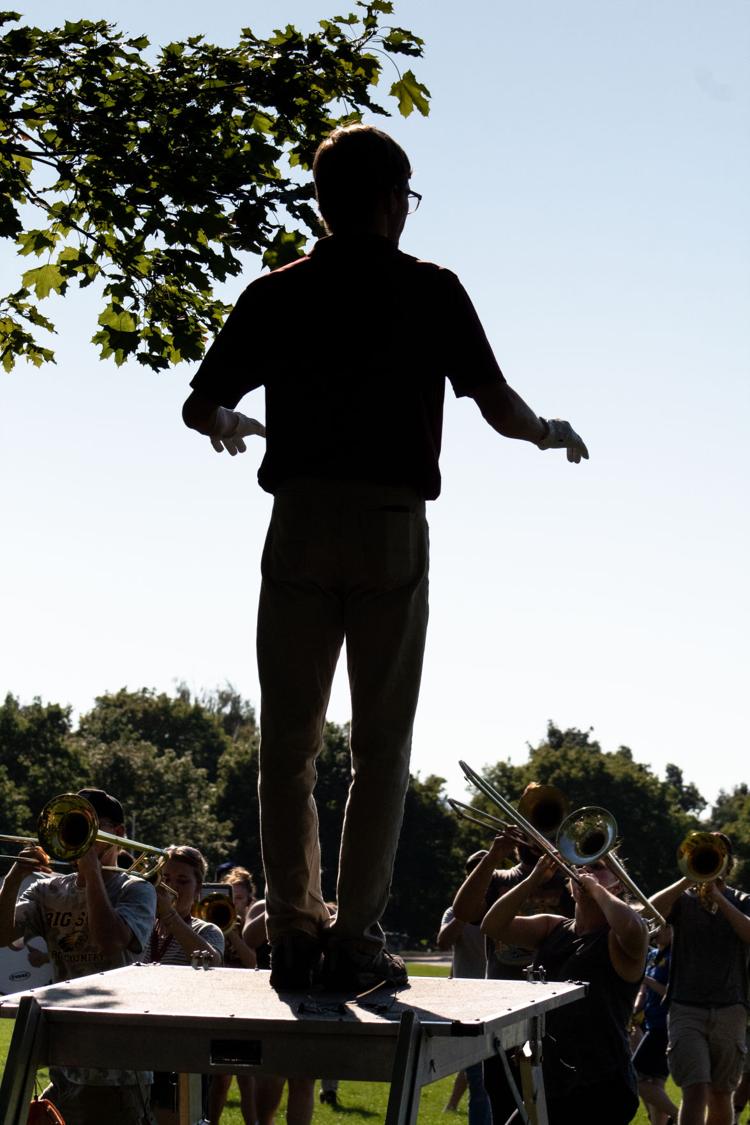 Dennis is pumped for the first game of the year. He still remembers exactly how he felt for his first Griz game, four years ago.
"I was somewhere between totally wild with excitement and terrified," he said. "It's the first time to be on the field with all these people watching because there's not a stadium in Montana that's like Washington-Grizzly. You can feel that many people."