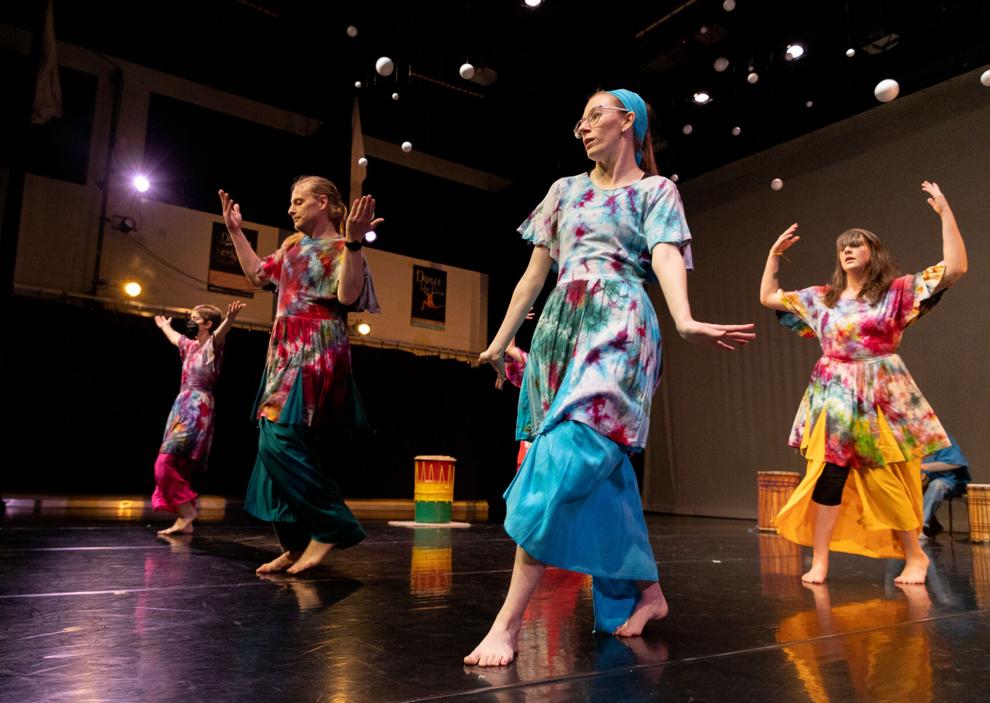 When Zoe Dehline's choreographed dance "20 (or more) questions" debuted at Dance Underground last semester, they thought it would be the last time they would ever perform the piece.  The performance, which forgoes background dance music for a voice track of self-reflective poems spoken by the dancers themselves, returned this semester alongside a line-up of several other student-choreographed pieces for the American College Dance Association's 20th annual benefit concert. 
Dehline, a junior dance major from Seattle, said they are excited but nervous about the concert, especially considering their piece was one of three chosen to represent the school at the ACDA regional conference in Salt Lake City. 
"The biggest challenge for my piece this year was that I decided we weren't going to use music," Dehline said. "So we wrote an original spoken word poem and then we sliced all of the dancer's voices and made this huge sound design." 
Hosted by The University of Montana School of Theatre and Dance, the ACDA Benefit Concert, performed on Feb. 17 and 18, featured a lineup of unique, student-choreographed pieces. Dancers took to drums bordering the stage during the first performance on Friday night, an exciting introduction to a night that took viewers on a journey of emotions. 
For UM dance students like Dehline, the ACDA regional conference was a chance to not only showcase their best work, but to take unique classes from other universities' professors, connect with dancers from across the region and experience the work and ideas of other programs.
From ballet pieces to classic and contemporary work, each performance had layers that told a different story. Two other pieces performed by UM, choreographed by Noel Price and Hannah Dusek, were also chosen to represent the school at the ACDA regional conference. 
"I just love being able to put my movement onto someone else's body and see how it transforms into something. As beautiful as I think I do it, and then the way they do it is, just even better," said Dusek, 22, a wildlife biology and dance double major from Chicago with a focus on choreography and performance.
Dusek started choreographing her piece "Shifting Once Again," at the end of September for her senior project. After presenting the routine at Dance Underground, she received a call from her professors over winter break letting her know they selected her piece to be performed in the adjudicated concert at ACDA. 
"Shifting Once Again" is the final performance of the concert and brings 13 dancers together to communicate a message about fearing change and finding comfort in knowing everyone is going through a change of their own.
"Everyone goes through changes in life, and changes can be really exciting and really scary," Dusek said. "The shirt that they toss around through the middle of the piece is the change, and every time someone has that shirt they're interacting with others differently and they're finding a change that's different than everyone else. [At the end of the show] they are in their own individual t-shirts dancing, and it's showing that we are all going through change. It might not be the same, but we are all going through it, and it can be comforting to know you have somebody around you."
Choreography comes naturally to Dusek, who draws inspiration for her dances from music, and imagines choreography while listening to a song. Most of the dances in the showcase revolve around music or a beat, with the exception of Dehline, who is excited to see what other dancers think of their self-reflective and society-reflective work. 
"All of the spoken word is question-based because I wanted to kind of reflect what it's like to be in this era of your life," Dehline said. "How you're supposed to know things, but you don't actually know things. So I wanted it to be self-reflective questions about love, life, and how things work, and I worked with the dancers to compile a list of questions they had and questions that I had."
Dusek and Dehline have both attended ACDA before and are ready to go to Salt Lake City, Utah, next month to live out the experience again. The conference is a chance for students to meet other dancers in their region, who they will likely be dancing with in the future.
"The performance aspect of it was fun because we got to see what other schools are making right now," Dusek said. "It's so easy to get caught up in a hole and be like, 'Okay, this is what we are really interested in right now,' but it was really interesting to see what other people, like in California, are interested in."