Elijah Jalil's eyes closed as he sang. Gold streamers stirred softly behind him as a breeze drifted through the tiny, lime green room in Imagine Nation Brewing Company in downtown Missoula. His face tightened as he sang louder and louder, so loud that the microphone in front of him briefly cut out. It was as if, for a second, nothing mattered to him except doing the song justice.
Jalil was previewing his debut album, "Nothing to Say," on a recent Friday evening as part of KBGA's 24th birthday bash livestream.
"That was 'Lift Every Voice and Sing,'" he said after he finished singing. "Also known as the Black National Anthem." He listed the authors, J. Rosamond Johnson and James Weldon Johnson, before adding, "so look into that. If you don't know, now you know."
Jalil, who is Black and Filipino, was the only visible person of color at the brewery that evening. But he was in his element. He smiled and chuckled at the camera sitting 10 feet in front of him, looking directly into the lens. A natural performer.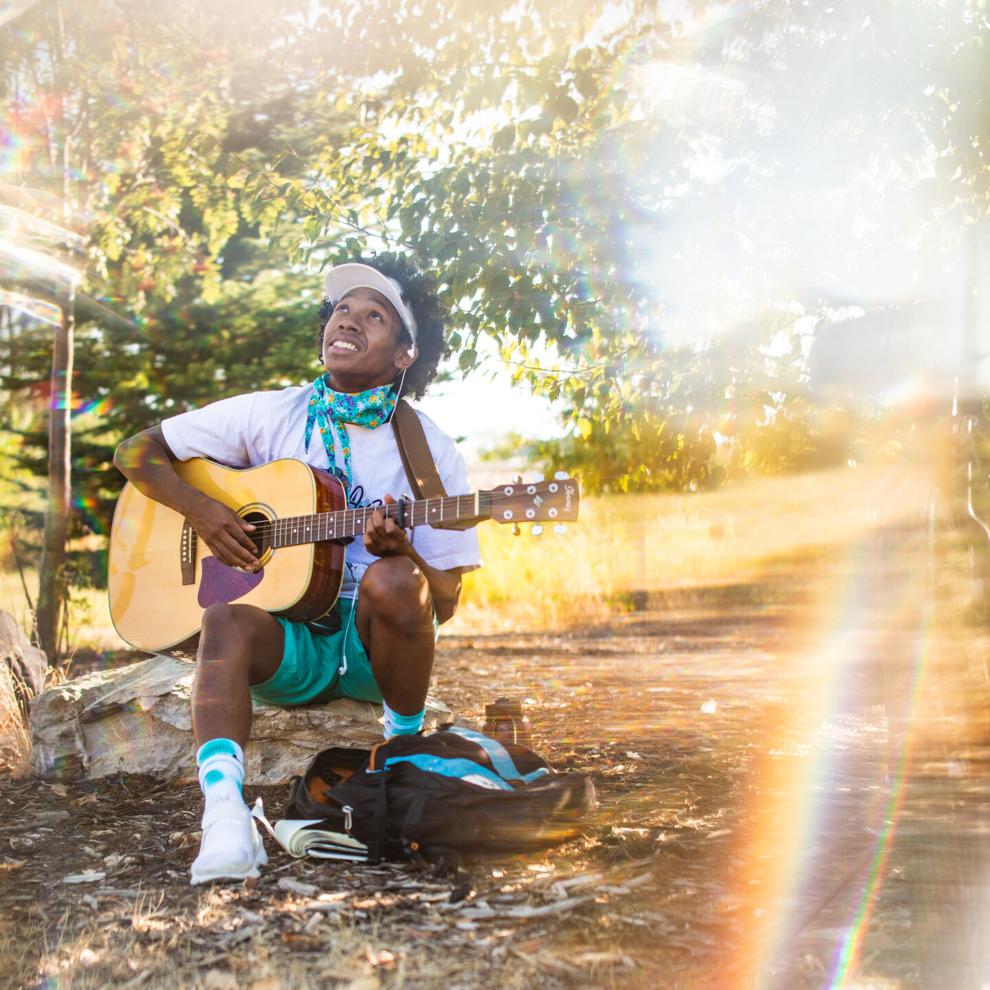 He soon began playing soft, acoustic guitar in the tiny room. He looked at the camera as he started to sing "Sunrise," the first song of the album. It set a tone of mellowness and joy that continued through much of the set. As the music director of KBGA, I was excited to hear Jalil play. As a critic, I was impressed by his level of talent, especially as a relatively new musician in the public eye.
Just as his movements are intentional, so is his art. Jalil, 24, identifies as a social justice artist, one widely known in Missoula. He has used dancing, acting and, above all, music, to draw attention to the experience of Black Americans and tell his own story of what it's like to be a Black man in a predominantly white area. "Nothing to Say" is his first musical release, but his relative-greenness doesn't show.
Jalil has lived in Missoula since he moved from Portland in fall 2018, and is currently at the University of Montana pursuing his MFA in acting. He traces his artistic path to acting in the musical "In The Heights" during high school. He played a character so small that he doesn't even remember their name, but relished the experience.
But his love of music first came when Jalil was in middle school in Alameda, California. He took a guitar class with teacher Anselmo Reis, and knew that he wanted to be a musician. Reis has been teaching since 1983, but still remembers Jalil.
"We knew that whatever (Jalil) set his mind to, he would succeed," Reis said. "There isn't a finer person out there. They don't come any better."
Jalil has found success merging his love of performance — be it acting or music — with his passion for activism. Whether it's the choreographed glances at the camera or the inflection in his voice when he speaks, Jalil seems to have every moment of his public speeches rehearsed.

Jalil has spent most of his life surrounded by those who don't look like him. He experienced this largely at the University of Portland, where he received a bachelor's degree in theater. He recalled a new student event he attended as an incoming freshman, where his family, made up of his mother, father and brother, were the only people of color at the mixer. Jalil eventually found a Black community at the university, but it's an experience that still sticks with him.
It was the same experience when he first came to Missoula. In his first seven weeks at UM, Jalil didn't speak to another Black person. The Black Student Union (BSU) was the first place — at the University he would call his home for the next several years — he was able to be in the company of those who looked like him.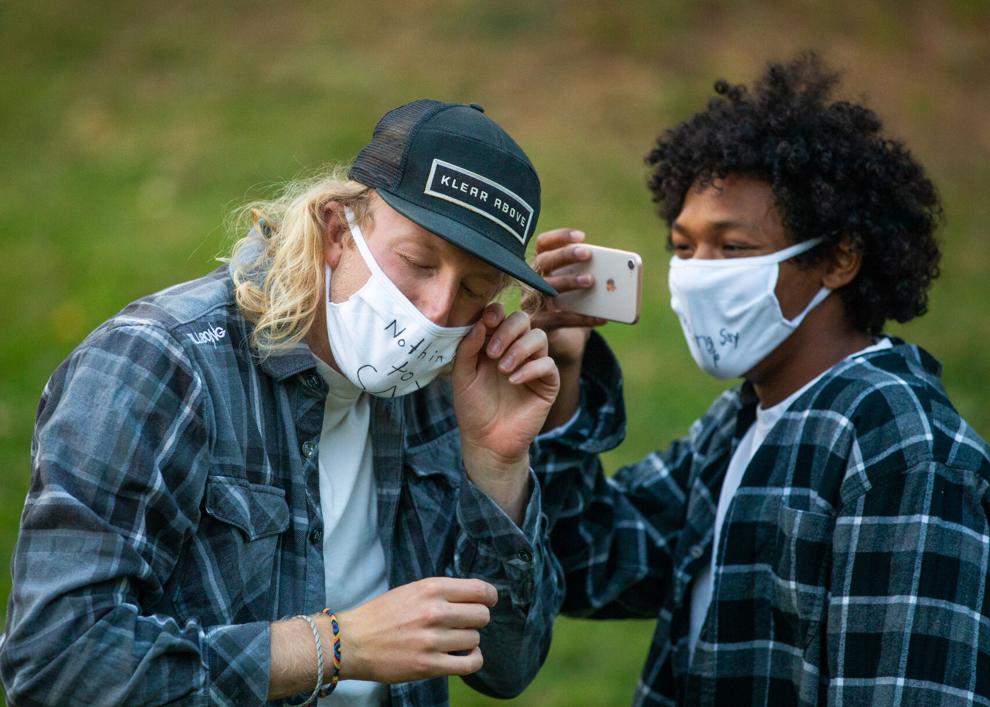 BSU leadership approached Jalil a week after, and asked him if he would perform at a family culture night, where he sang, danced and read poetry over the course of 15 minutes. Jalil said this is what helped solidify him as an artist in the minds of the people around him.
Since then, Jalil has used his platform as an artist to speak about his experience as a Black man living in a white community many times. After the murder of George Floyd by Minneapolis police on May 25, the BSU asked Jalil to speak at a Black Lives Matter rally.
In the years he's lived in Missoula, Jalil has performed poems about how his life intersected with those around him and choreographed dances where he wore a white mask, his own version of whiteface — but speaking at a protest was different. He could plan what he would say, but there would be no mask, nothing to take the attention away from himself. He chose to take an artistic approach, expressing his feelings poetically, while focusing on the resilience of the Black community.
Jalil believed his presence at the rally helped bring comfort. "There is so much hurt and sadness, and rightfully so. But there is also joy in the fact that I'm still here and there are still members of our community that are still here and fighting," Jalil said. He is doing what George Floyd or Breonna Taylor no longer can; fighting against injustice.
"Being a Black and Filipino person in predominantly white spaces already feels like a protest," Jalil said. "Me existing is a protest."
It also is part of the reason he feels BSU asked him to perform at the BLM rally. "I was out there because they (BSU) wanted me to help bring joy," Jalil said. "There's so much hurt and sadness, but there's also joy."
"Nothing to Say" is filled with that same joy. Jalil's collaborator Britt Arnesen's skillful guitar and piano create a firm foundation for Jalil's introspective lyrics. A variety of outside instruments, like cellos, violins, electric guitar and vibraphones give the album depth without taking attention from Jalil's message.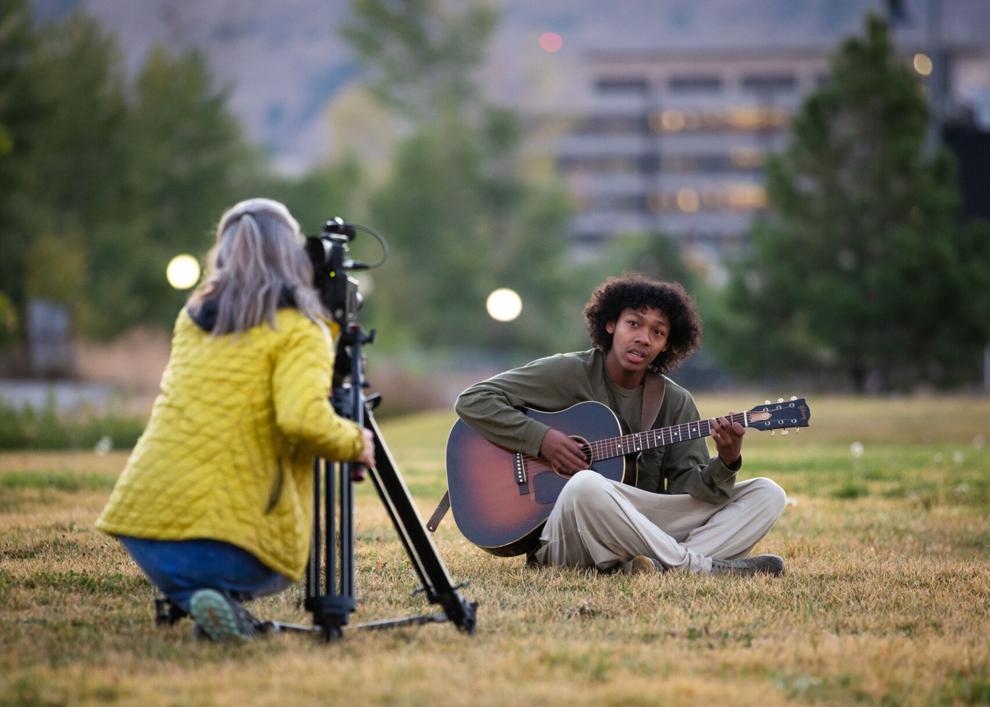 Jalil takes inspiration from artists like Lin Manuel Miranda and Leon Bridges. He draws from the nature around him, writing songs like "Sunrise" or "Birds in the Sky." They are sweet and sound gentle. The songs sound like they could have been ripped out of a poetry book. Jalil's voice, which is a force itself, softens.
He laughs as he mentioned he wrote "Sunrise" after watching a sunrise in Portland. When asked what inspires him, he started listing things he had seen in nature that day. The river, the birds, the clouds. Being in nature is one of the few ways the artist rests. He is a man constantly moving and creating.
As the album continues, it becomes clear that "Nothing to Say" isn't just conveying blissed-out happiness.
The difference between the first few tracks and "Nothing to Say" is vast. For five minutes, the whimsical folkiness that has permeated the album is gone. "Nothing to Say" is honest, almost brutally so, but never feels like an attack toward anyone. Jalil is able to dive into the general American experience of being Black, as well as his personal experience.
Jalil explains that starting his record off with folk music, a predominantly white genre, was a way to get the people around him to actually listen to what he had to say. The whiteness of folk and the way it has historically excluded members of the BIPOC (Black, Indigenous, People of Color) community and women, do not go unnoticed by Jalil and Arnesen. It's a way to take the genre back, Arnesen, a white woman, said.
If someone were to contrast "Sunrise" with Jalil's later tracks, they might not believe it's the same album. The first six tracks, while good in their own right, sound like a warm-up. Jalil said that the order isn't a coincidence. It's a way for listeners to become used to Jalil, appreciating his music, before he reveals his experience as a Black man.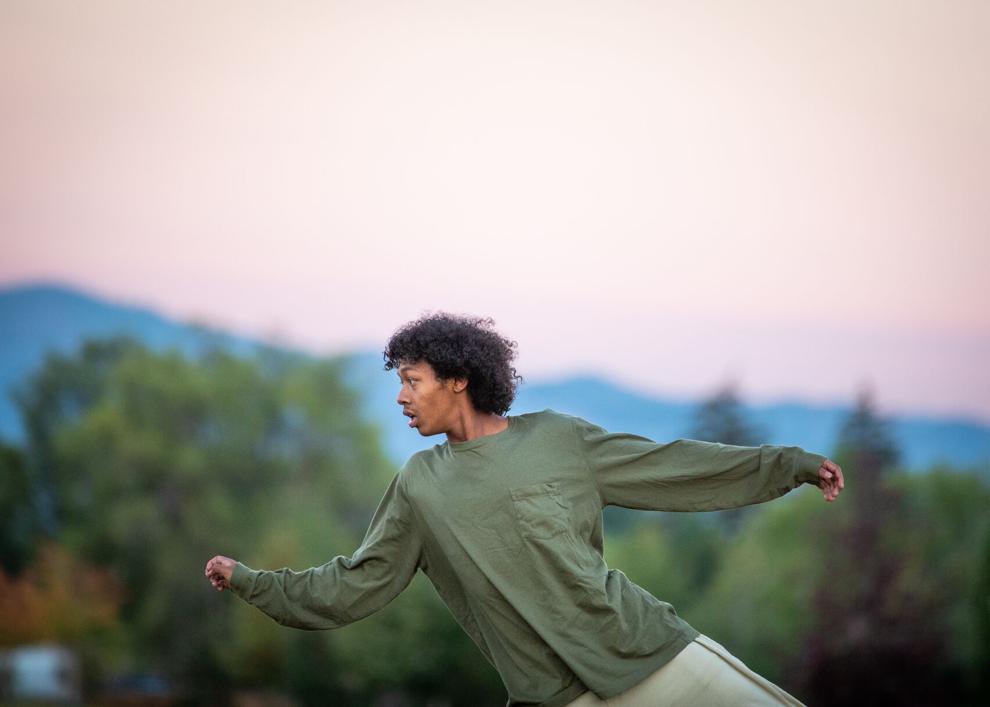 "Running out of Time" is the track that strays the farthest from folk. The backing is simple, none of the melodic guitars or piano that permeate the rest of the album. Jalil sounds desperate as he raps about pressure. There isn't a break on the track. Jalil's rapping gets faster and faster before barely slowing down again. The entire track is a race.
"Fuck It Up" is where Jalil's voice truly soars. It sounds like he's effortlessly holding every note, hitting belts without any struggle. He raps lyrics like "before they pulled me out the womb they called me threatening" over his vocals. He said he's aiming higher than survival. It's not the last track on the album, but it's a statement to who Jalil is becoming.
The guitar on the album, and most of the musical backing, comes from Arnesen.
Arnesen, a skilled bluegrass musician, said the album became a group effort after she met Jalil at an open-mic at Imagine Nation Brewing Company in the summer of 2019. However, their plan of creating an album was not pushed to fruition until the pandemic put an end to gigging. Arnesen, who plays frequently at the resort Paws Up, was lucky to have a steady gig. But many of the artists she had met while touring across the nation, and who depended on live shows for their income, were not.
Those same artists sent Arnesen their own version of Jalil's music, collaborating on an album by someone they had never met. Over six months, Jalil's voice and Arnesen's simple backing were added on to by some of the best musicians that Arnesen knew. Each piece would get layered on to the next until Arnesen sent them off to be mixed and mastered. The results are tracks that sound like they were recorded by a large band in a professional studio.
Arnesen wanted to be a part of something greater than herself when she agreed to be a part of Jalil's album. She adopted his music as her own. The duo both say that the other complete their thoughts musically. She stopped working on a western album, dedicating herself fully to "Nothing to Say."
"I had a high bar for myself because that's what his career deserved," Arnesen said. She played acoustic guitar, piano, upright bass and the mandola on Jalil's album on top of singing backup vocals and directing the flow of the album.
Jalil has been one of Arnesen's favorite collaborators since she moved to Missoula 10 years ago. She feels lucky to have met and created music with Jalil when she did. She is a strong cheerleader of the young artist, but she never tries to take credit for Jalil's success.
"We need to put Black people, people of color, Indigenous people, at the front. We need to put them front and center of everything that we can," she said. It was Jalil's moment to shine. Arnesen was just there operating the lights.
Jalil's album was originally supposed to be a play, scored and performed live by Arnesen and other musicians. It would have brought all the things he loved together, combining actors, dancers and musicians. Jalil's love of acting, music and dance has fluctuated as he defines his identity as an artist.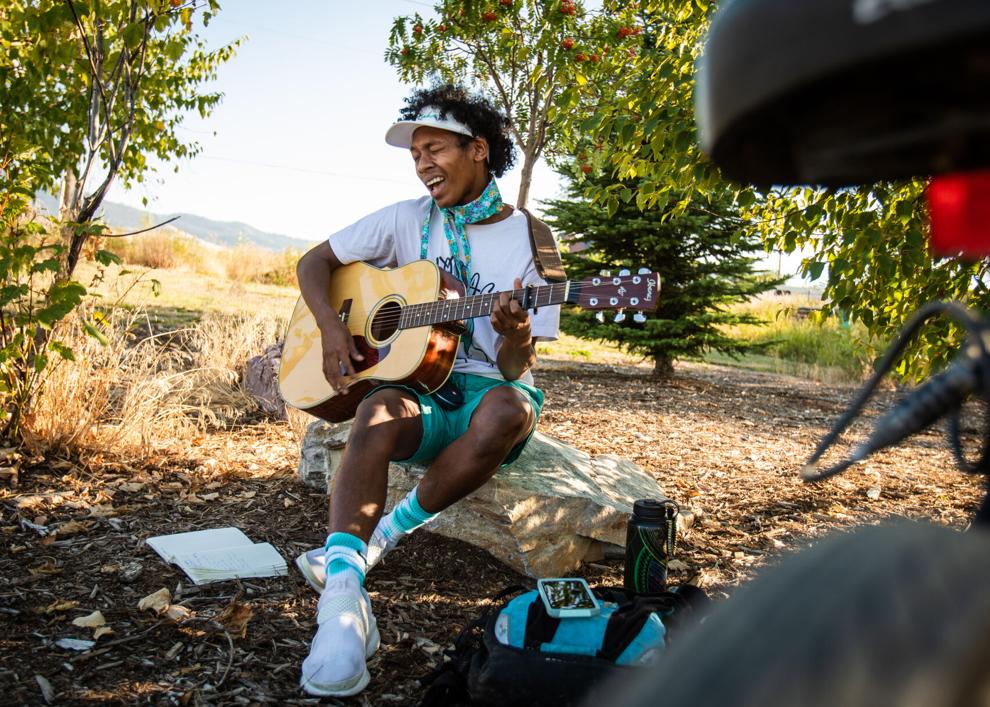 The seventh track, "Nothing to Say," was inspired by Jalil's relationship with his father. Jalil started his undergraduate career as an engineering major before switching to computer science, finally settling into acting. The entire first verse comes from things Jalil's father said to him when he told his parents he was switching majors. Jalil's family now wholeheartedly supports his music, and his father enjoys the song. The album is hostility-free, even if the title track is contentious.
"Nothing to Say" is one of the most revealing tracks on the record. It's also where Jalil raps for the first time: "Give them what they want E, show them that you're Black, like those other porch monkeys." The content, language and energy are a revelatory switch from the happy-go-lucky nature album and immediately command a listener's attention.
Jalil sings, "I'm a Black wave in a white sea," a quote that has resonated with him since he first read it in "Salt," a book of poetry by instagram-famous and notoriously reclusive Nayyirah Waheed. For Jalil, it's the perfect way to describe the frustration and loneliness that can come from being othered in a community that is meant to be home.
He sings that he can't find the words to express what he really means. He laughs about "Nothing to Say" being the longest song on the album, as well as being the album's title. Music has become a way for him to finally say what he means — a way to urge action where it's needed most.
"Nobody else is going to change the world for us," Jalil said. "We have to do it."
"Nothing to Say" will be available on all streaming platforms on Sept. 18