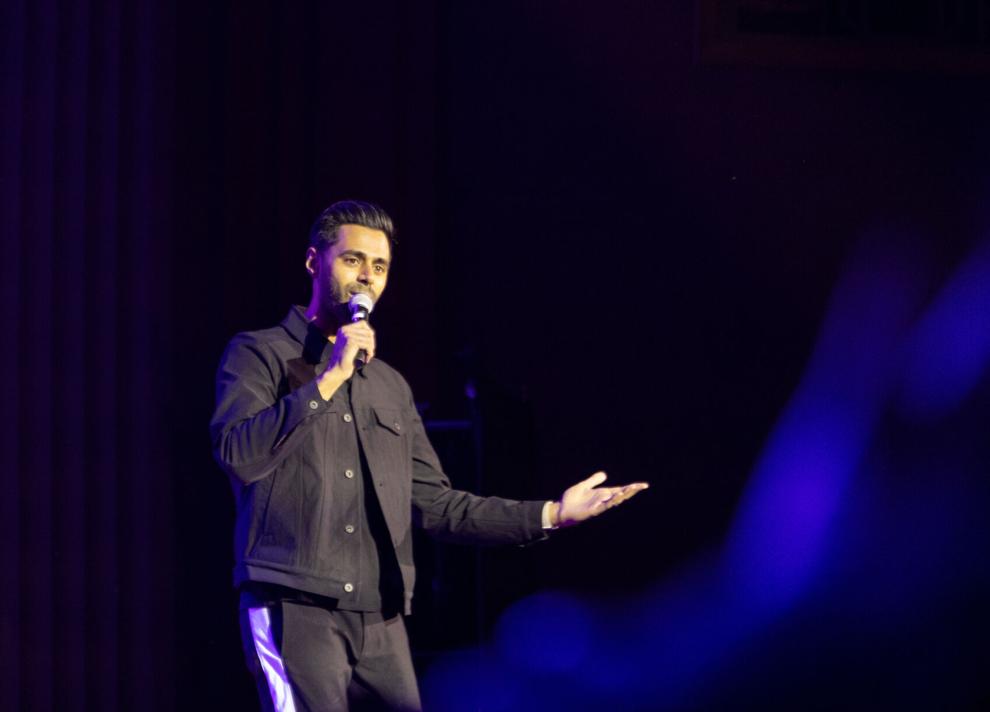 When Hashan Minhaj greeted the crowd filling University of Montana's Dennison Theatre, he looked surprised. The audience waited in anticipation as he gave them a once-over with his immaculately combed-over black hair, his white Nike shoes and his black, striped pants that resembled Adidas sweats. 
"Wow, I didn't expect to see so many masks," Minhaj said. 
The crowd roared with laughter. Dubbed as the "King's Jester," Minhaj's comedy was as effortless as his outfit and he was not afraid to get personal during his performance at UM's Dennison Theatre on Nov. 18. 
The show, which is part of Minhaj's new nationwide tour "The King's Jester," was a little more intimate than his typical venues in New York and San Francisco, even with a full crowd of UM students, Missoula Community members and Montana locals eager to see him perform in person.
"I've been a really big fan of his for a long time," said Trinity Yeaman, a junior sociology major at UM. "We usually don't get to see a lot of big celebrities in Montana, so this is really cool." 
Minhaj 一 and the show's warm-up, Sarah Aswell 一 did not disappoint. The approximately three hour event was a gleeful joyride of top-notch acting, jokes and Minhaj grabbing his crotch as he shouted like a frat student at a Montana football game that he's "MOTHER FUCKING AMERICAN!" 
The show kicked off with Aswell, a Montana humor writer, cracking jokes about her controversial take on the morals of the children's book "The Ugly Duckling," the woes of online dating, her conservative parents' opinion on her newly acquired haircut and how she warms her cold ears "between a woman's thighs."
While Aswell said she considered herself a feminist, she was not afraid to point out her own hypocrisy. Specifically when she's in a plane controlled by two female pilots. "Would their boobs get in the way of the controls?" she asked the crowd. 
It's called a cockpit for a reason. 
"I'm woke, but only up to ten thousand feet," Aswell said. 
Aswell's show served as a near-perfect segway for Minhaj's performance and his first story about the inherent sexism and awkwardness of middle school sex education, including how they made it sound like you could get pregnant everywhere. 
"For years I thought my sperm was pollen," Minhaj admitted.
His references to sperm did not end there. One joke after the next, Minhaj made a point about talking, in depth, about his balls. That's part of what made the performance entertaining, listening to Minhaj share strangely intimate stories to a crowd of strangers 一 including his experience as an Indian U.P. Muslim Immigrant, growing up during the post 9/11 era.  
During the whole performance, Minhaj was animated and engaging. He acted out his stories, lowered and heightened voice to impersonate his characters and actively engaged with the audience through comments of how most of the crowd looked like pilgrims who are snowboard instructors. With the extra time after the show finished, Minhaj let the audience ask him questions about his experiences, what he planned to do in the future and what advice he had for students aspiring to become comedic writers. 
"The soul of a joke is the ability to laugh at ourselves in pain," Minhaj said.