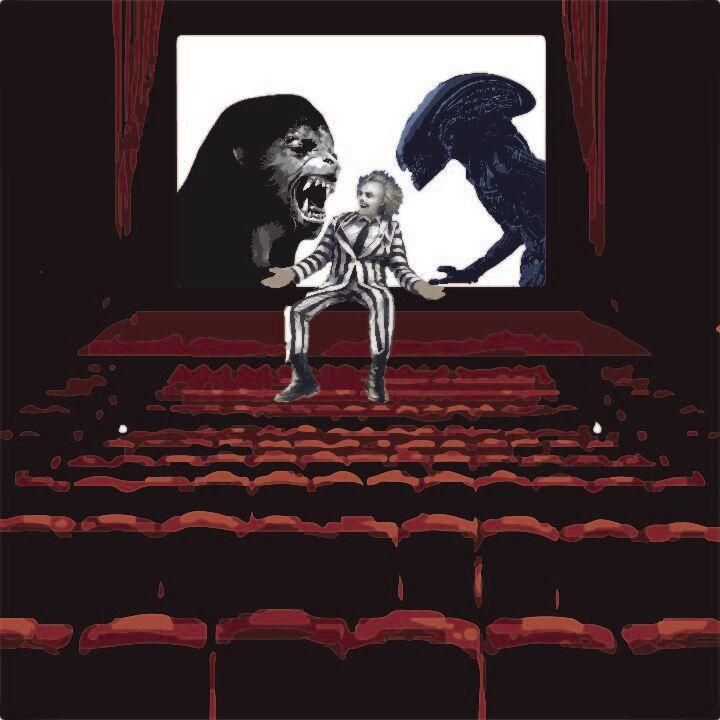 There are few things that sound better than curling up and watching a scary movie, especially after midterms finally finished taking a bite out of students' GPAs. Throughout the month of October, UM students were able to get their spooky movie somewhere outside of their dorm rooms — their own community theater.
This past month, the Roxy Theater sponsored the "Monster Mash" movie series, which brought the most traffic the Missoula staple has seen since the onset of COVID-19. In the era of online streaming, the movie theater industry was suffering enough before the deadly pandemic forced people out of public spaces. With quarantine restrictions largely lifted, the "Monster Mash" was able to draw large crowds again, a trend the staff is hoping will help revitalize the town's film community and finally get people back in the auditorium seats, not just during October, but throughout the year. 
Solveig (who doesn't use a last name), is the Roxy's master projectionist, and one of the staff members responsible for picking the classic hits on the theater's roster. This year, there was a bit more pressure behind those choices than there has been in the past. 
"We wanted to focus on what people want to see," Solveig said. "Because of the pandemic, it takes a special movie to get people to come out in groups. We made sure we had ones that were recognizable and people had fond memories of."
When the idea of a "Monster Mash" came up in conversation, it immediately excited the staff. The final slate of movies included "Alien," "An American Werewolf in London," "Evil Dead II" and "The Thing," each of which had a Wednesday showing and a Sunday showing every week throughout the month. 
Solveig said each movie was carefully handpicked — only the best monster movies at the Roxy — and the diligence in selection certainly paid off.
Concessionaire and UM student Nas Jabr noticed the largest crowds he's seen in his entire time at the theater, which began in July. The reason is simple, he said. "College kids love Halloween."
Indeed, both "Alien" and "The Thing" sold out both of their showings, including the Halloween night screening of "The Thing." No other "Monster Mash" film had less than a half-full auditorium. The film-loving community even showed their spirit through costumes, Jabr said, especially during "Alien," when a pair of moviegoers sported some facehuggers.
"We're really excited to see people are excited to see movies again," Solveig said.
"Monster Mash" wasn't the only way the Roxy celebrated the season. Another series that runs all year, "Movie Cult," kept it creepy this month with their Saturday night screenings, which included popular cult classics "Young Frankenstein," "Jennifer's Body" and "Hereditary." Popular spooky films like "Beetlejuice" and "Scream" also found a spot on the schedule. Solveig's own series "Trash Talk" chose a mystery movie for its Oct. 29 slot, which Solveig was tight-lipped to share (Spoiler alert! It was "Return of the Living Dead").
First year UM student Chris Shields, who's working toward his certificate in documentary filmmaking through a journalism and digital filmmaking double major, was just one of the Roxy's frequent customers this past month.
One of Shields's all-time favorites, "Alien," was on the docket, and he knew he had to be there. Though he'd never been through the theater's doors before that night, he attended three additional movies in the weeks after.
It's easy to look at people like Shields and think they're suffering from addiction, but he has another theory. 
"Horror movies are for the adrenaline junkies that don't have a death wish," he said. "There are adrenaline junkies that love driving fast cars and going on crazy rollercoasters… If I wanna feel on edge and shoot my anxiety through the roof, I can just sit in my chair, pour myself a cup of coffee, and watch a horror movie."
"Monster Mash" provided a place for horror junkies like Shields to go and have a good time, and Solveig thinks it could potentially make those people stick around.
"I honestly think horror is a gateway drug to film and community," Solveig said. "And that is why it will always have a home at The Roxy."
Certainly, the gate has opened. Even before October ended, crowds were returning to the Roxy in larger numbers to see the non-Halloweeny selections. For instance, the newly released sci-fi epic "Dune" has sold out almost every showing the theater has offered, the first 2021 film release to accomplish such a feat. 
Although the jack-o-lanterns have all burned out and the sacks of candy are getting smaller and smaller, there are no signs of slowing over at the Roxy. The excitement for movies in the Missoula community has rocketed to heights no one's seen since March of 2020. Expect to pay the Roxy a visit at least a few times in the coming months, because as Jabr said, there are a lot of movies to look forward to this winter.