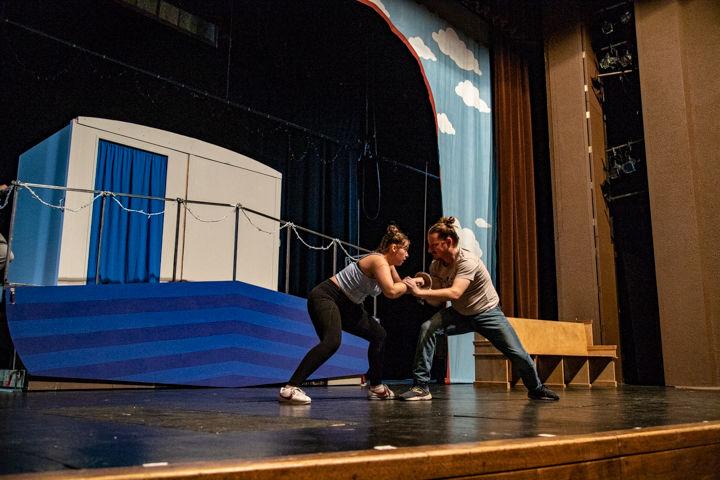 Science tells us only rats and cockroaches will survive an impending doomsday. But a forthcoming production from the University of Montana's School of Theatre and Dance has us wondering if we should add Homer Simpson to that list. "Mr. Burns: A Post-Electric Play" imagines a future in which America's favorite sitcom family is humanity's last hope.
Playwright Anne Washburn penned the bizarre tale, which features a band of survivors continuing the long-running legacy of "The Simpsons" in the years following an unexplained apocalyptic event. Audiences will follow the epic in three acts spanning more than 80 years, culminating with a full-blown musical production of the fifth season episode, "Cape Feare." "Cape Feare" is itself a parody of 1962's thriller "Cape Fear" and its 1991 Scorsese-helmed remake.
The thematic elements of "Mr. Burns" captured director Jadd Davis' interest in the award-winning play he called "a love letter" to our desire to rally around the power of a good yarn.
"I'm a professional storyteller," the 37-year-old said. Davis is an old hand in performance arts, directing roughly 50 plays for venues like the Village Theater in Seattle and others in Coeur d'Alene. "This show basically reforms a completely obliterated society around a story. The story happens to be a mythologized Simpsons, but really it's the same idea."
What makes "The Simpsons" stick in a world where everything else we know is burned away? Actor and MFA in acting student Elijah Fisher believes it might be the show's commitment to levity in trying times — a message all too rele- vant in our fast-paced culture.
"There's so much pressure to be doing something all the time," Fisher, 23, said. "These people have survived because this is the apocalypse, but you can survive and also have fun."
Fisher takes on dual roles in the meta "play within a play," portraying Matthew Maher and his role as the donut-loving patriarch himself.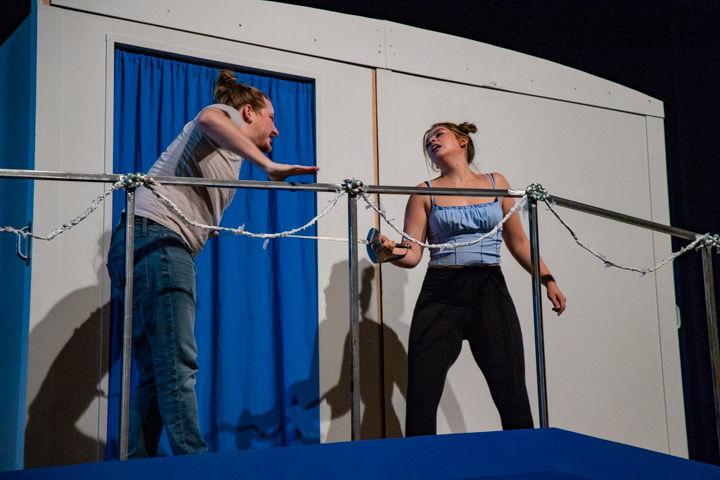 Claire Peterson, a 20-year-old student pursu- ing a double BFA in acting and costume design, portrays the loveable scamp Bart in the final act. She relishes the opportunity to play such a well-liked character — and a chance to show off her hand-to-hand combat skills.
"It's awesome to be able to play a role that is a teenage boy in the third act," Peterson said. "Mostly because, you don't ever find a role that's written for a woman where you can do a swordfight. It's awesome to take a huge step in something like stage combat."
Don't expect to see some sort of Mad Max-meets-the-Simpsons cosplay onstage, though. Costume designer Alessia Carpoca and assis- tant costume designer Kyrstin Hagins worked with salvaged materials appropriate for a planet scrubbed of advanced technology. Each character's look is not meant to be an exact replica of the family viewers know and love. Instead, performers will don gear meant to evoke iconic aspects of the cartoon cast.
Clearly, "Mr. Burns: A Post-Electric Play" is one of the weirder productions to cross the Montana Theatre stage. But those involved hope audiences will respond to the story's uplifting heart.
"Expect to have a good time," Fisher said. "That sounds wack, but ... I think just the perseverance of people to keep going is really hopeful."
Take that, "Family Guy."